1948: an English housewife trapped in a dull marriage escapes to the South of France to claim a mystery inheritance. But rivals to her unexplained fortune begin to emerge, and now they want her out of the way …
She didn't have an enemy in the world… until she inherited a fortune
London 1948: Eve Forrester is trapped in a loveless marriage, in a gloomy house, in a grey suburb.
Out of the blue, she received a solicitor's letter. A wealthy stranger has left her a mystery inheritance but in order to find out more, she must travel to the glittering French Riviera.
Eve discovers her legacy is an enchanting villa overlooking the Mediterranean sea and suddenly, life could not be more glamorous.
But while she rubs shoulders with film-stars and famous writers, under the heat of the golden sun, rivals to her unexplained fortune begin to emerge. Rivals who want her out of the way.
Alone in paradise, Eve must unlock the story behind her surprise bequest – before events turn deadly…
When I was invited to take part in the Blog Tour for Fatal Inheritance, I literally jumped at the chance as I loved A Dangerous Crossing so much! When I met up with fellow Scottish Bloggers for lunch earlier in the summer, Joanne aka @portybelle and I were in full agreement that we couldn't wait to savour it in the sunshine and it was top of our packing piles for our summer hols. I loved Joanne's review which kicked off the tour – and you can read it here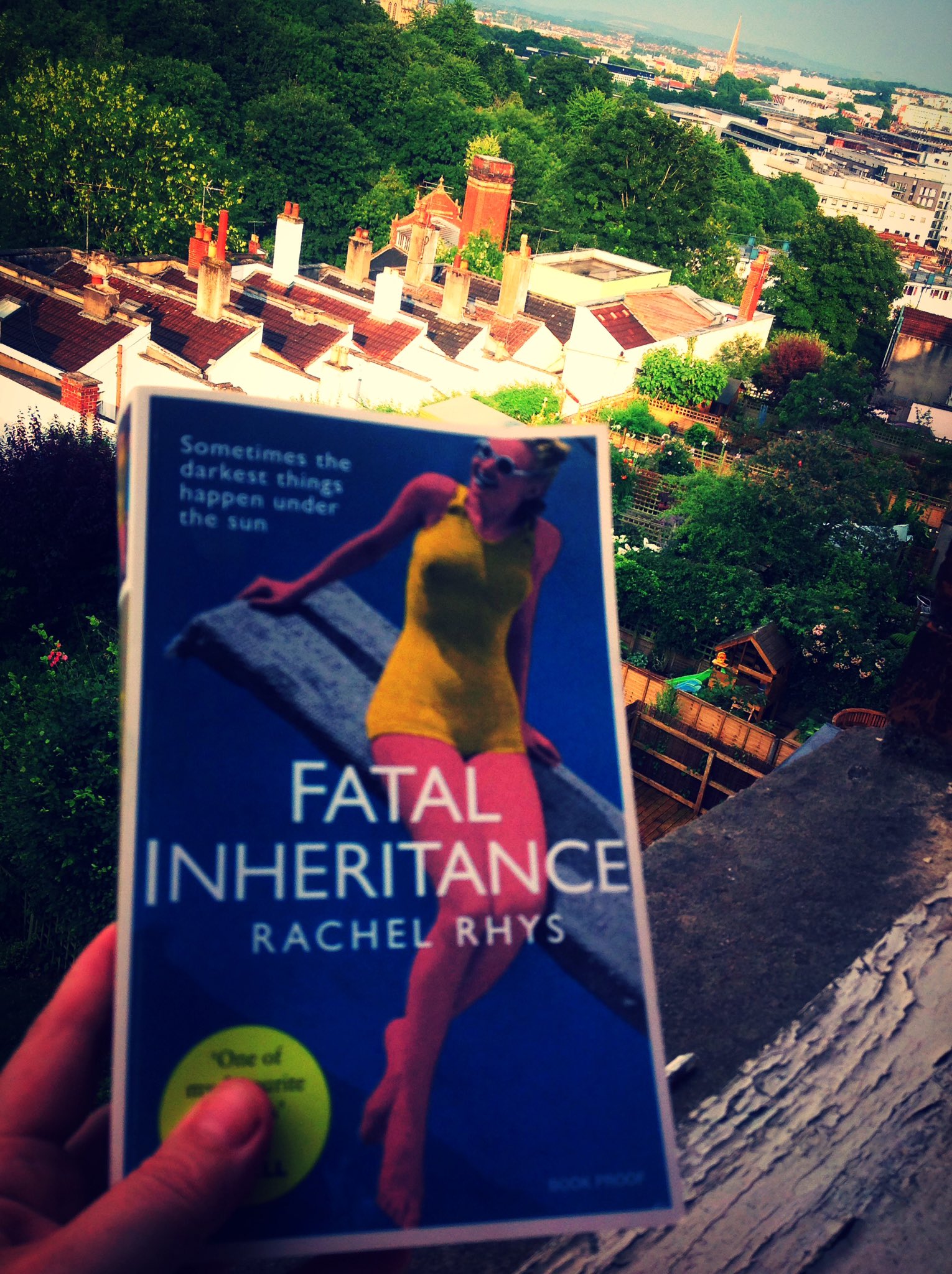 I had the pleasure of reading this fantastically atmospheric summer read in beautiful Bristol and the Cotswolds but I soon forgot my real surroundings and was transported to the Riviera and the golden sun reflecting off a gorgeous pink villa and its mysterious inhabitants…
Eve Forrester – like the second Mrs de Winter in Rebecca – is a quiet and unassuming main character who feels out of place and insignificant amongst the dazzling and wealthy company she finds herself in once she travels to the south of France to investigate the inheritance she has been left by a wealthy and mysterious stranger. This is a fabulous device for allowing us to see this golden cast of characters from an outsider's perspective as we see them through Eve's eyes. I found this a wonderful way to immerse the readers fully in this glittering world – we see them from an outsider's perspective with our faces pressed against the glass of their 'fabulous' world and just as Eve starts to see the dazzle begin to wear off, so do we as we delve beneath the surface of their wealthy and privileged lives.
Eve's ghastly and dry as a stick husband, Clifford is a fantastically well-drawn character and we can feel his sanctimonious disapproval as Eve sets off unaccompanied to the dissolute atmosphere of the Riviera to see exactly what she has been left. Eve's unhappiness starts to fall away into the distance as she begins to fall in love with the Riviera and its memorable cast of inhabitants. Once she's rubbing shoulders with writers and movie stars her dull post-war life back home and her loveless marriage seem like a dream and the shimmering summer heat of the Riviera draws her further into its intricate web of relationships and allegiances. It reminded me of the best kind of summer period reads – like The Talented Mr Ripley and The Camomile Lawn – which draw you into their period and immerse you in the world of their characters.
Gloria the movie star who befriends her and the worldly writer Sully who provides her with an insider's glimpse into the murkiness that lurks just beneath the surface of their 'fabulous' facades were two of the stand-out characters for me as they seemed perfectly drawn and really allowed me to imagine what life was like for this very select crowd after World War II had ended. The Lester family were also vividly drawn and definitely taught Eve that even the most privileged of lives have their sorrows to seek and that their enviable lives are perhaps less enviable than she at first imagined.
This is an atmospheric, colourful an satisfying read that really came to life for me – I send a happy hour at least on our rooftop terrace in Bristol, trying to imagine who I'd cast in A Fatal Inheritance – the movie! and it would honestly make my day if I found out that there was to be a two-movie deal with this and A Dangerous Crossing appearing on our screens. I love Rachel Rhys/ Tammy Cohen and can only suggest that if you haven't had the chance to read all her books that you rush out and treat yourself immediately! If you are looking for an escapist and hugely evocative summer reading experience then look no further as I'm already calling this my read of the summer. Treat yourself to a copy here
My thanks must go, once again, to Anne Cater at Random Things Tours for inviting me to be part of the blog tour. Fatal Inheritance was published by Doubleday on 26th July and I know that it's going to be a big summer hit. Doesn't it look just gorgeous in my #OnTheShelfie? That cover is a work of art in its own right…
Writer on the Shelf

RACHEL RHYS is the pen-name of a much-loved psychological suspense author. Fatal Inheritance is her second novel under this name. Her debut – Dangerous Crossing a Richard and Judy bookclub pick – was published around the world. Rachel Rhys lives in North London with her family.