March 1939
Estelle is the headstrong daughter of Fleur, a Resistance legend who disappeared during the Great War, supposedly killed while helping Allied soldiers to escape.
Christa, an only child, longs to break free from the constraints of London suburbia and fantasises about the ethereal Belgian heroine who saved her father.
When Estelle comes looking for the truth about the mother she believes deserted her, an intense friendship grows between the two young women. Estelle invites Christa to De Eikenhoeve, her family's idyllic country estate. There, Christa encounters Estelle's two brothers – brooding, tempestuous Robbe and dependable, golden-haired Pieter – and during that long hot summer, passions run high. When war breaks out Christa is forced to return home, but not before she has done something she will regret for the rest of her life.
Christa arrives back in England a changed woman, while Estelle decides to follow in her mother's footsteps and join the Resistance. Little do they dream that Fleur was betrayed by someone close to them and that the legacy of this betrayal will have heartbreaking consequences for them all.
Huge thanks to Rebecca Gray over at Orion for sending me a review a copy of The Hour of Separation by one of my favourite writers, Katharine McMahon. I am so delighted to share my review here as I absolutely loved this fascinating portrayal of wartime passions, hidden secrets and betrayal.
If you read my blog at all, you'll know that I love a bit of a tale where it sends me diving off into a tailspin of 'research' into the real story behind the novel after I finish a good read – and The Hour of Separation was definitely one of the most fascinating in terms of what I found. It's so interesting to uncover a very different story of the Resistance and its ripples through the generations – seen through the eyes of an ordinary girl going through some extraordinary experiences.
Katharine McMahon is a writer at the top of her game; if you've read and loved The Rose of Sebastopol or The Crimson Rooms you're in for another treat: this is top-class wartime fiction with strongly realised characters and an emotional punch – If you haven't read it yet, you definitely should. It's one of the most human wartime novels I've ever read and I really found it hard to 'decompress' from the world that she recreates for us after finishing it.
I love the way that in all of her novels there is a skilful balance of foreshadowing and suspense of what is to come so that we feel the balance subtly shift and change as we read, wondering what the ramifications of each decision the characters make will be. Estelle is someone who you will follow keenly as you await her decisions and think closely about what you might have done in similar circumstances.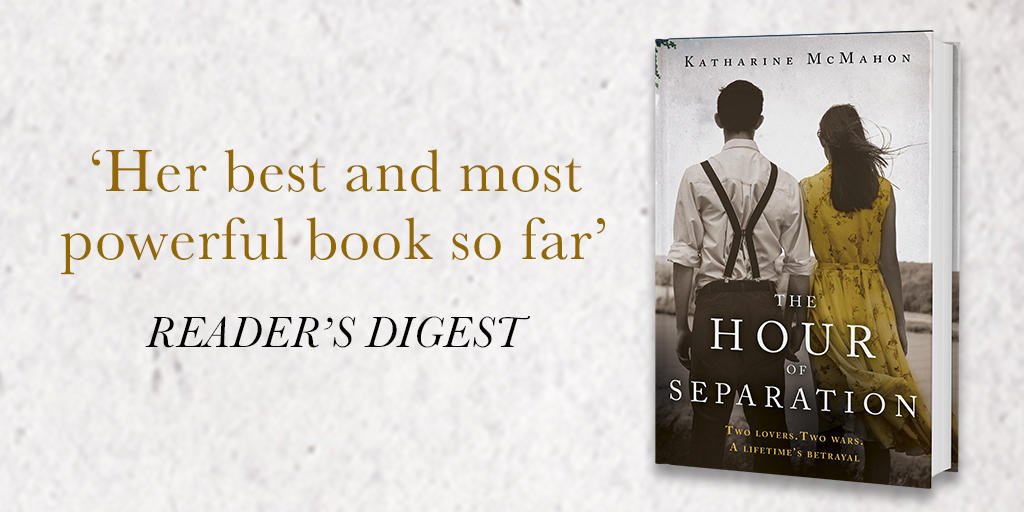 I hate giving spoilers about such an engrossing read; instead, I'll praise Katharine McMahon's deft characterisation that has us pulled along with Christa and experience life at de Eikenhoeve for ourselves. This is human history at its finest – making us see the war not as a list of events but a succession of relationships, decisions and human frailties that accumulated in tragedy for thousands of people. I learned a lot about the 'ordinary' cost of war and exactly how it affected the lives so many people  – far more than I have done in many of the factual articles and films I've seen and this is testament to the research and detail woven into the novel which really brings this complex period to life for us.
Katharine McMahon is equally impressive conjuring up the French Resistance as she is in recreating the complex social stratification of de Eikenhoeve and the diverse settings in the novel give this novel an epic feel – I kept wondering who I'd cast if I was making a film of The Hour of Separation and imagining it coming to life on the big screen was hugely satisfying. If you loved Atonement, All The Light We Cannot See or The Nightingale you'll absolutely love the wartime setting of this book and if you love the human side of history you'll definitely be caught up in this very human tale of truth, deception and consequences just as much as I was.
I absolutely loved the evocative description and lyrical language in this novel and got swept up in the story so much so that I didn't want to leave. The portrayal of women inThe Hour of Separation is another aspect of this novel that really stood out for me and I loved the way that Christa and Estelle such complementary characters. The way that their lives intersect leaves the reader asking themselves probing questions about the reasons we make decisions and if we are being as honest with ourselves as we think we are at some of the critical times in our lives…
I can't recommend this book highly enough – it's an intelligent, immersive and atmospheric read that really draws you in and holds you tight until you've turned the final page. Treat yourself to a copy here
Doesn't it look just gorgeous in my #OnTheShelfie ?
Writer On The Shelf

Katharine McMahon is the author of 10 novels, including the bestselling The Rose of Sebastopol, which was a Richard and Judy pick for 2007.
Her evolving theme is drawing astonishing women from the shadows, and revealing passionate and extraordinary lives, even at times when to be different and powerful risked everything if you were female. All her fictional characters have foundations in real historical characters.
She has experience as a teacher and trainer and has been fortunate to serve on the Sentencing Council of England and Wales, and the Judicial Appointments Commission, as a magistrate. She has run Guardian Masterclasses on historical fiction and has newly been appointed Education Projects Manager for the Royal Literary Fund.
Check out Katharine's Website here