It's been the perfect weather for reading in the garden and I've managed to spend these last few months whittling my list down so that I could recommend a great summer read, for my  Summer 17 Degrees Column.
In this first post, I'm reviewing six books I've called Days of our Lives – there's genuinely something here for everyone and I really enjoyed all six of these fantastic Summer reads,
The Lido 
Libby Page
I absolutely loved The Lido. It's a warm and uplifting read that will genuinely draw you in and make you feel part of Rosemary and Kate's world as they campaign together to save their beloved Lido. When the Brixton that she's loved all her life starts changing in front of her very eyes and after the loss of her husband George, potentially losing the Lido means much more to Rosemary than mere conservation. To her, community and belonging somewhere is more important than making money and she passionately wants to preserve such a special place. The friendship between these two women of 86 and 26 is a joy and you'll be totally rooting for them to succeed in their scheme. I loved hearing Rosemary's memories of The Lido – where she's been swimming for over 80 years and you will too.  This is the perfect poolside treat and would make a fabulous movie one day too. You heard it here first!
Grace After Henry
Eithne Shortall
This book is everything that a holiday read should be – warm-hearted, filled with characters that you care about and unexpectedly funny too. Grace's bereavement is brought vividly to life in this novel and we see the full effect it wreaks on her as everyone else's life goes on, uninterrupted all around her. Grace has to learn to survive after her sudden and tragic loss and several unexpected developments along the way.  It deals with loss by allowing us to live through it with Grace and experience all the stages of grief that she has to wade through right alongside her. It is written with sensitivity, intelligence and a wonderfully warm sense of humour and I can't wait to read more by Eithne Shortall. If you're heading off somewhere lovely this summer, Grace after Henry is the perfect book to pack – it not only packs an emotional punch, it will also make you laugh so hard at times that you'll spill your afternoon cocktail. I *might* know someone who actually did…
Dear Mrs Bird
AJ Pearce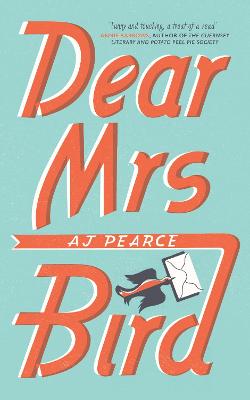 Funny, quaint and very moving, Dear Mrs Bird by AJ Pearce is a tribute to the power of friendship and the Blitz spirit that inspired us to 'Keep Calm and Carry On.' Set in World War II, Emmy's ambition is to become a Lady War Correspondent and when she spots an ad in the newspaper she seizes her chance. Instead, she finds herself typing letters for the indomitable Henrietta Bird, renowned agony aunt of Woman's Friend magazine. Mrs Bird has very firm ideas about 'unpleasantness' and Emmy toes the line at first, but it's wartime and letters about 'going too far', separation and death keep flooding in. Emmy's decision to defy Mrs Bird and write the column for a new generation of readers makes for a quirky read with fabulous characters and a modern twist. There are some really poignant moments too as Emmy learns the hard way that it's easier to give out advice than take it. A five-star vintage read.
Oh My God What A Complete Aisling
Emer McLysaght &  Sarah Breen
Aisling's 'romantic holiday' is a total disaster: she spends it waiting impatiently for a proposal with a heavy heart as she realises that it is just not going to happen. Ever. Cue a dramatic breakup and the start of a whole new life for country girl Aisling in the bright lights of Dublin. Aisling's world will be familiar to readers of Marian Keyes and it's no coincidence that she loved this book too! I totally fell for Aisling; she's my favourite fictional character this year. I think that what I love about her is that she is uncompromisingly herself throughout the novel – regardless of what life throws at her. Aisling's journey of discovery is one you'll be quoting to your friends and begging them to read too. You'll have a good laugh talking about Aisling and thinking of all the ways you've been like her. We definitely all know an Aisling and you'll definitely not forget her if you read about her adventures this summer
Never Greener
Ruth Jones

"The One that Got Away" is something that so many people can identify with. In her debut novel Never Greener, actress Ruth Jones – better known as Nessa from Gavin and Stacey – explores what happens when your past catches up with you.  When Kate was twenty-two, she had an intense affair with a married man, Callum, which ended in devastating heartbreak. Seventeen years later, Kate is a successful actress, married to Matt and mother to gorgeous Tallulah. The past, it would seem, is well and truly behind her. But then Kate and Callum meet after all these years and have to make a devastating choice: to walk away from each other again or risk finding out what might have been. Second chances are a rare gift in life. But that doesn't mean they should always be taken. This is an unmissable and thought-provoking read which I'm sure you'll be seeing everywhere this summer.
The Vanishing
Sophia Tobin
If you're a fan of a Historical drama, you'll absolutely love Tobin's The Vanishing and you'll lose yourself in its pages as you race towards its tense and unforgettable climax. Annaleigh Calvert arrives at White Windows on the remote moors to take up a position with the mysterious Twentymans: brooding Marcus and his sister Hester. She soon finds out that her plans for escaping life in London have been complicated rather than simplified by her sudden escape to Yorkshire. This dark and unsettling gothic read has been described as being perfect for fans of The Miniaturist and it definitely has the same claustrophobic and otherworldly atmosphere. This gripping slice of modern gothic will be sure to transport you far away in time and place from wherever you're reading it and its sense of place will stay with you long after you've closed its final page. Atmospheric and haunting, you'll absolutely love this compelling Victorian thriller.