Sky is devastated when she finds that her husband is in love with someone else, even more that it is her oldest friend Nick. She has lost the two most important men in her life and can't ever trust either of them again.
To escape, she goes alone on a dream trip to Marrakesh and meets Gail, on a mission to meet the father of her child, a man she loved but thought did not want her.
In Marrakesh, Sky and Gail both find unexpected joys – and surprises. For Sky these lead to France, to a beautiful chateau and a family whose relationships seem as complicated as her own. 
Today on the blog I'm absolutely delighted to return from my trip up north where we actually experienced some rain in what seemed like the first time in weeks and post a Q and A with the lovely Janie Millman.
We were staying in the gorgeous village of Comrie in Perthshire and it has been a great feeling to cosy up in our holiday home with a book and a huge cup of tea and hear the rain pattering down. Comrie is a long way from the more exotic destinations in Janie's book and the contrast between the green fields outside my window and the heat and spices of a Moroccan evening was a fantastic combination. It certainly has me longing for my next holiday abroad and as Mr OnTheShelf has never been to Marrakech, it's certainly got me thinking.
I loved escaping to the distant destinations of Sky's the Limit and if you're missing your holiday destination already, or packing for foreign climes then this is the perfect book to bring along with you. Treat yourself to a copy here
Thank you so much to Emily from Dome Press for inviting me on the Tour, I loved all of Janie's replies and think we have a lot in common from our love of Scarlett O'Hara to our addiction to travelling. Thanks so much to Janie for her reflections on my questions and I am definitely looking forward to reading all about her next adventure, inspired by her trip to Crete and who knows, maybe one day I'll be lucky enough to get to visit Chez Castillon for myself…
1. What is your first memory of a piece of writing that made you feel proud? How old were you and do you still have it?
When I was in my last year at primary school – I would have been about ten years old – we were asked to write a story that would then be turned into a small book. I can clearly recall the excitement I felt even though at that stage I had no aspirations to be a writer!
We had to design the cover ourselves and then the little book was bound up by our form mistress. I can't remember what my book was called nor can I really remember exactly what it was about – I think it was about a family much like my own family but with a dog – I do remember the dog!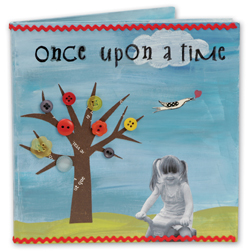 I remember feeling incredibly proud as I was presented with my book. I know that the wonderment I felt then was replicated the other day when I held Sky's the Limit for the first time and I imagine it will be the same with the next one. I hope so – I never want the magic to fade. I think everyone in Mrs Thomas' class felt the same – it was an inspirational idea by an inspirational form mistress.
I have no idea if I still have it but I imagine it lurks somewhere in a box in my parents' house because they throw nothing away! I'm not really sure I want to read it again – it may spoil the memories.
2. Your book, Sky's the Limit, is set in two really gorgeous locations – where is your dream holiday destination and why?
This is a hard one to answer because basically, I want to go everywhere! I love Thailand and I loved India but the place I return to most is Greece. I have visited so many islands and I have loved every single one. I adore the culture, I adore the people, I adore the blue skies and the crystal water, I adore the food and I even adore the retsina!
I studied Greek Literature at school and perhaps this is where my love of the country first started. One thing for sure is that it holds a fascination for me like no other place.
3. Sky goes through a massive journey in this book – literally as well as metaphorically. What part of the book did you enjoy writing the most and which parts did you find most challenging?
I guess the most challenging part was to make sure that Sky and Nick – and perhaps to a lesser degree, Miles – were sympathetically portrayed. I wanted to make sure that no one person was seen as the villain.
They are all victims of a very difficult situation, but it is through no fault of their own. They are all deserving of love and all deserving of a happy life. It just takes a while to get there!
To be honest I loved writing it all. I especially loved writing about Marrakech, it brought back so many fabulous memories and I loved bringing the reader to South West France – a place I now call home.
I always love writing my characters; I enjoy discovering them, delving into them and finding out their hidden secrets and I love the fact that they constantly surprise me.
4. Which book – from any country – do you wish that you'd written and why?
Well really it has to be Gone With the Wind by Margaret Mitchell – such a hugely evocative book with the most superb characters. It is a book which stays with you forever and that is exactly the sort of thing I would love to achieve. It may not happen but one can dream…

I also love Frenchman's Creek by Daphne Du Maurier for the same reasons and I love To Kill a Mocking Bird – but then again who doesn't?
5. Your book is very atmospheric and really transports the reader to these gorgeous locations – where was it actually written and what was the inspiration for these locations?
Years ago, when I was fourteen, I visited Marrakech – it wove a spell around me and I promised myself I would go back. And I did! A few years ago, my husband and I spent a week in Marrakech staying in the very same Riad that features in Sky's The Limit. That was when the idea was born – that was the real inspiration behind the book.
Sky's the Limit was actually written in South West France because that is where I live. However just before I started writing it, I was diagnosed with cancer – so in fact a lot of it was written lying in bed in a Bordeaux Hospital or sitting in the salle d'attente waiting for my treatment!
6. Where do you write normally and do you have a regular writing routine?
I am lucky enough to have a library, so sometimes I write in there if is not in use – here at Chez Castillon , we run writing courses & retreats and so obviously the students have priority!
I also write at our kitchen table, as I am doing now in fact, and sometimes I take my computer outside to a shady area of the garden overlooking the pool. I basically write whenever and wherever I can.
My alarm is set for 6.00 am and I like to get words down before the madness of the day begins. This doesn't always happen of course but I do try!
7. What's your next writing project and can you tell us a little bit about what to expect – will it have any parallels with Sky's the Limit – for those of us that loved it and where will it be located?
My next book is set in Greece – we visited Crete last year on a research trip – oh okay, a holiday then – and we stayed in an old film directors' house – we met some wonderful characters and I felt so inspired. Now I'm not going to say anymore – you'll just have to wait and see!