"Whilst I continued to spend my days buffing up the bones of the dead, I knew in my heart I wanted to work with the living."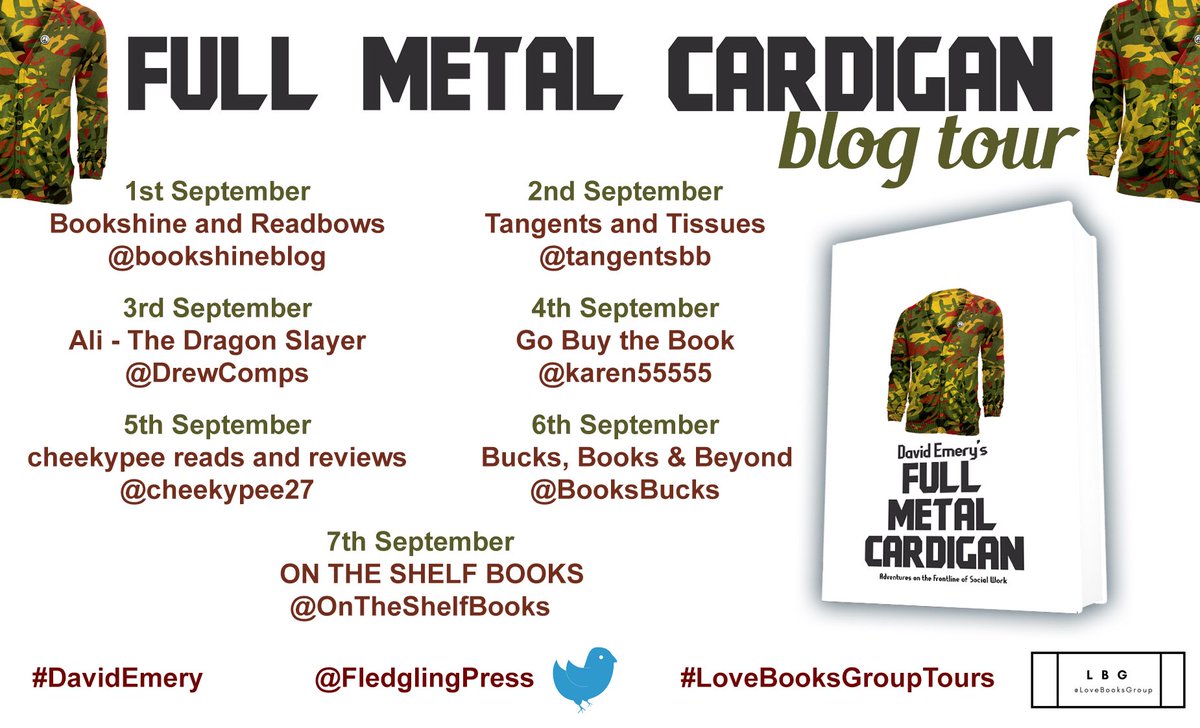 Full Metal Cardigan is David Emery's first book and chronicles his adventures in social care, from enthusiastic volunteer to feral frontline worker, taking in abusive popstars, chanting cults, drug runs and assessing a corpse.
He recounts how he gained international notoriety for cheating in a pancake race, encounters with the supernatural, High Court appearances, accidentally booking someone into Dignitas, one-inch death punches in Woolworths, waterboarding, psychotic psychopaths, plunger-wielding pregnant women and suicide attempts with rhubarb along the way.
This is a humorous look at life as a social worker: in turns both laugh-out-loud funny and mind-boggling.
This book is one of the reasons that I love being a blogger. If it wasn't for meeting the lovely Kelly, I would NEVER have picked up this book.  And I would seriously have missed out because I bloody loved it! It's the kind of book you think that all the best bits will be in the blurb and you'll know everything that's going to unfold after reading the summary above – but in terms of laughing at mad and improbable situations, the incidents described above are literally just the tip of the iceberg.
'Full Metal Jacket' is one of my favourite war movies and as a public sector worker myself, I'd never have thought of it as having any parallels with the work I do. But David Emery has definitely proved this idea wrong as he shows in this book that having courage 'under fire', never quitting and finding strength and comradeship in your very own 'Band of Brothers' is something that we might find we have more in common with than we previously anticipated.
Although this book is full of drama and some truly nail-biting situations, you never get the feeling that David feels negatively about his 'trade' – it's more like he thrives upon the absolutely bizarre situations that he regularly finds himself in – and becomes quite the expert at seeing the silver lining in every  – mildly traumatic – cloud…
It's good to read a book where professions like teaching and social work are positively framed and there is a real sense of the vocation that some people have for this kind of work. There is literally never a dull moment when you are working with the general public and this book displays them before your very eyes in glorious technicolour
It's a real skill to take something as complex, challenging and difficult as social work and make it as readable as this. It's not to say that there aren't emotional and difficult parts to this engrossing read, it's just that he lets us see all of the faces of the job, instead of dwelling on just the hilarious times or merely concentrating on the moments where everything seems insurmountable and too difficult to go on with.
My best friend is a senior social worker and a former pupil has just qualified as one – and I'll definitely be buying them both a copy. I would recommend this book to people with a keen interest in human nature and readers who love something unexpected, touching and totally heartfelt. This book really lets you into this world and shows you that humanity is a broad church – but there's much more good than bad in it.
Thanks so much to Kelly and Fledgeling Press for inviting me on the tour. It has reminded me of my passion for hidden gems and lost treasures – and for me, that's what book blogging is all about.
Treat yourself to a copy here
Writer On The Shelf
Born in Bury, Manchester, David grew up with his parents, sisters and a revolving cast of characters that his mum would bring home from the local secure psychiatric hospital where she worked.
After finishing college, he went into archaeology until it became clear that he was more suited to working with the living than the dead.
A voluntary job supporting vulnerable young people confirmed this and encouraged him to find paid work in various residential and nursing homes. From this he trained to be a social worker and has gone on to work in all areas of the profession; from children to older age, on the front line and as a manager.
David lives in the countryside with his wife and children where he spends his days working for the NHS and his evenings writing in the shed. Full Metal Cardigan is his first book.