A poignant story about love, inheritance, and the things that determine who we are, set to the backdrops of Twentieth century Dundee and Calcutta. 

Secrets present. Secrets past. Secrets in India, where Stephen's grandfather is a lowly functionary in the engine room of the Raj. Secrets at home, held tightly by Stephen's half-Indian, half-Scottish mother. Only by uncovering what has been hidden can Stephen win Julia, a woman with secrets of her own…
Set in St Andrews, Scotland before the millennium; among the early-Twentieth century jute mills of Dundee; in the industrial underbelly of colonial Calcutta and on the epic plains of ancient India, Karna's Wheel is a poignant story about love, inheritance, and the things which make us what we are.
'Karna's Wheel is compelling, multi-layered and beautifully written.'
Chris Given-Wilson, shortlisted for the Wolfson History Prize 2017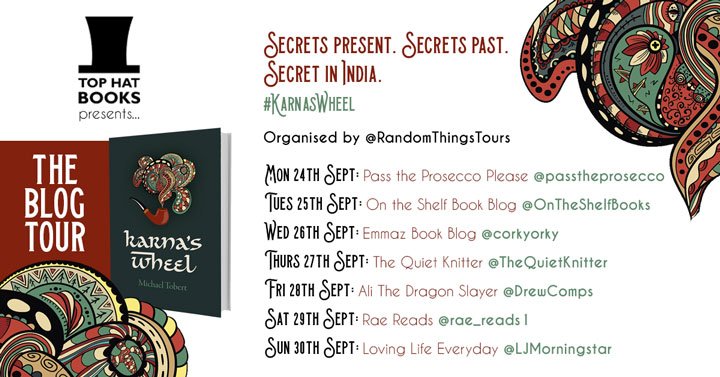 Huge thanks to Anne Cater for inviting me to review Karna's Wheel by Michael Tobert.  I am so delighted to share my review here as I absolutely loved this fascinating portrayal of historical passions, hidden secrets and betrayal. Anne messaged me with this tour details when I was holidaying in the beautiful Cotswolds and I was so excited, I almost bit her hand off with a definite yes!
If you read my blog at all, you'll know that I love a bit of a tale where it sends me diving off into a tailspin of 'research' into the real story behind the novel after I finish a good read – and Karna's Wheel was definitely one of the most fascinating in terms of what I found. It's so interesting to uncover a very different story of the Raj and its ripples through the generations – seen through the eyes of an ordinary character going through some extraordinary experiences.
Michael Tobert is a really talented writer who really transports you to another place and time – if you love an immersive historical read,  you're in for a real treat: this is top-class historical fiction with strongly realised characters and an emotional punch – If you haven't read it yet, you definitely should. It's one of the most human and engrossing novels I've ever read and I really found it hard to 'decompress' from the world that he recreates for us after finishing it.
I love the way that there is a skilful balance of foreshadowing and suspense of what is to come so that we feel the balance subtly shift and change as we read, wondering what the ramifications of each decision the characters make will be. Stephen is someone who you will follow keenly as you uncover his family history through these turbulent times and think closely about what you might have done in similar circumstances to parents in the world they were born into.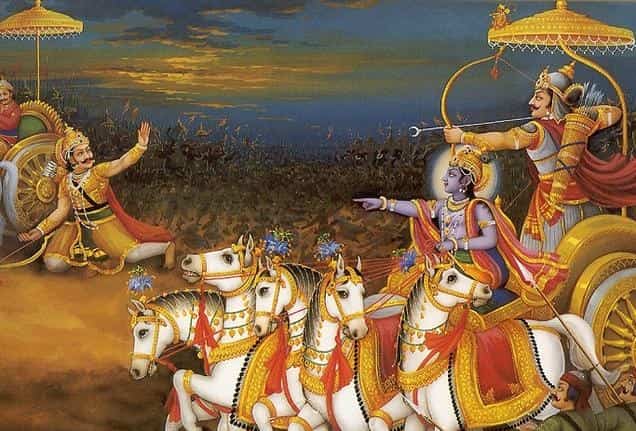 I hate giving spoilers about such an engrossing read; instead, I'll praise Michael Tobert's deft characterisation that has us pulled into this narrative and experience history in the making.  This is human history at its finest – making us see the Raj not as a list of events but a succession of relationships, decisions and human frailties that accumulated in change, loss and upheaval for thousands of people. I learned a lot about this part of history and exactly how human decisions affected the lives so many people  – far more than I have done in many of the factual articles and films I've seen and this is testament to the research and detail woven into the novel which really brings this complex period to life for us.
Michael Tobert is equally impressive in conjuring up the Scottish setting as she is in recreating the complexities of the Raj and the diverse settings in the novel give this novel an epic feel – I kept wondering who I'd cast if I was making a film of Karna's Wheel  and imagining it coming to life on the big screen was hugely satisfying. If you love an epic tale with fascinating characters and a real insight into a period you might not know much about you'll absolutely love the setting of this book and if you love the human side of history you'll definitely be caught up in this very human tale of truth, deception and consequences just as much as I was.
I absolutely loved the evocative description and lyrical language in this novel and got swept up in the story so much so that I didn't want to leave. The portrayal of human relationships and their consequences in Karna's Wheel is another aspect of this novel that really stood out for me and I loved the way that I could envisage Dundee just as vividly as Calcutta in this epic read. The way that these characters' lives intersect leaves the reader asking themselves probing questions about the reasons we make decisions and if we are being as honest with ourselves as we think we are at some of the critical times in our lives…
I can't recommend this book highly enough – it's an intelligent, immersive and atmospheric read that really draws you in and holds you tight until you've turned the final page. Treat yourself to a copy here
Isn't the cover absolutely gorgeous, by the way?
Writer On The Shelf

MICHAEL TOBERT went to Oxford University, started a publishing company of sorts and lives in Scotland where he and his wife have built a Montessori nursery school at the bottom of their garden. While she, and others, nurture the children, he scythes the nettles and whispers encouragement to the wildflowers.
For more information, blogs and stories, please go to his website: www.michaeltobertbooks.com.
And check out his other books
here