Gripping, tense, twisty and full of emotional insight, COME AND FIND ME is Sarah Hilary's  5th Marnie Rome book – and I'm OBSESSED!
'Hilary belts out a corker of a story, all wrapped up in her vivid, effortless prose. If you're not reading this series of London-set police procedurals then you need to start right away' Observer
On the surface, Lara Chorley and Ruth Hull have nothing in common, other than their infatuation with Michael Vokey. Each is writing to a sadistic inmate, sharing her secrets, whispering her worst fears, craving his attention.
DI Marnie Rome understands obsession. She's finding it hard to give up her own addiction to a dangerous man: her foster brother, Stephen Keele. She wasn't able to save her parents from Stephen. She lives with that guilt every day.
As the hunt for Vokey gathers pace, Marnie fears one of the women may have found him – and is about to pay the ultimate price.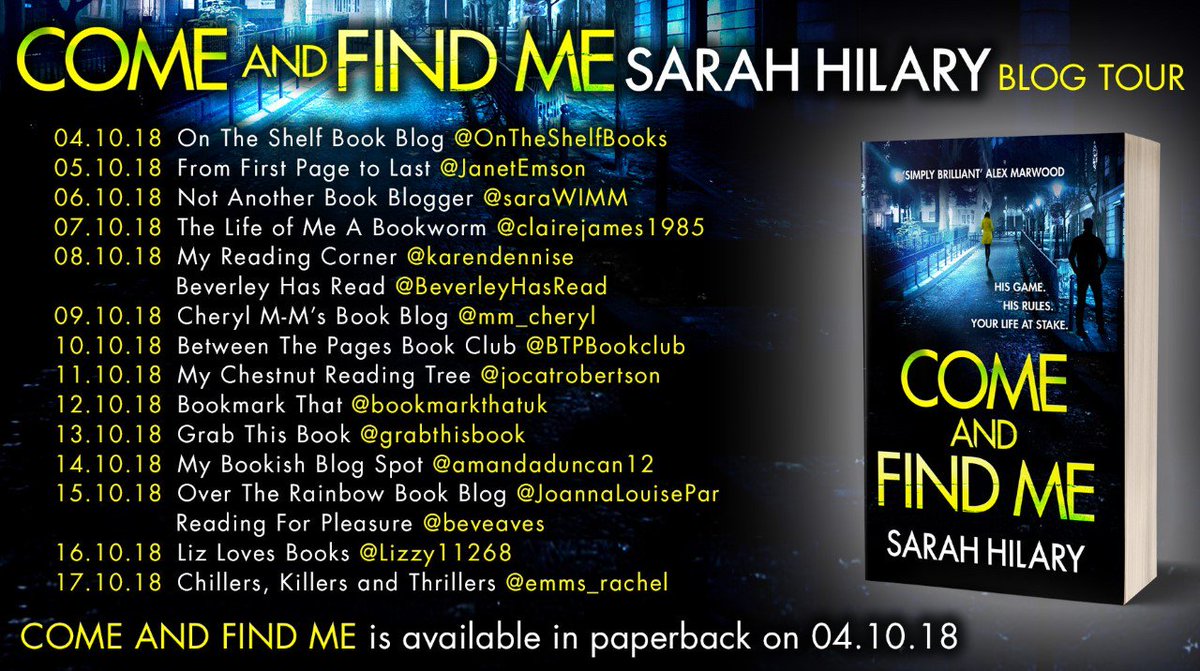 I was literally OBSESSED with Someone Else's Skin
When I was younger, I really wanted to be called Marnie – and after reading Sarah Hilary's Come And Find Me, It was confirmed:  I want to BE Marnie Rome!
Add that to the fact that I love books that present crime in a wholly original way – where I think about what your own responses might be – rather than feel like I'm just reading about fictional characters, you'll understand why this was a five star read for me and I was so excited to be opening the blog tour for Come And Find Me today…
This book grabbed me and pulled me right into the story. I was really intrigued by the premise of the book first of all: I mean you read about people who write to prisoners all the time; but have you ever thought about what it might be like to BE one of them? Michael Volkey is the kind of criminal that you can't imagine being drawn to yourself – but that's what makes it all the more intriguing, I feel.
Come And Find Me asks us to put yourself in the place of these women and think about Marnie's response to them at the same time – and this makes for seriously compelling reading….
Both women – Lara Chorley and Ruth Hull  – have very distinctive stories which really emphasise the way that we interact within the same circumstances in wholly different ways Even though Come And Find Me deals with very challenging issues, they never threaten to dominate the story and the characters feel very much like real people – rather than mechanisms to explore an issue – which I've often found in novels which want to look at the way we respond to trauma, horror or tragedy. Sarah Hilary creates characters to explore ideas, rather than having an idea and inventing flimsy characters to explore it. If you haven't already read the first four then I'm SO jealous of you already – get them ordered as soon as you can
Sarah Hilary is an excellent writer – it's hard to talk about this novel without spoilers, so I'll just need to tell you that you must read it for yourself. You will be intrigued by the hunt for Volkey and want to read on and find out exactly what has led to their obsession and what has led to Marnie really understanding the idea of obsession herself. The backstories of these characters – Marnie and DS Noah Jake – will draw you in and make you feel so invested in them. If I had to wish for a detective pairing to see on the screen this Autumn, this pair would be my absolute first choice…
I really liked the way that Come And Find Me asks us to look at crime from new and different perspectives and re-see them, once we have a greater understanding of everything that prisoners have been through in order for us to reevaluate our understanding of what 'the truth' of our justice system actually is. How many times have you read a crime story and been made to think about issues like prison overcrowding or the way that prison officers families are affected by their jobs? My husband is an ex-prison officer and I feel like it is Sarah Hilary's real commitment to the truth of our criminal justice system that sets her apart and makes her one of my absolute favourite crime writers.
This isn't just a straightforward thriller or police procedural. Come And Find Me goes a little deeper than that and asks us to think about the way that our personalities evolve through, because of and despite our experiences and who we can trust with our story. This novel makes us rethink again everything that we've discovered in the first four books and will leave you turning the pages, desperate to find out exactly how this fantastic read will end.
Anyone interested in relationships, psychology and human frailties will love Sarah Hilary's newest novel. I loved Come And Find Me and because I was so excited to read it, I'm delighted to say that I was definitely not disappointed. Even though this book touched on dark and difficult subject matters at times, it was dealt with very sensitively and never felt exploitative or sensational in the slightest. It really asks you to delve inside someone else's skin as a reader and think about the way that our lives can be derailed or enhanced by the cards that we are dealt. You will really find it hard to tear yourself away -and I have to admit that I tore through it the day it fell through my letterbox!
Come And Find Me was a book that I know I'll be recommending to lots of readers as I was totally immersed in its characters, its pace and the way it really made me think about crime from a wholly fresh perspective. I can't wait to see where Sarah Hilary goes next – and I can guarantee that you'll be hooked by the time you've finished the last chapter of her first novel!  I feel like Come And Find Me make an excellent Book Group read as it would be sure to provoke lots and lots of discussion about coercive control, the prison system and the impact on crime of those who spend their lives fighting it…
Come And Find Me
Many thanks to lovely Anne Cater for inviting me to join this blog tour and for my copy of the book for this review.
Writer on the Shelf

Sarah Hilary has worked as a bookseller, and with the Royal Navy. Her debut, SOMEONE ELSE'S SKIN, won Theakstons Crime Novel of the Year 2015 and was a World Book Night selection for 2016.
The Observer's Book of the Month ("superbly disturbing") and a Richard & Judy Book Club bestseller, it has been published worldwide. NO OTHER DARKNESS, the second in the series was shortlisted for a Barry Award in the US.
Her DI Marnie Rome series continues with TASTES LIKE FEAR (2016) QUIETER THAN KILLING (2017) and COME AND FIND ME (2018).
Follow Sarah on Twitter at @Sarah_Hilary