Married couple Jack and Ali Gardiner move to a self-sufficient commune in the English Fens, desperate for fresh start. The local village is known for the witches who once resided there and Rosalind House, where the commune has been established, is a former psychiatric home, with a disturbing history.
When Jack and Ali arrive, a chain of unexpected and unexplained events is set off, and it becomes clear that they are not all that they seem. As the residents become twitchy, and the villagers suspicious, events from the past come back to haunt them, and someone is seeking retribution…
At once an unnerving locked-room mystery, a chilling thriller and a dark and superbly wrought ghost story, The Lingering is an exceptionally plotted, terrifying and tantalisingly twisted novel by one of the most exciting authors in the genre.
Could there actually BE a better time to be telling you that just have to go out and buy yourself a copy of The Lingering by SJI Holliday?
Halloween week couldn't be more appropriate and if you like your reads to be mysterious and brooding, you have absolutely come to the right place.  I was so excited to receive a copy in the post from Anne Cater and I have been telling people about it ever since I closed its final page.
What I love about Susi Holliday as a writer is the fact that you just could not choose between her plotting and her characterisation in any of her books. Usually, I find that when writers are this good at one of these things, the other definitely suffers – but just like her other books, The Lingering is definitely the exception to the rule…
Is anyone else like me and love to go online and look for their imagined settings of the book that they're loving, to try and see its world come to life? I love doing it and I found myself scrolling through pages and pages of remote locations, trying to find my own version of Rosalind House and imagine Jack and Ali arriving there. This Welsh one in Denbigh definitely gave me the shivers  – And it's all yours for 2.5 million…
It was lovely to lose myself in such a dark and eerie read after two weeks of relentless work. It's funny that I get drawn to cold misty books in the cooler weather and like to lose myself in books set in a warm olive grove when I'm holidaying abroad. This dark  and mysterious read was just perfect for me to curl up with and completely immerse myself in during this chilly Autumn weather, and I really loved the way that Susi Holliday draws the reader in and keeps them guessing about the secrecy and suspense surrounding Rosalind House and this made me turn the pages rapidly as I sought to uncover its mysteries for myself.
I loved the juxtaposition of the very realistic relationship that is portrayed between Jack and Ali, and the otherworldly events that they get tangled up in  The deftly portrayed relationship sits convincingly alongside some of the stranger elements of this fascinating story which means that we allow ourselves to suspend our disbelief and abandon ourselves to Susi's skilful storytelling as she weaves a strange, compelling and mysterious take around this isolated and unique place.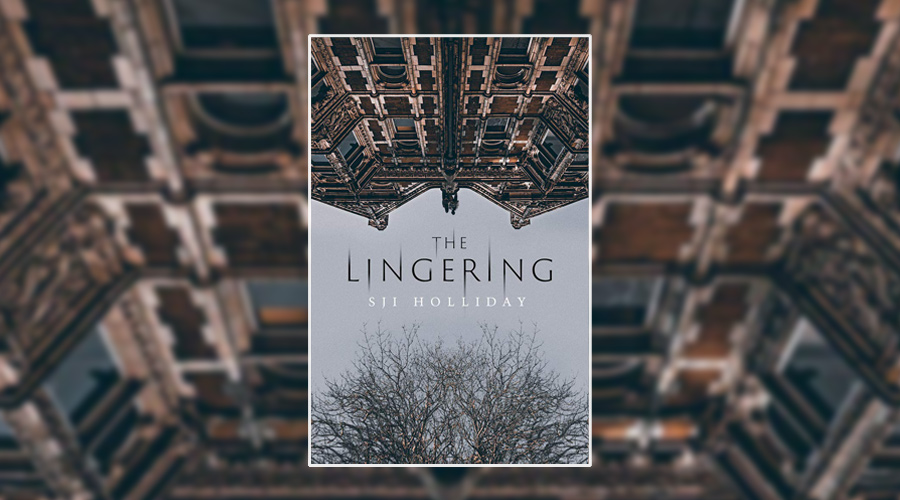 I absolutely love atmospheric reads and this will appeal to fans of both Rebecca and The Silent Companions who love being immersed in a closed world where creaking floorboards, crumbling turrets and unspoken questions tug at your subconscious as you're reading. I got so lost in this story that I stayed up far too late to finish it as I could not go to sleep without trying to find out the answers to the many questions that emerged during the course of this mysterious and addictive read.
It's been hard to review The Lingering without any spoilers but I am determined to as I feel that everyone should go on 'blind' to the secrets surrounding these characters when they start reading it. I absolutely loved Susi's Banktoun Trilogy, but I definitely think she has outdone herself here and I can't wait to see what some of my very favourite bloggers think of it as I follow the rest of the tour this month.
This book is a fascinating and memorable read – I'd call it haunting –  if that wasn't a pun too far! It is deliciously dark and will be guaranteed to Linger in your thoughts as you climb those stairs to bed in the darkness.  I'm really hoping that work quietens down so that I can attend this launch event on the 14th November in Edinburgh as I know that it'll be fantastic and loads of my favourite booky people will be there too! I once won a copy of #TheDamselfly and Susi put a lucky dip lottery ticket in its pages – so really hoping to say thanks in person!
Thanks again to the lovely Anne for giving me the chance to share the love for another fantastic read. If you haven't managed to read it yet, you can buy yourself a copy here
Writer On The Shelf

S.J.I. (Susi) Holliday grew up in East Lothian, Scotland. A life-long fan of crime and horror, her short stories have been published in various places, and she was shortlisted for the inaugural CWA Margery Allingham prize.
She has written three crime novels set in the fictional Scottish town of Banktoun, which are a mix of police procedural and psychological thriller. They are: "Black Wood", "Willow Walk" and "The Damselfly" – all featuring the much loved character, Sergeant Davie Gray.
Her serial killer thriller "The Deaths of December" (written as Susi Holliday), featuring Detective Sergeant Eddie Carmine and Detective Constable Becky Greene was a festive hit in 2017.
Her spooky mystery "The Lingering" will be released in September 2018.
You can find out more at her website: http://www.sjiholliday.com and on Twitter @SJIHolliday.