Best friends Holly and Roz tell each other everything
Jane Fallon is back with a compulsively readable and utterly hilarious, feisty look at the complexities of female friendships.
Holly is feeling on top of the world – celebrating a new promotion and dying to pop the champagne with her best friend Roz. But is Holly just imagining things, or is Roz – who supported her every step of the way – not as happy for her as she should be?
Something about Roz's behaviour doesn't add up. And soon Holly has the sneaking suspicion that there's a target on her back. Has someone been playing dirty in a war Holly didn't know she was fighting? And is Roz more tangled up in this than she'll admit?
Only one woman can be left standing – but will the best woman win?

Thank you so much to Jenny Platt for inviting me on the Blog Tour. I loved this book and will be recommending it to lots of people in my book group as I know that they'll love it too
Holly is the kind of character that really comes alive for you as you read. In her exciting job where her promotion makes her really feel like she's made it in life, we get swept along with her enthusiasm and share her excitement about this new stage of her life.  We are keen as readers for BFF Roz to feel just as excited as we do – but not as surprised as we might be to realise at the same time as Holly does that sometimes friends' successes are not quite as uncomplicated as we might like them to be…
The setting will be a familiar one to many readers and it is deftly set up –  allowing us to see exactly where the tensions in the fabric of this friendship are and how they might further rupture as the novel progresses. The earlier scenes allow us an insight into the friendship as it was and paves the way for us to see how these frenemies lives will unfold as the tensions increase
.
After all of her efforts, it's hard not to share Holly's dismay that Roz isn't quite on the same page – but there is much here to recognise – perhaps with a wry smile and a sinking heart as Jane Fallon is exactly 'on the money' as she writes about how tangled and complex many female friendships are and how tightly the webs are drawn that connect us together yet threaten to strangulate us at times too!
Holly's initial success and her ensuing promotion is just the start of their adventures and believe me, there's never a dull moment in this book! Holly is a fantastic character, she's got her own flaws, as we all do but she's all the better a character for it!  The plot zips along at a cracking pace and the dark humour here makes you grimace at times as you remember some of the 'friends' that you've cheered on through gritted teeth or silently wished would emigrate to Australia if you hear one more word about their 'fabulous' life.
I'm a fan of a great read and I think that there are a lot of people who can be a bit 'sniffy' about chick lit or female fiction without ever really experiencing its joys for themselves – This book is not trying to be anything else, it's perfectly happy being its own delicious self.  I'd actually love to see it on screen and would be dragging people along with me to see Holly v. Roz in the flesh! If you like your heroines to be just like the people you've known and loved- or loved to hate – in real life, then you're going to LOVE this read. Their flawed and cracked friendship and how it unfolds will certainly keep you entertained as you make your way through this novel – all too quickly, I might add as I could have certainly wished for more chapters last weekend as I enjoyed it in the couch during a lazy Sunday afternoon reading marathon.
Thanks so much to Jenny Platt from Penguin Random House for sending me this book to review for the blog tour – I absolutely love taking part in  Jenny's tours and look forward to seeing what the other fab bloggers involved think of the book too.
Treat yourself to a copy of this great slice of fiction here – it's the perfect winter read for a chilly afternoon.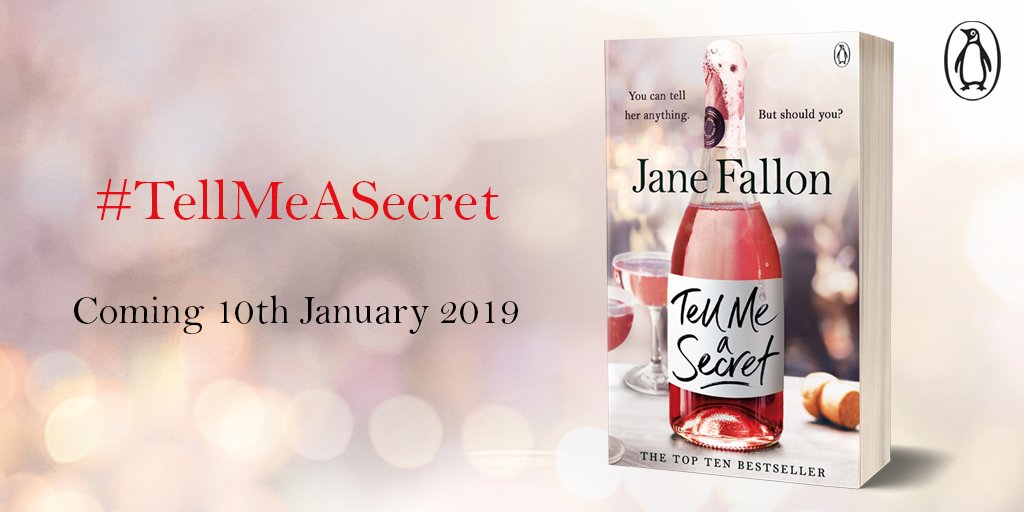 Writer On The Shelf
Jane Fallon is the multi-award-winning television producer behind shows such as This Life, Teachers and 20 Things to Do Before You're 30. Her books include Getting Rid of Matthew, Got You Back, Foursome, The Ugly Sister, Skeletons, Strictly Between Us and My Sweet Revenge.
You can find more information at www.janefallon.co.uk
or on Twitter: @JaneFallon