From her first day as Personal Assistant to the celebrated Mina Appleton, Christine Butcher understands what is expected of her.
Absolute loyalty. Absolute discretion. For twenty years, Christine has been a most devoted servant, a silent witness to everything in Mina's life. So quiet, you would hardly know she is there.
Day after day, year after year, Christine has been there, invisible—watching, listening, absorbing all the secrets floating around her. Keeping them safe.
Christine is trusted. But those years of loyalty and discretion come with a high price. And eventually Christina will pay.
Yet, it would be a mistake to underestimate such a steadfast woman. Because as everyone is about to discover, there's a dangerous line between obedience and obsession.
Thank you so much to Anne Cater for inviting me on the Blog Tour for #TheSecretary – I really loved Disclaimer so I was absolutely delighted to be given the opportunity to read this new release by Renee Knight. I was intrigued by the premise and couldn't wait to be pulled into another slice of psychological drama and twisty narrative.
The premise of this novel is as twisty and skilful as any you've read this year. I guarantee that you'll need to free up some time once you've started this book as you'll want to find out what happens with the minimum of disruption – so get ready for an unforgettable read.
If you love an unforgettable narrator who will really get under your skin and whose voice will stay with you for a long time after you've closed the final page – then look no further.
Christine is the kind of character that really comes alive for you as you read. In her years of discretion and service to Mina Appleton, she has always sought to blend in and be the perfect employee. She has done her very damnedest to be indispensable. Whatever Mina needed, Christine obliged. She ensured that her every wish was anticipated and every task done to perfection – but this level of service comes with a price…
The fact that we hear this tale unfold through Christine's eyes, seeing the indomitable Mina and her methods of working through Christine's eyes makes for a great read. We can see things beginning to unravel around her and yet we are only drip-fed information which means the subtle atmosphere of menace just builds and builds as we read. It was definitely a dark and tantalising read and will keep you turning the pages, wanting to find out exactly what is going on behind the efficient smiles and glossy brochures.
Mina's realisation that Christine knows way too much and the decisions that unfold as a result make for a gripping read and this is just the start as there's never a dull moment in this book! Mina is a fantastic character, she's totally lacking moral scruples but all the better a character for it! I loved the contrast between these two women – both pretty unlikable but both equally compelling in their own way.
This juxtaposition means that the plot zips along at a cracking pace and the darkness here makes you – if not quite admire Mina or Christine– certainly be impressed at their determination as each one of them seeks a way to make sure that she gets what she wants! But the moral of the story has to be that – just like Mina – we should never underestimate the quiet ones in the corner as who really knows WHAT they are capable of when the chips are down…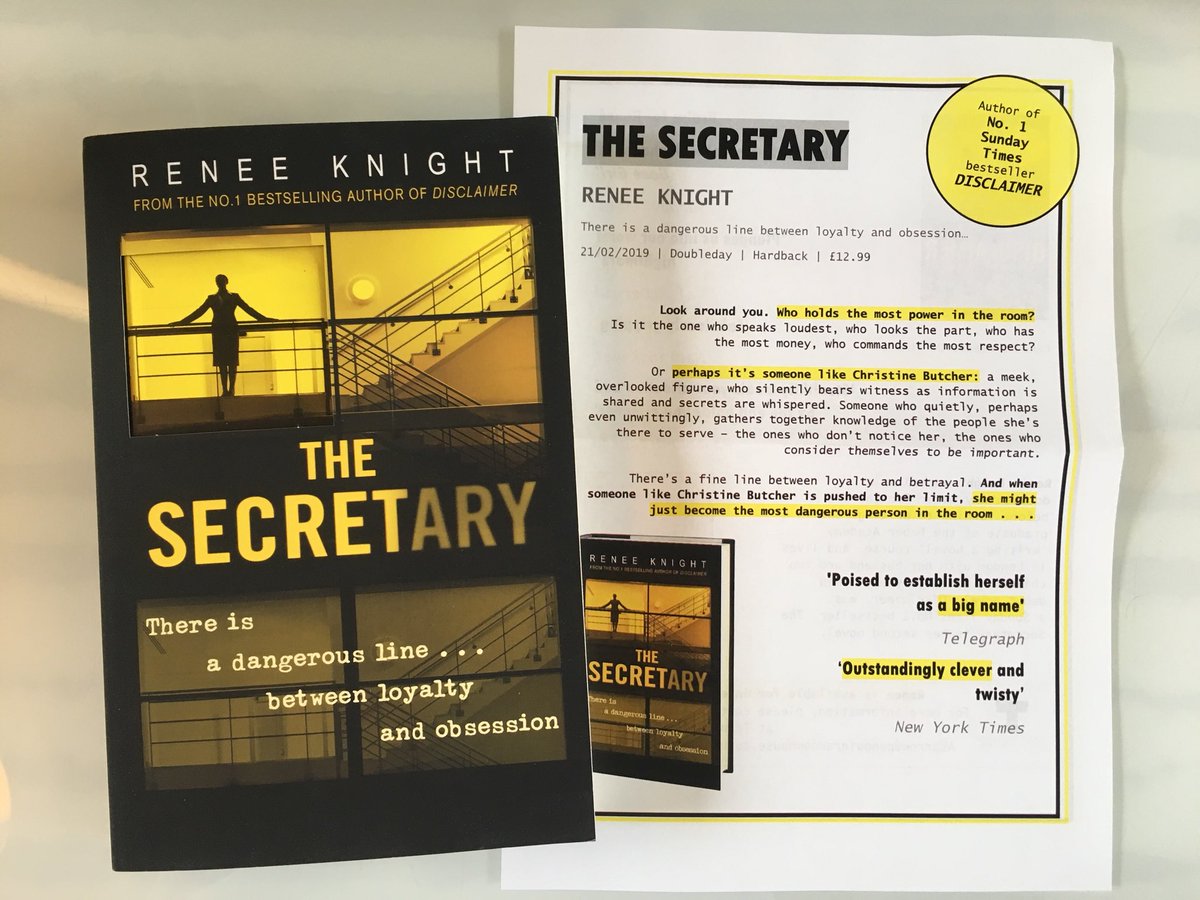 I'm no fan of books being painted as 'The next…' and we're all sick I'm sure, of seeing books compared with The Girl on the Train or The Woman in the Window –  This definitely isn't 'The Girl in The Office' – it's not trying to be anything else, it's perfectly happy being its own dark delicious self.
I'd actually love to see it on screen and will be dragging people along with me to see Mina and Christine brought to life! If you like your characters flawed, dark and full of drive, then you're going to LOVE this book. It will certainly keep you entertained as you make your way through its pages with bated breath – all too quickly, I might add.
Thanks so much to Anne Cater for sending me this book to review for the blog tour – I absolutely love taking part in Anne's tours and look forward to seeing what the other bloggers on the tour think of the books too.
Writer On The Shelf
Renée Knight worked as a documentary-maker for the BBC before turning to writing. She is a graduate of the Faber Academy 'Writing a Novel' course, and lives in London with her husband and two children. Her widely acclaimed debut novel, Disclaimer, was a Sunday Times No.1 bestseller.
The Secretary is her second novel.