Welcome to the Heady Heights …
It's the year punk rock was born, Concorde entered commercial service and a tiny Romanian gymnast changed the sport forever…
Archie Blunt is a man with big ideas. He just needs a break for them to be realised. In a bizarre brush with the light entertainment business, Archie unwittingly saves the life of the UK's top showbiz star, Hank 'Heady' Hendricks, and immediately seizes the opportunity to aim for the big time. With dreams of becoming a musical impresario, he creates a new singing group called The High Five with five unruly working-class kids from Glasgow's East End. The plan? Make it to the final of Heady's Saturday night talent show, where fame and fortune awaits…
A hilarious, poignant nod to the elusiveness of stardom, in an age when 'making it' was 'having it all', Welcome to the Heady Heights is also a dark, laugh-out-loud comedy, a poignant tribute to a bygone age and a delicious drama about desperate men, connected by secrets and lies, by accidents of time and, most of all, the city they live in.
Even if I hadn't read and absolutely adored the #DiscoDays trilogy, I would have loved this book. I was so excited to be invited onto the #Blogtour and I'm delighted to be sharing my response just before the Edinburgh leg of the Orenda Roadshow – which I'm so excited to be attending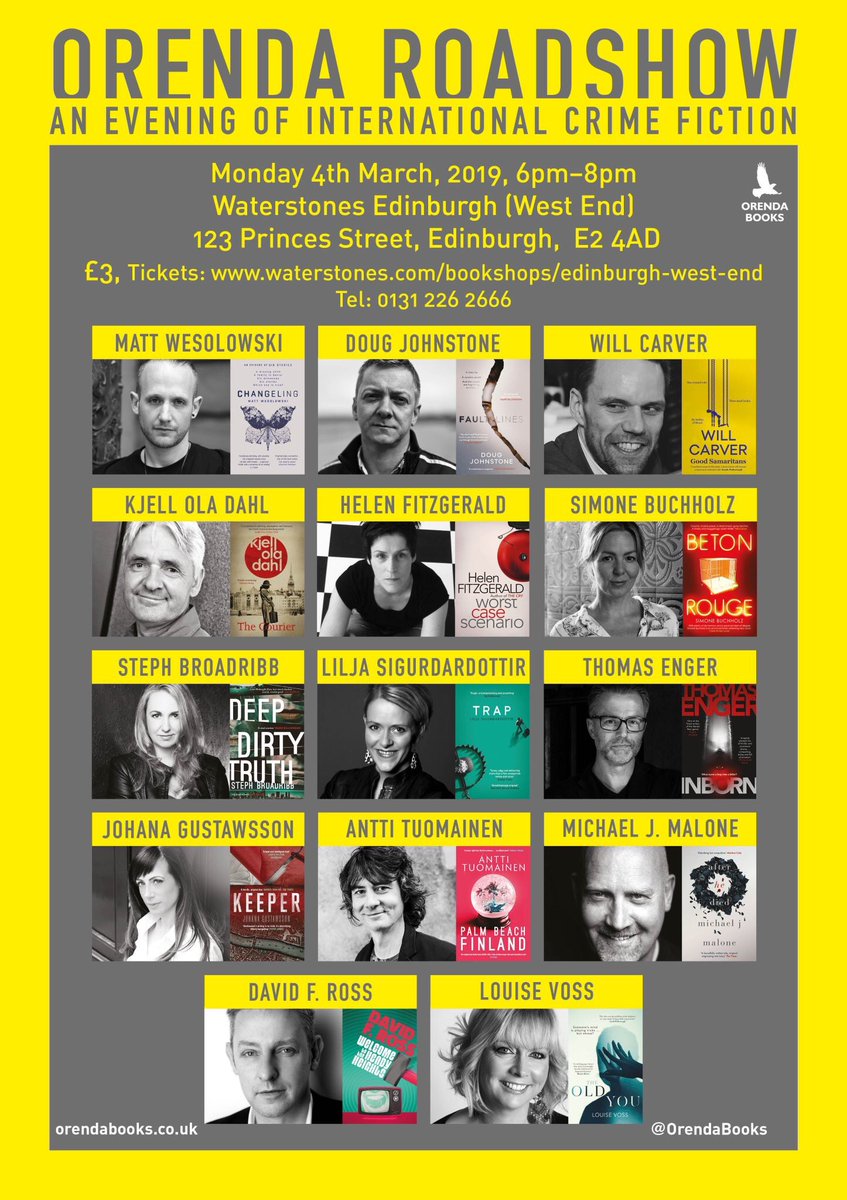 Attending this fabulous book event on Monday was a 'must' for me as this is a really unique event allowing me to see not just David, but a whole host of other Orenda favourites too!
It will also give me another chance to meet the legendary Karen from Orenda Books and get to hear lots of my favourite Orenda writers read from their newest books #Heaven right?
It is always a pleasure to hear writers read from their own works and even though David has made it clear in the past that this is not a favourite part of a book launch for him, it will be fantastic to hear a rendition of #WelcomeToTheHeadyHeights in his own voice and hear the crowd's response to this fantastic read. Hopefully, I'll be able to get my copy signed too, like my #DiscoDays books
The dark humour in these books paints a truthful and perceptive portrait of Scotland that is unsurpassable, giving us Scots of a certain age so many 'That's exactly right!' moments and the blend of humour and truthfulness hits just the right balance to make you think as well as making you crease up laughing. This portrait of Big Jamesie Campbell will definitely take its place in Scottish Book characters Hall of Fame as we've all met one in our time and he is such a fabulously drawn character, you'll swear he rises up off the page and starts talking to you as you read.
Mr OnTheShelf is an Ayrshireman and I always pass David Ross books onto him after I'm done He came away evangelical about this one, because of all the memories it triggered. As an ex-copper himself, he loved the portrait of Barbara Sherman – aka – The Tank – which he says took him right back to 1984 and some of the police characters he encountered in his heyday.  The fact that he enjoyed the book so much has meant that we've talked non-stop about The Heady Heights as a TV Concept, and what 'turns' we'd like to see appearing on it
David has been compared endlessly with Irvine Welsh and John Niven and if you enjoy these writers then you will definitely enjoy this book, but I think his books all contain something wholly their own that sets them apart from their contemporaries. If you enjoy your humour dark and your tales memorable – then what are you waiting for – Buy this book!
I can't wait to see where David F Ross goes next in his fiction writing – once you've read his profile, you'll be amazed he finds the time. He is definitely one of the most exciting  Scottish writers that I read at the moment and I look forward to more news after hearing the hints that we could be seeing the #DiscoDays books on stage and screen in the near future, which is sure to bring him the wider audience he deserves.
Thanks to Karen and Anne for getting me a copy to review – you can buy yourself your own copy here – it's an absolute must-read.
Writer On The Shelf
David F. Ross was born in Glasgow in 1964 and has lived in Kilmarnock for over thirty years. He is a graduate of the Mackintosh School of Architecture at Glasgow School of Art, an architect by day, and a hilarious social media commentator, author and enabler by night.
His most prized possession is a signed Joe Strummer LP. Since the publication of his debut novel The Last Days of Disco, he's become something of a media celebrity in Scotland, with a  signed copy of his book going for £500 at auction, and the German edition has not left the bestseller list since it was published.
Here is a collage that I made after his last book launch; really looking forward to making another one after Monday's Roadshow extravaganza