Stirring up secrets can be deadly … especially if they're yours…
Pregnant Victoria Valbon was brutally murdered in an alley three weeks ago – and her killer hasn't been caught.
Tonight is Stella McKeever's final radio show. The theme is secrets. You tell her yours, and she'll share some of hers.
Stella might tell you about Tom, a boyfriend who likes to play games, about the mother who abandoned her, now back after fourteen years. She might tell you about the perfume bottle with the star-shaped stopper, or about her father …
What Stella really wants to know is more about the mysterious man calling the station … who says he knows who killed Victoria, and has proof.
Tonight is the night for secrets, and Stella wants to know everything…
I was so excited to receive Star Girl for two reasons: the first being that I absolutely adored The Lion Tamer Who Lost and  Maria in the Moon. Louise Beech is the Queen of writing novels that genuinely make me unable to leave my chair or answer my phone so I could not wait to get started. Once I began reading it, I had to avoid Twitter as I did not want to read anyone else's blog posts until I'd finished the novel for myself as I wanted it to be an experience just for myself, not affected by anyone else's ideas or reactions.
Call Me Star Girl was absolutely every bit as good as Louise's other novels and I couldn't wait for my spot on the blog tour to tell everyone that this is a book that you should definitely be moving to the top of your TBR if you haven't devoured it already. Thank you so much to Anne Cater for providing me with another stunning read that I cannot stop telling people about as this is definitely a Five Star Read!
The other reason that I was so excited to receive Call Me Star Girl as that for as long as I can remember, I've loved late night radio shows. When I was a student, I listened to them as I wrote essays and revised for exams and when I was in a long-distance romance I listened to them on long car trips as I drove across the miles. I feel like when you are up late at night and the world is silent all around you, you often feel like the radio presenter is talking just to you and you're the only person awake in the world.
When I heard that Louise's new book had a late night broadcast at its heart, I couldn't wait to get my hands on it and I can tell you that I devoured this book during my Easter break without stopping. Even though I was relaxing in gorgeous Comrie, Call Me Star Girl transported me to a darker place and held me there as I was so lost in its twisty depths…
Louise Beech has a unique talent for immersing us completely within the human psyche of the characters she creates. She doesn't shy away from shocking and disturbing the reader and her books are definitely not for people who want a cosy story with lovable characters and straightforward motivations.
Where other writers might create characters with charming backstories and happy endings, Louise paints electrifyingly vivid pictures of characters who present you with your innermost fears, and challenge you to imagine how you might react in similar circumstances – if you dare…
Once more, in her trademark style, we hear about this complex and intriguing story from more than just one angle which makes for an intriguing read that really keeps the pace up and makes sure that the reader is permanently on their toes, turning the pages as we are transported across the airwaves into the late night office of Stella to become one of her late night listeners as you read…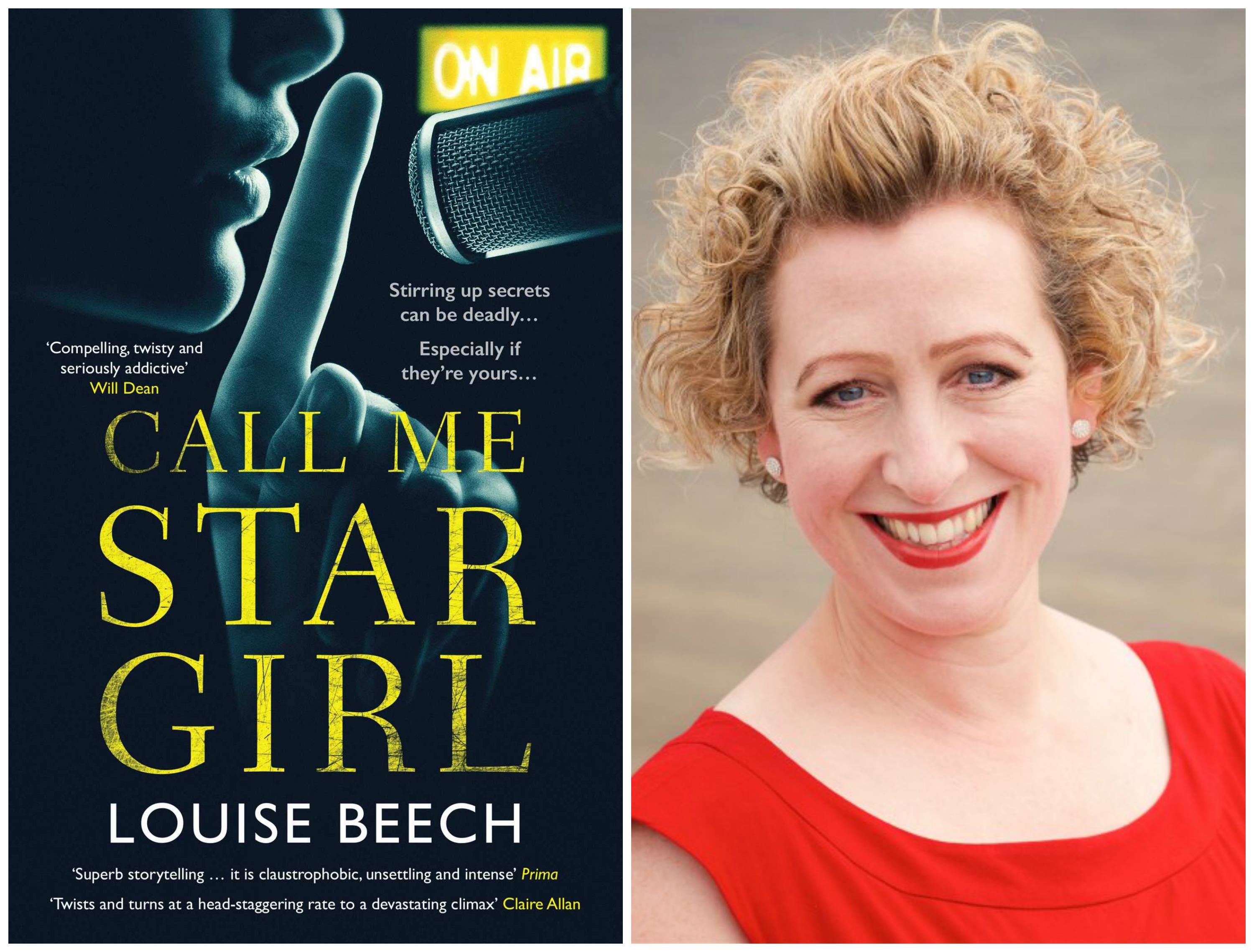 Stella's voice captures you and pulls you right into the story when a listener dials in and reveals that a young girl has been murdered in the vicinity of her radio station. The theme is 'Secrets' and Stella wants her listeners to dial in with some secret confessions of her own – hoping that the murderer themselves will be tempted to call in with a live online confession explaining exactly why Victoria had to die…
I absolutely loved Call Me Star Girl. I am committed to no spoilers, so this was a really difficult task as I really want you to have the same immersive experience as I did whilst lost in this fabulous and gripping read. Gripping is a word that gets thrown about far too lightly these days, but I guarantee that you'll agree with my verdict once you've read Call Me Star Girl for yourself! This genre is Louise's first foray into the thriller genre and I'm delighted to say that she's in her element. It just shows how stunningly talented she is that it seems that no matter what genre, she absolutely nails it!
The impeccable taste of Karen Sullivan means that Orenda novels are so many bloggers' absolute go-to novels when they want a 'can't put you down' read  This is not a novel for the faint of heart: it doesn't let up on the tension and you're holding your breath in the same way as I'm sure so many of Stella's listeners would have been doing as she broadcast this gripping episode on air.  Louise Beech is amazingly skilled at making the hairs on the back of your neck stand on end and literally catch your breath as you re-read – speechless at what you've just been exposed to – and I can't get enough of her writing.
Call Me Star Girl is a bit like one of my favourite small-batch gins: full of depth, so many elements skilfully blended together and difficult to put down once you've started. I'm a huge fan and I am really looking forward to seeing where this fabulously versatile writer goes in her next novel. If for some reason, you've not read Call Me Star Girl yet- what are you waiting for? If you like dark fiction, fabulous characterisation and a unique take on the way that the past and the present can collide in ways you never expected then you'll be an absolute convert
I wish that I lived closer to Sheffield for this event – if you are in the vicinity, get your ticket booked. It's sure to be an absolutely amazing night.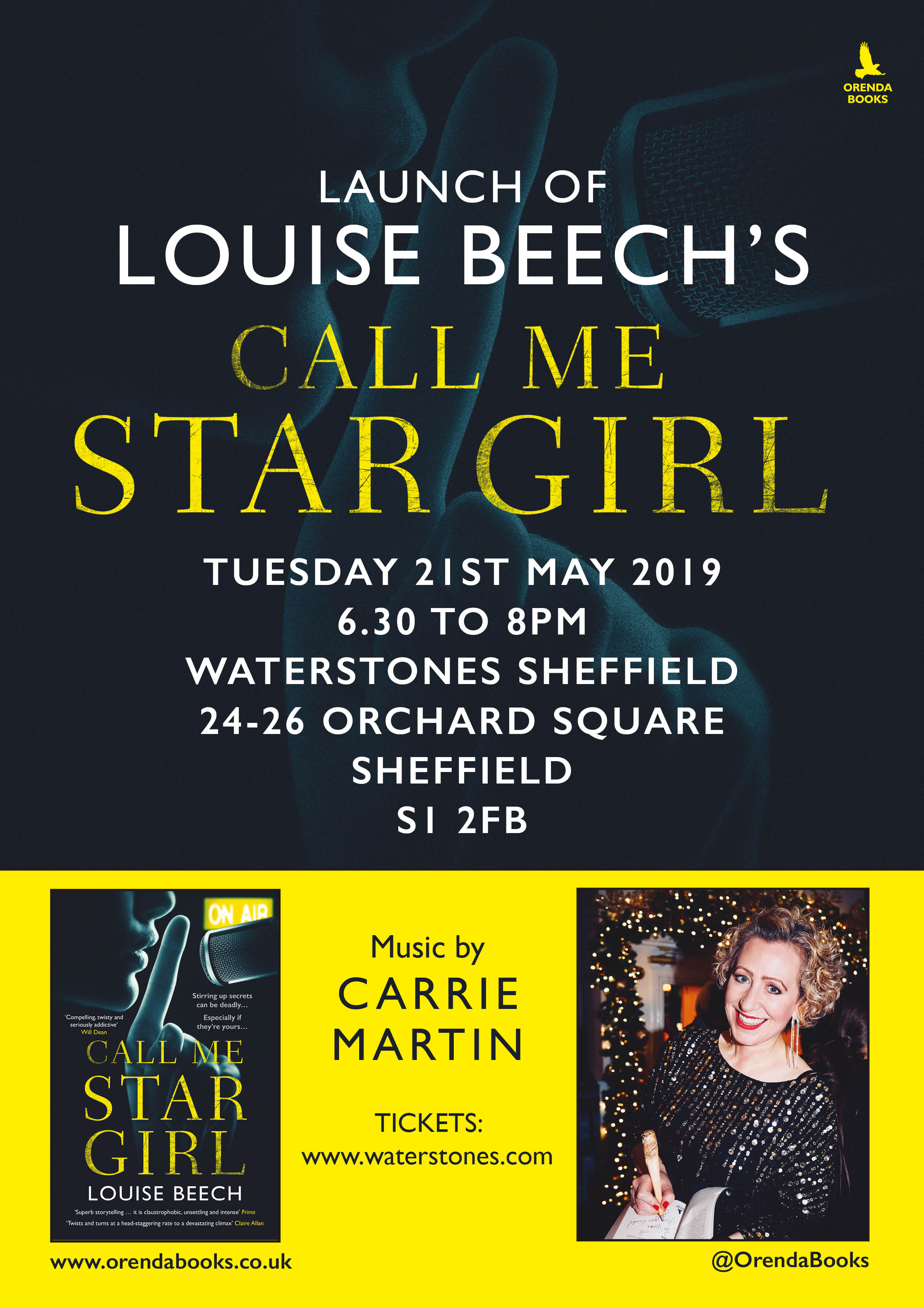 Writer On The Shelf

Louise Beech is an exceptional literary talent, whose debut novel How To Be Brave was a Guardian Readers' Choice for 2015. Her next book, The Mountain in My Shoe was shortlisted for Not the Booker Prize. Maria in the Moon was compared to Eleanor Oliphant Is Completely Fine, and widely reviewed. All three books have been number one on Kindle, Audible and Kobo in USA/UK/AU. Her last book, The Lion Tamer Who Lost, was shortlisted for the Sapere Books Popular Romantic Fiction award at the 2019 Romantic Novel Awards.
She regularly writes travel pieces for the Hull Daily Mail, where she was a columnist for ten years. Her short fiction has won the Glass Woman Prize, the Eric Hoffer Award for Prose, and the Aesthetica Creative Works competition, as well as shortlisting for the Bridport Prize twice and being published in a variety of UK magazines. Louise lives with her husband and children on the outskirts of Hull – the UK's 2017 City of Culture – and loves her job as a Front of House Usher at Hull Truck Theatre, where her first play was performed in 2012.
Follow Louise on Twitter: she also has an excellent website. \
Details of Louise's books can be found on her Amazon author  page or via the Orenda Books website.
Amazing Reviews Below:
With echoes of the Play Misty for Me, Call Me Star Girl is a taut, emotive and all-consuming psychological thriller that plays on our deepest fears, providing a stark reminder that stirring up dark secrets from the past can be deadly…
'A complex and layered tale that charmed me as a much as it traumatised me. An atmospheric, haunting and beautifully written page turner!' C L Taylor
'It's a slow burn at first until it twists and turns at a head-staggering rate to a devastating climax. Original, moody and totally gripping' Claire Allan
'Louise Beech blasts into the world of thriller writing with this moody and tense tale. With secrets, lies and plenty of twisty turns, it's story is dark and it's setting eerie and evocative. Definitely one where you might look over your shoulder more than once while reading!' Fionnuala Kearney
'An original story and beautifully written, so atmospheric … Dark, mesmerising and utterly devastating' SJI Holliday
'Beech has used her unique flair and constructed a crime fiction story that will have you frantically turning the pages until you get to the end' Michael Wood
'It's EXTRAORDINARY – tense, twisted and utterly compelling, written with such raw beauty and unflinching honesty' Miranda Dickinson
'A change in direction of genre but one that pays off – it effortlessly retains Louise's inimitable voice. A thriller with heart, passion and twists that will surprise even the most astute readers' John Marrs
'That bloomin' Louise Beech again has left me feeling the hugest lump in my throat, put me through the emotional wringer & tested me mentally – utterly LOVED this book! So chilling, so clever, so … perfect!! The Quiet Knitter
'Call Me Star Girl is tense and gripping, powerful and shocking – a tale of love and loss. It's dark and twisty, yet also packed with passion and raw emotion' Off-the-Shelf Books
'Louise has managed to create a story that leaves a powerful and lasting impression, I finished the book several hours ago and can't stop thinking about my favourite scenes!' Made Up Book Reviews
'This story is full of twists and turns which definitely took me by surprise, right up to the end. Louise Beech brilliantly ramps up the tension and maintains an unsettling atmosphere throughout the book … A dark story about secrets and the things people will do for love, this would make an excellent film I feel' Portobello Book Blog