The First World War is over, and in a quiet Hampshire village, artist Stanley Spencer is working on the commission of a lifetime, painting an entire chapel in memory of a life lost in the war to end all wars. Combining his own traumatic experiences with moments of everyday redemption, the chapel will become his masterpiece.
When Elsie Munday arrives to take up a position as a housemaid to the Spencer family, her life quickly becomes entwined with the charming and irascible Stanley, his artist wife Hilda and their tiny daughter Shirin.
As the years pass, Elsie does her best to keep the family together even when love, obsession and temptation seem set to tear them apart…
Good morning on this sunny Sunday morning! I'm delighted to be participating in this blog tour, for Stanley & Elsie. The first one of Nicola Upson's novels I read was the first novel in her series about Josephine Tey – and if you haven't had the pleasure of reading this fabulous set of mystery novels then I suggest that you head out straight away and buy them all. I have re-read all of them at least once and think they are exceptional – so as you can imagine, I was really excited to be part of this tour.
I'd like to thank Fanny from DuckBooks for inviting me to take part in this blog tour and introducing me to a new standalone Upson novel to enjoy during my sunny Easter break.
The fact that this novel – just like her others – is rooted in fact really adds to the reading experience and introduced me to another historical period and set of characters that I didn't know that much about and left me feeling intrigued and desperate to go and visit the murals at beautiful Sandham Memorial Chapel.  for myself
I love investigating the real history and characters found in the books I'm reading and Nicola Upson remains true to form and does an amazing job of transporting you back in time and reliving this period in the Spencer household, told from the perspective of Elsie whose voice gives us a fascinating insight into his household and allows us a uniquely voyeuristic appreciation of the relationship between Stanley and Hilda as we are able to penetrate their domestic world, rather than seeing the 'famous' Stanley alone.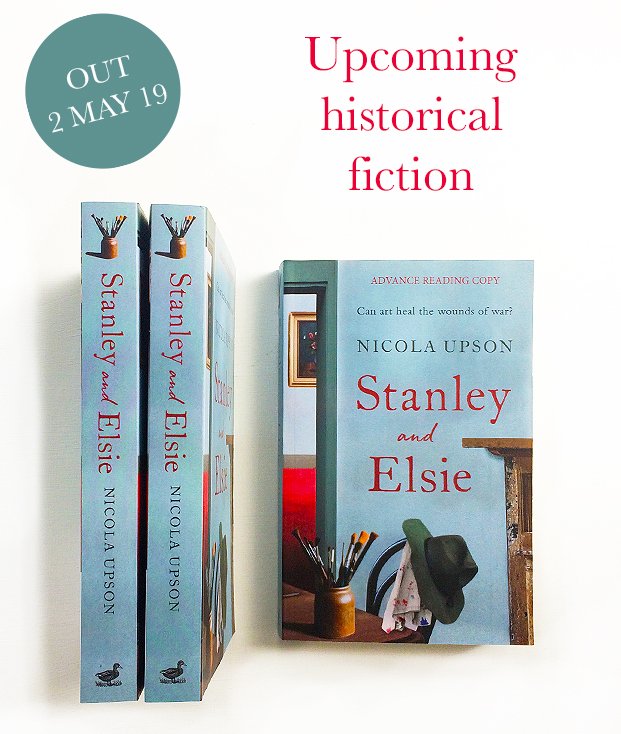 I
This is a moving and engrossing read. Upson keeps these characters faithfully within their period context, providing much food for thought about marriage, dependence and morality during this period for a 21st-century readership. Like her Josephine Tey novels, you start to forget that you're reading a novel based on real events and start to feel like you have been transported back to this time and are living through this period alongside them.
I think that Upson is just as skilful in writing about marital relationships as she is about the history or the art: the dynamics between the characters and the way that they were so realistically depicted was a real strength of this novel. The trials of living alongside an artist and accepting their lifestyle and priorities is a difficult one to paint without resorting to cliche and I feel that Stanley & Elsie has managed it superbly. There's no denying that Stanley and Hilda have a tempestuous relationship and the skilful and credible way that Upson manages to describe their evolving inter-relationships with the other characters in the novel – such as Patricia Preece and Dorothy Hepworth was another stand-out aspect of this novel for me.
As usual, I spent lots of time online afterwards, looking for Stanley's portrait of Elsie and reading more about their entirely unconventional household.
Fans of Nicola Upson will love this beautifully written period portrait and I hope that it also brings her new readers who love period fiction and strongly written literary narratives. I really enjoyed the insights in the Joys of Binge Reading blog where Nicola Upson is interviewed, saying:
 It's a straight historical novel and I see it as very much connected to the Tey series in the sense that it is a re-imagining of a real figure in a particular time and place in the 1920s and 30s again.  No, it's not a mystery in a generic sort of way but I've been thinking about how I approach the characters in that book and how I approach the ones in my mystery series and basically it is about fathoming and trying to understand and trying to get under the skin of why people do what they do.  And you said unconventional family life – I think most people would agree with you in that respect. 
And here is a portrait of Stanley himself
Writer On The Shelf
Nicola Upson is best known for her seven Josephine Tey crime novels. She has also published nonfiction, including a book on the sculpture of Helaine Blumenfeld. This is her first stand-alone novel.
'An exquisite, lyrical novel.' Stephanie Cowell, author of Claude and Camille: A Novel of Monet
'Seriously and sensitively imagined, Stanley and Elsie is a work of painterly beauty and deep integrity. Told by housemaid Elsie Munday, the subject of Spencer s painting Country Girl, the story brings to life Spencer s creative and emotional life, illuminating the consolations of art and its costs.' Wendy Wallace, author of The Painted Bridge
'An intriguing story of artistic temperament, domestic turmoil, and remembrance. Nicola Upson weaves a web of creative and private passions.' Katie Ward, author of Girl Reading
'A sympathetic and balanced biographical novel… affords a sensitive and valuable insight into the dynamics of the artist s life.' — Carolyn Leder, Adviser to the Stanley Spencer Gallery and former Trustee