Erin is a documentary filmmaker on the brink of a professional breakthrough; Mark a handsome investment banker with a bright future. They seem to have it all, until Mark loses his job and cracks start to appear in their perfect life.
 
But they're determined to make it work. They book their dream honeymoon and trust that things will work out – after all, they have each other.
 
On the tropical island of Bora Bora Mark takes Erin scuba diving. Mark is with her – she knows he'll keep her safe. Everything will be fine. Until they find something in the water.
Erin and Mark decide to keep their discovery a secret — after all, if no one else knows, who would be hurt? Their decision will trigger a devastating chain of events…  which will endanger everything they hold dear.
'A wild, page-turning ride! It's the perfect beach read!' Reese Witherspoon (Reese's Book Club x Hello Sunshine book pick)
'Worthy of Hitchcock' Sunday Times
'Pure adrenaline: I swallowed this book whole' Erin Kelly, author of He Said, She Said
'A thriller for our times' Louise Candlish, author of Our House
'A stunning debut. Superbly written, clever and gripping' BA Paris, author of Behind Closed Doors
'A fascinating moral dilemma' Gillian McAllister, author of Everything but the Trut
The perfect couple. The perfect crime?
When you get invited on a blog tour for a book with all this acclaim,  you definitely cannot wait to grab the book and – no pun intended – dive right in.  I know that in a pretty hectic marketplace, it's hard to find a thriller that really stands out and sets itself apart from all of the competition, but I can assure you that Something In The Water definitely does deserve the hype.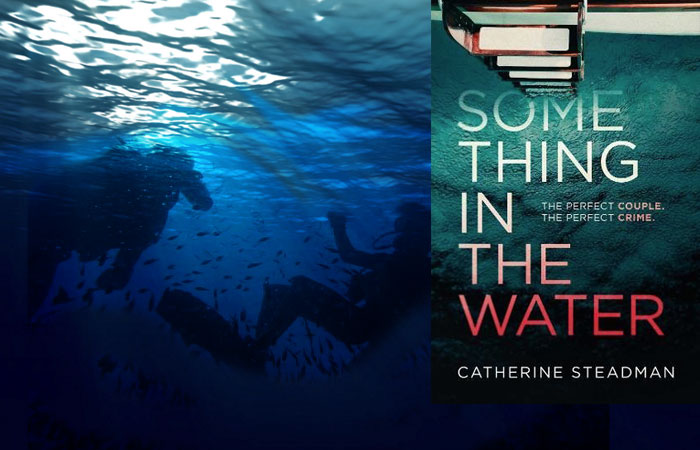 You all know how much I adore the Booktrail and I'm definitely recommending that you head there and check out their fantastic links for this book. They definitely know how to enhance a reading experience and you will be able to transport yourself off to Bora Bora with Erin and Mark and experience their 'adventure' alongside them through this fabulous resource.
When a novel opens with a killer phrase like – "Have you ever wondered how long it takes to dig a grave?" you know that you are in for a thrilling and unexpected read, and I was definitely in for that!It is immediately intriguing to wonder exactly whose grave has been dug, what happened to them and speculate about who you think was involved and to what extent their actions – or lack of them – might be linked to the murder. It's hugely satisfying to me that lots of breadcrumbs are laid by Catherine Steadman  in order to try and make sure we are kept on out toes land keep turning those pages until we think we can possibly get to the bottom of what exactly happened and who exactly is culpable
I hate spoilers, so I don't want to dwell too long on the plot of Something In The Water– suffice to say that the skillful way that Catherine Steadman weaves the many and diverse strands of characters and settings in this thriller is superbly done and remains entertaining and intriguing  throughout. I know at times it can feel like the fictional world is saturated with 'whodunits' with lots of  potential perpetrators whose diverse timelines collide pleasingly and create plenty of room for speculation and questions but this time it's really well done. The fast-paced plot zips along at a cracking pace, never letting up on the tension that is nicely manipulated by Steadman, adding in lots of opportunities to second-guess yourself and adding another layer of enjoyment for the reader
I loved the way that this novel wove both threads together – a convincing depiction of the 'holiday of a lifetime' juxtaposes nicely with Erin's everyday life as a documentary filmmaker and allows you to move between them and get more insight as to how this could possibly have happened – and wonder if your guesses are correct.  –I have little patience with naysayers who quibble about fine details and wonder how 'believable' plotlines like this are. This is not a kitchen-sink drama but a fast-paced escapist thriller, perfect for rattling through on your holidays and I guarantee that you'll need to keep reapplying that sunscreen if you do – as you'll not be able to step away from the action til you close the last page.
Something in the Water is definitely one of those novels that you should keep your eyes peeled for at the airport this summer and one that I will definitely be recommending to my friends – it packs a powerful punch; keeping you guessing throughout and firmly entertained by the fictional world it pulls you into.
If you enjoy an immersive and exciting piece of fiction that will keep you on your toes,  then you will love this book as much as I did.  I can't wait to see what Catherine Steadman does next and  I'd love to see Something in the Water on my screen one day. I'm a sucker for a fantastic pacy holiday read and feel like this one definitely ticks all the boxes.
If you feel intrigued and would like to order yourself a copy and find out for yourself what happened on this 'Honeymoon with a difference'
Check out these other fantastic bloggers on the tour too
Writer On The Shelf
Catherine Steadman
Catherine Steadman is an actress and writer based in North London. She has appeared in leading roles on British television as well as on stage in the West End, most recently in Agatha Christie's Witness for the Prosecution in 2018.
In 2016 she was nominated for Laurence Olivier Award for her performance in Oppenheimer. She is best known for her role as Mabel Lane Fox in Downton Abbey.
She grew up in the New Forest and lives with a small dog and average sized man. Something in the Water is her first novel and her second is due for release in early 2020.
Catherine is on Twitter at @catsteadman