As heard on BBC Radio 2 The Steve Wright Show . . .
'An enchanting contribution to the popular new trend of "up lit" such as Gail Honeyman's Eleanor Oliphant is Completely Fine' Irish Times
'Captivates. William has what seems to be the best job in the world . . . Honest yet lyrical, Cullen's characters are drawn with sympathy. Lose yourself' The Scotsman
Inside East London's Dead Letters Depot, William Woolf unites lost mail with its intended recipient. White mice, a miniature grandfather clock and a full suit of armour are among the more unusual items lost then found thanks to William's detective work.
But when he discovers a series of letters addressed only to 'My Great Love', everything changes. Written by Winter to a soulmate she hasn't yet met, her heartfelt words stir William in ways he has long forgotten. Could they be destined for him? But what about his troubled marriage?
William must follow the clues in Winter's letters to solve the mystery of his own heart.

SHORTLISTED FOR NEWCOMER OF THE YEAR, IRISH BOOK AWARDS
'If you liked Harold Fry and Me Before You, you will love Cullen's nostalgic debut. This life-affirming book will draw you in and keep you there' Independent

'Delightful' Sunday Times
'Deeply moving' Irish Times
'I found myself totally transported into William's poignant and beguiling world of lost opportunities and love' A. J. Pearce, author of Sunday Timesbestseller Dear Mrs Bird
Am so happy to be on today's Blog Tour of The Lost Letters of William Woolf after being so intrigued by other lovely bloggers' posts about how much they loved this book. I am a fan of the 'up lit' trend in general and think it's great that there are a growing number of writers crafting novels that both entertain you and make you feel good about human nature. Portybelle – otherwise known as Joanne – wrote a fantastic #WilliamWoolf post that made me want to meet William myself and hopefully be as charmed as she was by his character and his story.
I absolutely loved this book.  It's a warm and uplifting read that will genuinely draw you into its world and make you feel part of East London's Dead Letters Depot as you discover how hard they work to connect people with their lost or missing mail. I have a real obsession with 'found' objects and have a wee box of strange writings that I've found in charity shops stuck inside books and I think that this is something that made me all the more intrigued by William's job and the lengths he goes to in the story to find the real tale behind the letter addressed to 'My Great Love'…
William was without a doubt a fantastic character that you can totally believe in. When he gets so drawn into the story behind the letters he finds, it's an easy sentiment to connect with – I'm sure lots of you will have had that feeling when you hear a snatch of conversation or see a scribbled note and wonder what the 'story' is behind the story and this wonderful novel allows to to relive that feeling alongside William and work with him to follow the thread of the story and try to find its source.
William's determined efforts to get to the heart of Winter's story by following the clues in her letters is definitely one of  the best things about #WilliamWoolf. You really care what happens to the characters in this book and find yourself thinking about them when you are 'away' from them and wanting to return to their story.  I was really drawn in and was imagining all sorts of resolutions to the story – Was William going to find Winter and BE her 'Great Love' or was he destined to get back together with his own lost love Clare and prove that reality is better than a daydream. You all know that I have a strict #NoSpoilers policy, so all I can say is that you will need to buy the book for yourself and get as lost in William's story as I did so that you can find out for yourself.
Helen Cullen has written this book from the heart, and it shows.  It presents us with such a number of intriguing tales and characters that it immediately made me want to go out there and start writing letters to all the people far away that matter to me – as it made me think about the fact that it's so rare to get anything other than bills and admin through or letterbox in the modern world. I'd absolutely love to hear that this book has been optioned for our screens in the future. I'd love to be able to cast these characters and think it would be an awesome and heartwarming film that would be a real antidote to some of the depressing things we are currently surrounded by.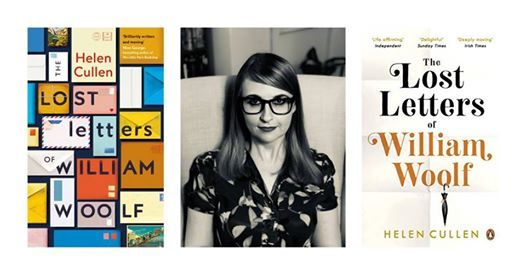 I'd like to take this opportunity to thank Sriya from Penguin Books for inviting me to participate in the Blog Tour – I certainly have loved this novel every single bit as much as I had hoped to and it's been an honour to read it and share its story – I'm totally certain that it's going to be an amazing success.
Buy yourself a copy here and read it as soon as you can, you definitely won't regret treating yourself to this uplifting, sincere and heartfelt read
Writer On The Shelf
Helen Cullen is an Irish writer living in London. She worked at RTE (Ireland's national broadcaster) for seven years before moving to London in 2010. In the UK, Helen established a career as an events and engagement specialist before joining the Google UK marketing team in 2015.
The first draft of her debut novel THE LOST LETTERS OF WILLIAM WOOLF was written while completing the Guardian/UEA novel writing programme under the mentorship of Michèle Roberts. Helen holds an M.A. Theatre Studies from UCD and is currently completing an M.A. English Literature at Brunel University.
'The Lost Letters of William Woolf' will be published in the UK, Ireland, USA, Canada, Australia, South Africa, Germany, Italy, Greece and Israel.
Helen is now writing full-time and working on her second novel.