A toxic family … a fight for survival…
Seventeen-year-old Tyler lives in one of Edinburgh's most deprived areas. Coerced into robbing rich people's homes by his bullying older siblings, he's also trying to care for his little sister and his drug-addict mum.
On a job, his brother Barry stabs a homeowner and leaves her for dead, but that's just the beginning of their nightmare, because the woman is the wife of Edinburgh's biggest crime lord, Deke Holt.
With the police and the Holts closing in, and his shattered family in devastating danger, Tyler meets posh girl Flick in another stranger's house, and he thinks she may just be his salvation … unless he drags her down too.
A pulsatingly tense psychological thriller, Breakers is also a breathtakingly brutal, beautiful and deeply moving story of a good kid in the wrong family, from one of Scotland's finest crime writers.
For weeks, my Twitter timeline has been FULL of people who have been shouting about how much they've loved this book and it's been hard to keep to my reading schedule and be disciplined as I knew that it was going to be something really special before I even opened it. I absolutely love Doug Johnstone's writing and adored Faultlines and if you haven't read it you need to add it to your TBR pile without delay as it deserves every single one of its plaudits and more – so when Anne Cater asked me if I'd like to take part in the blog tour for Breakers, I bit her hand off…
Although I was totally absorbed in the story in Breakers, it is Doug Johnstone's writing itself that makes it such a treat to read.  The story of Tyler and his sister is so perfectly realised that it was hard at times to remember that they are fictional characters rather than real people whose lives had become entwined with mine. Tyler ends up in a horrifying situation when his break-in goes wrong and your heart really goes out to him when you understand just how awful a situation he has managed to get himself into. The Edinburgh setting was something that really appealed to me as I love reading books set in a city that I know. Added to this was the fact that I've heard Doug speak so many times  that I could almost imagine his voice as I read it and hearing him describe some of the Edinburgh settings for me as I read.
Tyler is never presented as just the sum of his experiences, I think that it's a testament to the strength of the writing that we are rooting for him throughout the novel as we see all of the potential within him. His relationship with his wee sister, Bean is convincingly and movingly depicted and gives tiny chinks of relief in what can be at times a relentless and tough read.  Tyler's sense of decency and protective side are really brought out through the way that he looks out for her as their parents are too lost in their own addictions and hopelessness to provide her with any kind of care or comfort at home and Tyler is basically the only real parent that she has.
As well as his relationship with Bean,  we are also given a very vivid insight into his developing friendship with Flick – whose background at first seems the polar opposite of Tyler's. Flick is the girl with everything – on the surface at least – a boarding-school education, a swanky car and a carefree life. What I loved about this book was that we soon start to see that money does not necessarily buy you a happy life and although Flick is richer in material things certainly, her life is in some ways more similar to Tyler's than anyone might have guessed.
Even though on the surface they are dealing with very different issues, Flick and Tyler are essentially connected by more than divides them. The novel's portrayal of their relationship is never formulaic: 'rich girl meets poor boy' and feels really vivid and true to life as they navigate some harrowing and challenging situations. You will definitely find it hard to put this book down as you'll be so wrapped up in their story that you'll need to keep reading and find out how it all ends. Deke Holt – crime lord – is not a character to cross, so it's safe to say that there were parts of this novel that I read with a thudding heart and sweaty palms as I was not sure how it was all going to end. Needless to say, I was not disappointed and I'm really jealous of anyone who's yet to start reading Breakers as they are definitely in for a treat.
I absolutely recommend Breakers to people who really like to get their teeth into a story  that is as far from formulaic and predictable as it is possible to be. In the present reading climate, many books can seem very same-y and this book certainly stood out a mile amongst the competition.  I loved the deft characterisation as much as I enjoyed the plot and I will definitely be recommending Breakers to friends of mine who enjoy a page-turning read with a real heart. Bravo, Doug – it's only May but Breakers is really looking like a contender for my 'Best of 2019' list already. I was gutted to miss Doug's event at Blackwells earlier on, but I'm keeping my fingers crossed that I'll hear him talking about Breakers somewhere in Scotland before the year's out!
Karen Sullivan has done it again and made me feel like if my TBR pile hasn't got an Orenda book ion it, then it's somehow incomplete.  I've already got A Modern Family in mysights as my final read of the month and can't wait to get it started.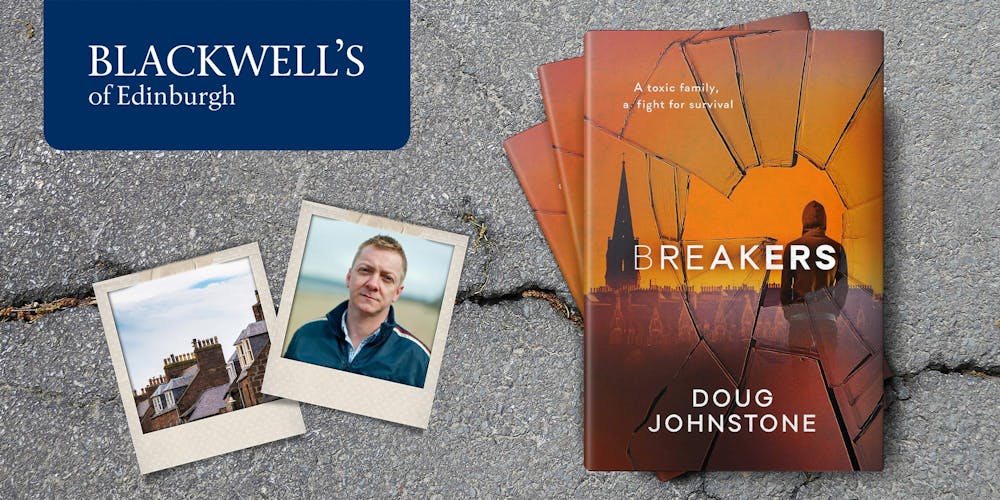 Writer on the Shelf
Doug Johnstone is an author, journalist and musician based in Edinburgh. He's had eight novels published, most recently Crash Land. His previous novel, The Jump, was a finalist for the McIlvanney Prize for Scottish Crime Novel of the Year.
Doug is also a Royal Literary Fund Consultant Fellow. He's worked as an RLF Fellow at Queen Margaret University, taught creative writing at Strathclyde University and been Writer in Residence at Strathclyde University and William Purves Funeral Directors.
He mentors and assesses manuscripts for The Literary Consultancy and regularly tutors at Moniack Mhor writing retreat. Doug has released seven albums in various bands, reviews books for the Big Issue, is player-manager for Scotland Writers Football Club and has a PhD in nuclear physics.
Catch up with him on his website here
And follow him on Twitter here
About the Publisher :
Orenda Books is a small independent publishing company specialising in literary fiction with a heavy emphasis on crime/thrillers, and approximately half the list in translation. They've been twice shortlisted for the Nick Robinson Best Newcomer Award at the IPG awards, and publisher and owner Karen Sullivan was a Bookseller Rising Star in 2016.
In 2018, they were awarded a prestigious Creative Europe grant for their translated books programme. Three authors, including Agnes Ravatn, Matt Wesolowski and Amanda Jennings have been WHSmith Fresh Talent picks, and Ravatn's The Bird Tribunal was shortlisted for the Dublin Literary Award, won an English PEN Translation Award, and adapted for BBC Radio Four 's Book at Bedtime.
Six titles have been short or long-listed for the CWA Daggers. Launched in 2014 with a mission to bring more international literature to the UK market, Orenda Books publishes a host of debuts, many of which have gone on to sell millions worldwide, and looks for fresh, exciting new voices that push the genre in new directions.
Bestselling authors include Ragnar Jonasson, Antti Tuomainen, Gunnar Staalesen, Michael J. Malone, Kjell Ola Dahl, Louise Beech, Johana Gustawsson, Lilja Sigurðardóttir and Sarah Stovell.