Edinburgh, 1847. Will Raven is a medical student, apprenticing for the brilliant and renowned Dr Simpson. Sarah Fisher is Simpson's housemaid and has all of Raven's intelligence but none of his privileges.
As bodies begin to appear across the Old Town, Raven and Sarah find themselves propelled headlong into the darkest shadows of Edinburgh's underworld. And if either of them is to make it out alive, they will have to work together to find out who's responsible for the gruesome deaths.
If you saw my #SpringReads Column this month, you'll know that I'm a huge fan of historical fiction, especially one that's set in our capital city, Edinburgh. I absolutely love books that have real historical characters and events woven through them and often go off on a mammoth internet exploration session after finishing them as I get so caught up in the story. The Way of All Flesh was right up my street and I have been in my absolute element immersing myself in Will Raven's adventures this month since Anne Cater invited me onto the Blog Tour.
This is the 'debut'  novel by Ambrose Parry,  I say 'debut' – but Parry is actually a 'nom-de-plume' for this collaboration between husband and wife team Chris Brookmyre and Marisa Haetzman – and what a winning combination this has turned out to be. This is a fantastic read with every element of it absolutely pitch-perfect. I could not tear myself away from its twists and turns and have been recommending it to everyone since the moment I finished it.
The Way of All Flesh is a real departure from classic Brookmyre: it's a period murder mystery set in the murky world of Victorian Edinburgh and it brings our narrow closes and cobbled streets vividly to life as it plunges us into the sights and sounds of this bustling and dynamic city.  Haetzman brings the medical history expertly to life, being a consultant anaesthetist, and I was fascinated to read that she's recently completed an MA in The History of Medicine which makes sense as her impeccable research has ensured that you definitely feel like you are time-travelling into Will & Sarah's world and experiencing events alongside them.
I was actually born in the Edinburgh hospital named after one of the main characters in this novel –  Dr James Simpson – who became so famous as he pioneered the use of chloroform. It was amazing to read a fictional account of his life and work and 'meet' this medical legend in a wholly different way.  Queen Victoria actually endorsed his practices and it was really interesting to see him as a real person, rather than just a name on a statue. Simpson really comes to life on the page, with an extremely modern 'take' on equality and health provision which made me determined to read further about the real man and find out more about his achievements.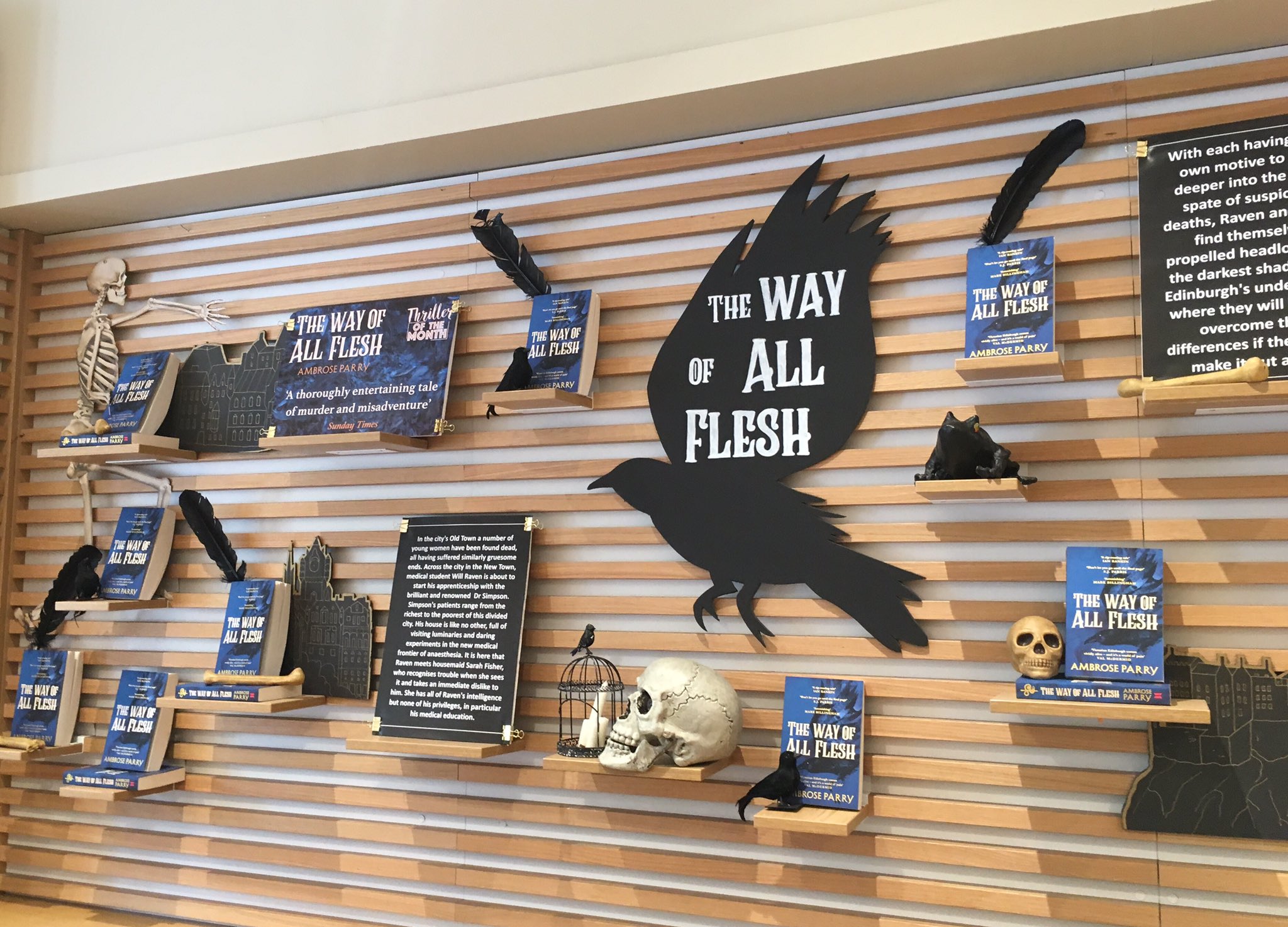 Through Simpson, we are introduced to young Will Raven – his medical apprentice whose mysterious past makes for intriguing reading and Sarah Fisher – whose determination to rise above her lowly station of housemaid makes you root for her from the start.  These two 'outsiders' get off to a rocky start together and I loved this initial lead-up as I felt that their inherent mistrust of each other made their eventual partnership all the more enjoyable to read. Once they settle their differences, they are hell-bent on eliminating a rogue practitioner – whose illicit operations are putting desperate young women's lives in danger and their combined talents are absolutely formidable!
This is one of my reads of the year so far – you cannot fail to be drawn into this fully-realised historical world. If you adored The House on Half Moon Street, you'll bloody love this book and I cannot wait for the follow-up, The Art of Dying which will be out later this year Raven and Fisher are my new favourite fictional duo and if you haven't met them yet, what are you waiting for?
The Way of All Flesh from Canongate is available now from Waterstones as its Thriller of the Month – so waste no time and go out and grab yourself a copy as quickly as you can.
If I haven't convinced you yet, take a look at what these other fantastic fellow bloggers think
Writers On The Shelf
Ambrose Parry is a pseudonym for a collaboration between Chris Brookmyre and Marisa Haetzman.
The couple are married and live in Scotland. Chris Brookmyre is the international bestselling and multi-award-winning author of over twenty novels, including Black Widow, winner of both the Theakston Old Peculier Crime Novel of the Year and the McIlvanney Prize for Scottish Crime Novel of the Year.
Dr Marisa Haetzman is a consultant anaesthetist of twenty years' experience, whose research for her Master's degree in the History of Medicine uncovered the material upon which this novel was based. The Way of All Flesh is the first book in the series.
Follow @ambroseparry on Twitter,