When Liv, Ellen and Håkon, along with their partners and children, arrive
in Rome to celebrate their father's seventieth birthday, a quiet earthquake occurs: their parents have decided to divorce.
Shocked and disbelieving, the siblings try to come to terms with their
parents' decision as it echoes through the homes they have built for
themselves, and forces them to reconstruct the shared narrative of their childhood and family history.
A bittersweet novel of regret, relationships and rare psychological insights, A Modern Family encourages us to look at the people closest to us a little more carefully and ultimately reveals that it's never too late for change…
I love doing Anne Cater's Blog Tours with Random Things as no two books she ever wants me to review are the same. When she asked me onto the tour for A Modern Family, I was really intrigued as I always like supporting Orenda Books and think that meeting publishers like Karen who really support books in translation can be one of the best things about being a book blogger – She has introduced me to books that I'd never have been exposed to before as well as hearing what all my other blogging friends thought too. It's like a virtual book group where you are waiting every day to see what other people enjoyed about your book…
I was really intrigued to read A Modern Family as  I love novels that deal with family relationships and how different generations interact and the complexities that lurk beneath the surfaces of most families' lives.  As soon as this book arrived,  I wanted to open it up and find out how these family members' lives would unfold on this special birthday in such a gorgeous place.  I loved the initial premise of such a bombshell being dropped on such an outwardly-seeming perfect occasion and I found this book totally engrossing once I'd started: I really wanted to get to the heart of their relationships and discover what had brought them to this point and how their children would respond to this shocking and unexpected news.
I also enjoyed the way that Helga Flatland's novel allows us to see the reality of families and the complexity of relationships, rather than just the 'happy ever after' that we are so often presented with in fiction and I think that this is one of the things that I enjoyed most about this book. The way that the siblings fall into their childhood roles in the way that they interact with one another is exceptionally well drawn and a testament to her skill as a writer that we really believe in their relationships with one another. Liv reveals that: "Ellen is the most confrontational of the lot of us… That's her role and I don't dare undertake it myself." and I'm sure that there are many siblings reading this novel and nodding their heads in recognition at this pronouncement.
The way that Helga Flatland builds in the uncertainties about what's really going on beneath the surface and slowly develops our understanding of what is going on in the heads of these characters is convincingly done and leads to you feeling like you can really start to understand them as people. Liv and Ellen have such an interesting and well-drawn relationship and I'm looking forward to hearing what my sister thought of her over a long coffee date as soon as possible.
The scenes where these family members are trying to deal with the ramifications of the decision and the impact of the fallout on their relationships have an incredibly realistic feel and the comparisons with Anne Tyler are definitely well deserved. I thoroughly enjoyed the chance to immerse myself in the intricacies of this family's life and found it really thought-provoking to have the contrasting voices of Ellen and Liv to see the events unfolding from their two very different perspectives.
A Modern Family is a fascinating and immersive read as it takes a genuine look at what we really mean by 'family' in a way that never feels 'worthy' or sermonising. It allows us a glance into a relationship where peoples' needs are complex and real and dares us to ask ourselves what we might have lost along the way in our own lives. Its setting in Rome is another aspect that I really enjoyed and it really made me feel like I was able to immerse myself in events where the beauty of the surroundings and the complexities of what is unfolding is deftly juxtaposed.
I always enjoy a book much more if I'm not hyping myself up before I read it and A Modern Family was exactly that. It was definitely a grower and I found myself thinking about these characters and the repercussions of this holiday whilst driving to work and marking my essays at school. I will definitely seek out more books by Helga Flatland and am keen to keep pushing myself to choose more novels in translation in the second half of 2019.  It's a real testament to Karen Sullivan's publishing that I always reach for an Orenda book with confidence, knowing that I'm in safe hands whatever country or language Karen has taken me to next. I'm most definitely #TeamOrenda and will continue to champion her choices as she's never picked a bad one yet!
Treat yourself to a copy of A Modern Family here
Writer On The Shelf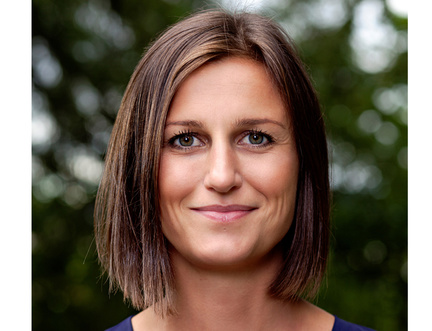 Hoping to see Helga at this year's Edinburgh Book Festival
Helga Flatland is already one of Norway's most awarded and widely read authors. Born in Telemark, Norway, in 1984, she made her literary debut in 2010 with the novel Stay If You Can, Leave If You Must, for which she was awarded the Tarjei Vesaas' First Book Prize.
She has written four novels and a children's book and has won several other literary awards. Her fifth novel, A Modern Family, was published to wide acclaim in Norway in August 2017, and was a number-one bestseller. The rights have subsequently been sold across Europe and the novel has sold more than 100,000 copies.