Ruth is thirty years old. She works as a nurse in a care home and her fiancé has just broken up with her. The only thing she has left of him is their shopping list for the upcoming week.
And so she uses that list to tell her story. Starting with six eggs, and working through spaghetti and strawberries, and apples and tea bags, Ruth discovers that her identity has been crafted from the people she serves; her patients, her friends, and, most of all, her partner of ten years. Without him, she needs to find out – with conditioner and single cream and a lot of sugar – who she is when she stands alone.
'A Bridget Jones for cynical souls' Natasha Bell, author of The Perfect Wife
I am absolutely head over heels in love with this book!  I have recommended it to precisely 14 people as 'the perfect book for you' , talked about it to everyone at my Book Group and will definitely be putting it in my next book column too. I was SO excited to be emailed and invited on the tour for this book as when your blog is called #OnTheShelfBooks, it seems like fate to be reviewing a book called #ShelfLife.
I'm so very privileged to be kicking off the blog tour and can't wait to tell you all about how much I fell for Ruth and feel totally bereft now that I've finished reading it and her original and resonant voice isn't part of my daily life any more…
I don't think you have had to experience a break up like Ruth to bond with this book, but by god – if you have there will be moments in this novel that you'll read and read again saying 'HOW DID SHE KNOWWW?'  and I think that there will definitely be whole friendship groups all over the UK who will be wondering whether Livia Franchini was sitting behind them in a cafe, eavesdropping on their conversations as so much of this book feels so utterly REAL that at times you forget that this is an actual novel and feel like Ruth is just there, nattering to you and telling you all these things as one of her friends…
I'd like to thank Anne Cater  for inviting me on the tour and recommend that you follow it and see what all the other fab bloggers had to say about this unforgettable book. It's so good to back in the blogging world after my extended trip and this was such a great read to remind me of why I love bookblogging so much – when I get to read fantastic novels like Shelf Life and tell other people how much they'll love it too!
Natasha Bell has said: " "Shelf Life feels like a Bridget Jones for cynical souls' and I couldn't agree more. I had the nervousness you get when you've REALLY LOVED a book and you're waiting for your friend to read it too, so you can both talk about all the things that really chimed with you and the characters that you felt were so perfectly drawn that you can't quite believe that they're not real people. Books about dating and love and friendships and families are ten a penny – but this one really is different. It's dark and light in exactly the right ratio to be truly satisfying and there will be moments where you'll literally be devastated for Ruth – but by the end the holistic effect is both cathartic and gratifying and I'm so jealous of everyone who hasn't read it yet…
As you will have surmised by now, I literally could not put this book down, I was so caught up in Ruth's journey and I'm sure you will be too. It really felt like we'd been through this together. Her combination of  devastating brutality and acerbic humour mean that everyone can identify with some part of her story– she's a representation of all the things that we all struggle with in modern life – how to be ourselves in a world that's always telling us that our plain old self just isn't good enough..
It's hard to feel like that – that your life is just one series of catastrophes after another and everyone is too busy dealing with their own losses and darknesses to be much bothered about yours. Neil is a pretty horrific character and trawling through his emails is just about as ghastly as a Sunday lunch with Ruth's mum – but you'll find that out for yourself as you immerse yourself in the depths of Ruth's life and some of this is pretty bloody dark…  It's hard to write originally about difficult experiences, but I'm definitely not exaggerating when I tell you that Livia Franchini has pulled it off and you will have to get a copy yourself to see that I'm telling you the absolute truth!
I loved the idea behind this book: that in the middle of loss and devastation it's important to remember sometimes that our future might not always be written the way that we think it is and that we can change our destiny without having to leave behind the things which make us our essential selves.
This is the kind of book you'll be buying for all your friends and begging them to read as you will want to spend hours talking about Ruth's battles disappointments and realisations and thinking of all the ways you've either been treated like her or met someone who's been through exactly the same set of emotions even if the root causes were slightly different…
I hope that you find some time to check out some of the other fantastic bloggers on the tour – I am really looking forward to hearing what they thought about Shelf Life and I love it when they reveal their own wee dire breakup moments in their reviews. Mine was breaking up with an ex boyfriend and leaving a whole uni folder at his flat – then having to go back after my grand exit and shamefacedly retrieve my folder of notes on 18th-century poetry whilst totally avoiding the sniggers of his flatmates who had totally been slagging me off as I arrived.
Shelf Life is a modern look at love with MSN messages, shopping lists, dating profiles, heartbreak, insanely good dialogue and a character that you will be able to bond with through the awful experiences that she's subjected to throughout the book. Livia Franchini is definitely a writer to watch for me – and if you have a look at these stunning reviews from a whole host of amazing writers you can see that I'm not alone in my opinion!
Writer On The Shelf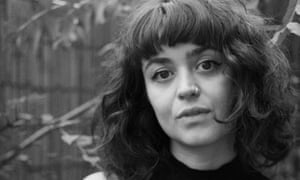 Livia Franchini is a writer and translator from Tuscany, Italy, whose short stories have been published in numerous anthologies. Livia is also an inaugural writer-in-residence for the Connecting Emerging Literary Artist project. She lives in London and is completing a PhD in experimental women's writing at Goldsmiths University.
"Shelf Life is whip-smart, slyly heartbreaking, and I felt the truth of it in my bones. Franchini dissects ideas of love, dating and identity in a way that feels both ruthless and humane. I loved it." (Sophie Mackintosh, author of 'The Water Cure')
"This is a beautiful novel. The scene with the mother and the chicken is one of the most rigorous, affecting, strange scenes I have read in a while and it's still haunting me. It was funny, and sad, and I devoured it. It reminded me of Convenience Store Woman. I absolutely loved it." (Susannah Dickey, author of 'Tennis Lessons')
"Livia Franchini has delivered an impressive, Sally Rooney-esque debut novel." (New Statesman)
"Shelf Life is dark and disarming. It wryly explores hunger and denial and the play between pleasure and power in an honest portrayal of the complexities of desire. Franchini's voice is sharp and clever and her debut novel tells us truths about how and why we love." (Jessica Andrews, author of 'Saltwater')
"Shelf Life is a truly unique read; a book so thoughtfully and articulately written it draws the reader deep into the painful heart of a fracturing relationship. Ruth, the novel's central character is crafted in such a believable way, I felt every one of her disappointments keenly. I was rooting for her throughout. By the final page I felt like we'd been through something monumental together." (Jan Carson, author of 'The Fire Starters')
"I absolutely loved this – really moving and powerful" (Rebecca Reid, author of 'Perfect Liars')