It is 1932, and the losses of the First World War are still keenly felt.
Violet Speedwell, mourning for both her fiancé and her brother and regarded by society as a 'surplus woman' unlikely to marry, resolves to escape her suffocating mother and strike out alone.
A new life awaits her in Winchester. Yes, it is one of draughty boarding-houses and sidelong glances at her naked ring finger from younger colleagues; but it is also a life gleaming with independence and opportunity. Violet falls in with the broderers, a disparate group of women charged with embroidering kneelers for the Cathedral, and is soon entwined in their lives and their secrets. As the almost unthinkable threat of a second Great War appears on the horizon Violet collects a few secrets of her own that could just change everything…
If you saw my #SpringReads Column earlier this year, you'll know that I'm a huge fan of historical fiction, especially one that's set during this period. I absolutely love books that have real historical characters and events woven through them and often go off on a mammoth internet exploration session after finishing them as I get so caught up in the story. A Single Thread was right up my street and I have been in my absolute element immersing myself in Violet Speedwell's adventures this month since Becca Bryant invited me onto the Blog Tour.
This is the latest novel by Tracy Chevalier and it just proves that her range is absolutely mindblowing – she can literally write about anything.  This is a fantastic read with every element of it absolutely pitch-perfect. I could not tear myself away from its fascinating insights into this generation of  'surplus women, and I have been recommending it to everyone since the moment I finished it.
A Single Thread is a period novel that brings the experiences of these women vividly to life as it plunges us into the lives of the broderers so entirely that lots of the time I forgot that they were characters in a book as it felt like these were real people that I was getting to know. Tracy Chevalier's USP is that she always manages to bring any period of history that she writes about expertly to life, and I was fascinated to read about the effort and research that goes into all of her novels – which makes sense as her impeccable research has ensured that you definitely feel like you are time-travelling into Violet's world and experiencing events alongside her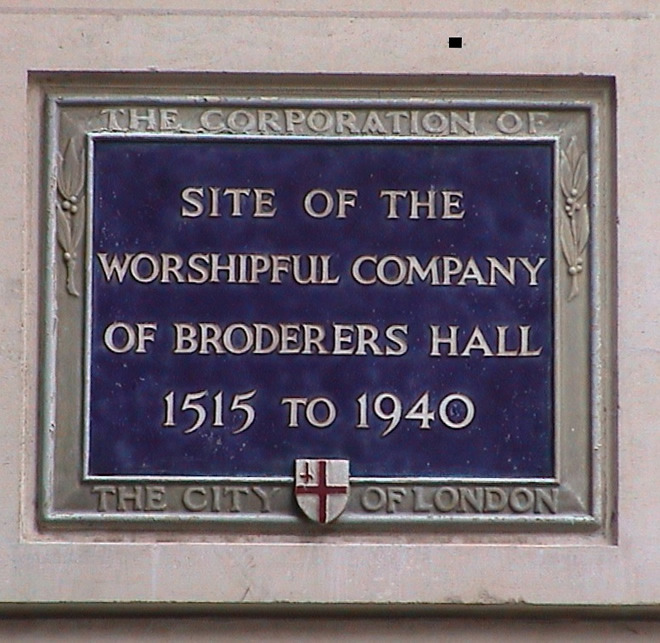 I actually saw this sign in London and I absolutely love it when my own world and the world of a book that I am reading coincide – it always feels serendipitous!  It was amazing to read a fictional account of these workers and 'meet' them through the pages. Violet and her fellow broderers really come to life on the page, with an extremely modern 'take' on equality and standing up for yourselves which made me determined to read further about the period and these women for myself after finishing the fictional version – I was hooked!
Through Violet's experiences, we are allowed an insight into the way that women's lot as steadily changing – although not everyone agreed with these changes – which makes for intriguing reading. Spinster has always been a bit of an insult and it was fascinating to travel back in time and see these women as pioneers, rather than hapless victims who'd been left of 'the shelf' and then passively accepted their lot. As you will see, many of these characters are as far from passive as it is possible to be and their modern outlook is refreshing, surprising and downright heartening to read.
This is one of my reads of the year so far – you cannot fail to be drawn into this fully-realised historical world. If you adored The Girl With A Pearl Earring you'll absolutely love this book and I cannot wait to see what my fellow historical novel buffs think about it.
A Single Thread is available now  – so waste no time and go out and grab yourself a copy as quickly as you can.
If I haven't convinced you yet, take a look at what these other fantastic fellow bloggers think