Suspended from duty after her last case ended in the high-profile arrest of one of Britain's wealthiest men, DC Constance Fairchild is trying to stay away from the limelight. Fate has other ideas . . .
Coming home to her London flat, Constance stumbles across a young man, bloodied, mutilated and barely alive. She calls it in and is quickly thrown into the middle of a nationwide investigation . . . It seems that the victim is just the latest in a string of similar ritualistic attacks.
No matter that she is off-duty, no matter that there are those in the Met who would gladly
see the back of her, Con can't shake her innate determination to bring the monsters
responsible for this brutality to justice.
Trouble always seems to find her, and even if she has nothing to hide, perhaps she has
everything to lose . . .
The new book in the brilliant Constance Fairchild series, from one of Scotland's foremost crime writers.
'THE NEW IAN RANKIN' Daily Record

'OSWALD'S WRITING IS A CLASS ABOVE' Express
Having enjoyed No Time To Cry so much, I couldn't wait to get my hands on a copy of Nothing to Hide as I loved the main character – the whirlwind that is Constance Fairchild. I loved reading that when James Oswald had been thinking about this character he wanted to make her very different to her name – and he certainly has!
When Constance arrives back to her flat and is faced with the bloodied body of a young man, she is plunged headlong into another intriguing case – with a ritualistic angle that really proves to be very intriguing. It must be so difficult for crime writers to keep coming up with fresh and exciting 'cases to crack' and I think that this is one of the aspects of James Oswald's writing that is gathering the most acclaim. You really feel like you get a deep dive into the case with Constance and her somewhat unorthodox way of proceeding with things really sets her apart as a protagonist.
I hate spoilers, so I don't want to dwell too long on the plot of Nothing To Hide as I want you to be able to experience all the twists and turns for yourself – suffice to say that the skilful way that Oswald weaves the many and disparate elements of this case into the narrative is superbly done and remains convincing throughout. I know at times it can feel like the fictional world is saturated with male/ female detective teams with complicated back stories but the first novel in this series took a wholly  unexpected turn  as Constance's partner in crime is wiped out leaving her to battle to solve the mystery whilst she herself might be in the frame for the actual crime…
I loved the way that this novel wove many threads together – a convincing detective story, a nod towards the ritualistic side of the dark arts, an examination of what it is to serve as a police officer and the impact it has on those that take up this often thankless career and the impact it can have on our lives in a much wider way than we might have anticipated – and I also enjoyed the references to Scotland in this novel that definitely made me resolve to read more texts from Scottish writers that I might not have encountered before – with this article handily pointing the way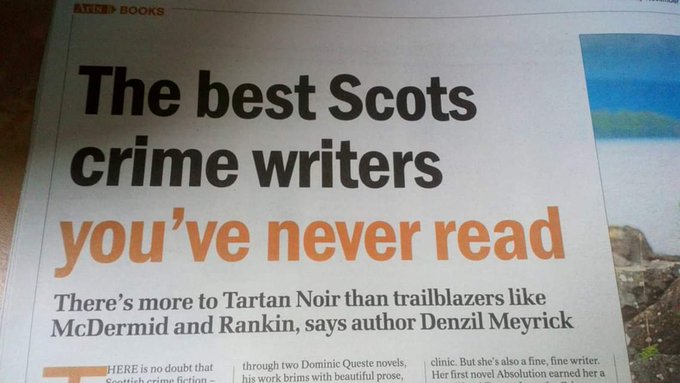 Nothing To Hide is definitely one of those novels that stays with you long after closing its final page and one that I will definitely be recommending to my friends – it packs a powerful punch and never lets up in terms of keeping you second-guessing its ending right up until the final few pages.   I can't wait to see what @SirBenfro does next. I'm a sucker for a fantastically written crime read and Constance is one of my favourite female creations. I can't wait to see where this series goes and heartily recommend it for whiling away a long dreich winter afternoon by the fire.  Away and treat yourself – You'll thank me for it.
Writer On The Shelf
James Oswald is the author of the Sunday Times bestselling Inspector McLean series of detective mysteries. The first two of these, Natural Causes and The Book of Souls were both short-listed for the prestigious CWA Debut Dagger Award. Set in an Edinburgh not so different to the one we all know, Detective Inspector Tony McLean is the unlucky policeman who can see beneath the surface of ordinary criminal life to the dark, menacing evil that lurks beneath.
He has also introduced the world to Detective Constable Constance 'Con' Fairchild, whose first outing was in the acclaimed No Time To Cry.
As J D Oswald, James has also written a classic fantasy series, The Ballad of Sir Benfro. Inspired by the language and folklore of Wales, it follows the adventures of a young dragon, Sir Benfro, in a land where his kind have been hunted near to extinction by men. The whole series is now available in print, ebook and audio formats.
James has pursued a varied career – from Wine Merchant to International Carriage Driving Course Builder via Call Centre Operative and professional Sheep Shit Sampler (true). He moved out of the caravan when Storm Gertrude blew the Dutch barn down on top of it, and now lives in a proper house with three dogs, two cats and a long-suffering partner. He farms Highland cows and Romney sheep by day, writes disturbing fiction by night