1815, Sumbawa Island, Indonesia

Mount Tambora explodes in a cataclysmic eruption, killing thousands. Sent to investigate, ship surgeon Henry Hogg can barely believe his eyes. Once a paradise, the island is now solid ash, the surrounding sea turned to stone. But worse is yet to come: as the ash cloud rises and covers the sun, the seasons will fail.
1816

In Switzerland, Mary Shelley finds dark inspiration. Confined inside by the unseasonable weather, thousands of famine refugees stream past her door. In Vermont, preacher Charles Whitlock begs his followers to keep faith as drought dries their wells and their livestock starve.
In Suffolk, the ambitious and lovesick painter John Constable struggles to reconcile the idyllic England he paints with the misery that surrounds him. In the Fens, farm labourer Sarah Hobbs has had enough of going hungry while the farmers flaunt their wealth. And Hope Peter, returned from the Napoleonic wars, finds his family home demolished and a fence gone up in its place.
He flees to London, where he falls in with a group of revolutionaries who speak of a better life, whatever the cost. As desperation sets in, Britain becomes beset by riots – rebellion is in the air.
The Year Without Summer is the story of the books written, the art made; of the journeys taken, of the love longed for and the lives lost during that fateful year. Six separate lives, connected only by an event many thousands of miles away. Few had heard of Tambora – but none could escape its effects.
I'd like to thank Anne Cater from Random Things Tours for inviting me to take part in this blog tour and introducing me to a new writer to enjoy during these cold wintry evenings
The fact that this novel is rooted in fact really adds to the reading experience and introduced me to another historical period and set of characters that I didn't know that much about and left me feeling intrigued and desperate to go and find out more about the events of 1816 for myself
I love investigating the real history and characters found in the books I'm reading and Guinevere Glassford does an amazing job of transporting you back in time and reliving this turbulent and fascinating part of history, told from the perspective of Henry whose voice gives us a fascinating insight into his experiences and allows us to travel back in time with him and witness these events unfolding – as well as getting the wider impact of these changes from some very famous contemporaries indeed…
This is a really engrossing read. Glasford has an excellent mixture of characters in this novel, from the famous characters above, to some much more ordinary folk – which really shows the reader that these turbulent events had an impact on life whoever you were and whatever your situation, providing much food for thought about human rights, independence and morality during this period for a 21st-century readership. Like her previous novel, The Words in my Hand, you start to forget that you're reading a novel based on real events and start to feel like you have been transported back to this time and are living through this period alongside Henry, Sarah, Hope and the others.
I think that Glasford is just as skilful in writing about domestic matters as she is about the history or the politics at this time and the way that the impact of these events was so vividly depicted was a real strength of this novel. And as usual, I spent a lot of time online after finishing it, looking up Mary Shelley and falling into a bit of a rabbit hole as she was SUCH a fascinating character in her own right…
Fans of Guinevere Glasford will love this beautifully written novel and I hope that it also brings her new readers who love period fiction and strongly written literary narratives. I really enjoyed this journey to 1816 and heartily recommend that you too delve into this fascinating period in British history and find out more about it for yourself.
Buy yourself a copyhere
'SUPERB…BEAUTIFULLY WRITTEN…UNFORGETTABLE' FT Weekend
'SKILFUL' Sunday Times 'RICH, INTRICATE, IMPRESSIVELY REALISED' Observer
'VIVID, VIBRANT, HARD TO PUT DOWN' Hilary Spurling
'INGENIOUS AND ABSORBING' Kirsty Wark 'ASTONISHING, RIVETING, MASTERFUL,
POETIC' Emily Rapp Black 'A WORLDWIDE CANVAS BROUGHT TO LIFE IN VIVID,
HEARTBREAKING DETAIL' Marianne Kavanagh
Writer On The Shelf
Guinevere Glasfurd was born in Lancaster and lives near Cambridge with her husband and daughter. Her debut novel, The Words in My Hand, was shortlisted for the 2016 Costa First Novel Award and Authors' Club Best First Novel Award and was longlisted in France for the Prix du Roman FNAC. The Year Without Summer was written with support from the MacDowell Colony Foundation. Awarded grants from the Arts Council England and the British Council for her novels, her writing has also appeared in the Scotsman, Mslexia and The National Galleries of Scotland. She is currently working on her third novel, a story of the Enlightenment, set in eighteenth-century England and France.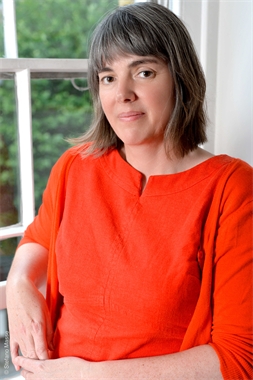 Why don't you get a ticket for the Book Tour, if you fancy hearing more about this fantastic read? Coming to a Bookshop near you…