THREE EXTRAORDINARY LIVES INTERTWINE ACROSS OCEANS AND TIME
On the banks of the River Seine in 1899, a young woman takes her final breath before plunging into the icy water. Although she does not know it, her decision will set in motion an astonishing chain of events. It will lead to 1950s Norway, where a grieving toy-maker is on the cusp of a transformative invention, all the way to present-day Canada where a journalist, battling a terrible disease, risks everything for one last chance to live.
Taking inspiration from a remarkable true story, Coming Up for Air is a bold, richly imagined novel about the transcendent power of storytelling and the immeasurable impact of every human life.
This is a book that will make you think hard, make you reflect on things you might never have contemplated before and make you coma back to it to re-read certain parts so you can drink in their beauty, whilst at the same time be shocked and affected by some of its troubling and darker passages.
Coming Up For Air tells the moving and enduring story of three extraordinary lives – and it's all the more compelling for being based so closely on real life.Its vividly realised lives are painstakingly drawn in such a way as to bring them to life right before our eyes. The curtains are drawn, throwing light on this  period and allowing us to see the truth after so many years of things being hidden and uncovered.
This beautiful book – for beautiful it most definitely is, despite its sometimes harrowing subject matter – is  so much more than a story about three intersecting lives  – it's a story about connections and the small intertwining threads that make up the rich tapestry of life; a story about darkness transfigured into light and most of all a story about how human beings connect and relate to one another even if it is only in tiny and fleeting ways.
The book gives a real insight into these three very different moments in history and the women who inhabited them – I found it truly fascinating and it would be difficult for me to choose one that I preferred over the others – they were all absolutely engrossing in their own right. I absolutely adored its blending of the personal with the atmosphere of community and the darkness and bleak aspects with the rhythmic and soothing sense of the changes in nature that come with the seasons and the small movements of pleasure and kindness amongst darkness, sorrow and pain.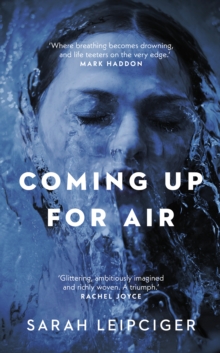 This book might be quite emotionally challenging for some people, owing to the nature of its content, but please be reassured that although it does not skirt around the subject or diminish the horror – the death itself is handled with sensitivity and is certainly far from sensationalised during the novel. The story is about life itself through the prism of these experiences and their aftermath too. There is much to think about here and its blending of the beautiful and the painful is deftly done, leading to a reading experience like no other. It is very hard to put into words – the closest I can come to is that this book holds you in its spell and does not release you until long after you've finished reading it.
Coming Up For Air is a book that you won't forget easily. A beautifully wrought piece of prose that glimmers with the hope of the future even as it looks back on the hurt and pain of the past. It is a redemptive read that will leave you feeling like you see the world around you with new eyes and a read that will keep coming back to you at the quieter moments of the days as your thoughts drift, some of the moments of this book will creep back into your consciousness and make you appreciate the small moments in your day, the positive relationships that you have and the power of love to change things forever. Please just go out and buy yourself a copy now and I have no doubt that you'll fall for it as hard as I did.
Writer On The Shelf
Born and raised in Canada, Sarah Leipciger lives in London with her three children, and teaches creative writing to prisoners. Her short fiction has been shortlisted for the Asham Award, the Fish Prize and the Bridport Prize. Her first novel, the critically acclaimed THE MOUNTAIN CAN WAIT, was published in 2015. COMING UP FOR AIR is her second novel.