A beautiful and heart-breaking story set in South Africa where two mothers – a century apart – must fight for their sons, unaware their fates are inextricably linked.

Orange Free State, 1901. At the height of the Boer War, Sarah van der Watt and her six-year-old son Fred can only watch as the British burn their farm. The polite invaders cart them off to Bloemfontein Concentration Camp promising you will be safe here.
Johannesburg, 2010. Sixteen-year-old Willem is an outsider who just wants to be left alone with his Harry Potter books and Britney, his beloved pug. Worried he's turning out soft, his Ma and her new boyfriend send him to New Dawn Safari Camp, where they 'make men out of boys.' Guaranteed.
The red earth of the veldt keeps countless secrets whether beaten by the blistering sun or stretching out beneath starlit stillness. But no secret can stay buried forever
You Will be Safe Here, is one of the most moving and memorable books I've ever read and even though it's only April, I know that it's going to be one of my favourite reads of 2020,  It gives a voice to the disenfranchised and desolate and allows us a real insight into the many thousands of people whose lives have been blighted by intolerance and hatred – both in the past and even now, in the present day we cannot turn a blind eye to the way that masculine 'expectations' are still causing misery for thousands
Damian Barr's debut novel  allows us an unforgettable insight into the lives of fa diverse group of characters, who span both time and geographical location and asks us to think about the fact that there is more that connects them than separates their circumstances.  Sarah Van Der Watt's Boer War diary gives a moving and shocking insight into the brutality and inhumane circumstances of something many people might never have heard of – the British concentration camps that were established in South Africa.
We also follow a more contemporary story of  privation and suffering when we meet Willem who is packed off to New Dawn – a modern-day camp set up to turn boys into men. The contrasts and parallels are beautifully depicted – allowing readers the chance to step into both narratives and experience them for themselves – considering the very human impact of treating human beings as commodities and the lifelong suffering that ensues when humanity is disregarded in this way.
The characters in this book spring to life from the page and remain in your heart long after you've finished–  it's impossible to close the final page of this book and  not feel a strong connection to these characters as you know that all the time you are reading it that there are thousands of people right now suffering because of a loss of their human rights or suffering because they too have ben judged and found wanting for being a 'moffie' Even though this book is fictional, it undoubtedly shines a light on thousands of these real stories that are still happening, all over the world and sometimes right on your very doorstep.
The power of the narrative with its simple lyrical words to convey such powerful truths is an important part of why this novel has stuck with me and why I really think that you should read it too. The book it reminds me of in terms of my engagement with it is The Kite Runner and just like that book, these characters are very much still alive in my mind and I can't forget their emotional as well as their literal journey.
My school was built to educate the hundreds of Scottish boys who were left orphaned at the end of the Boer war – and I think that's one of the reasons that I felt such a strong emotional connection with the book and why it struck such a chord with me. It made me think back over history about other lost boys, lost for a whole myriad of reasons and think about how little the world has changed in terms of tolerance and humanity in some ways, even now…
This is an important read and I can't recommend it highly enough. I am so grateful to be part of the blog tour and for being given the opportunity to let other people know why I think they should read this moving and astonishing tale about humanity. Thanks so much to Anne Cater for the invite – I've loved reading the other #RandomThings Bloggers thoughts about this epic read and could not wait to take my place on the tour today!
You should definitely buy yourself a copy and immerse yourself in this unforgettable and emotional read. it's definitely one that you won't be able to forget. I absolutely adored Maggie and Me and yet I loved this even more – can't wait to see what Motherwell's finest produces next. Gaun yersel' Damian!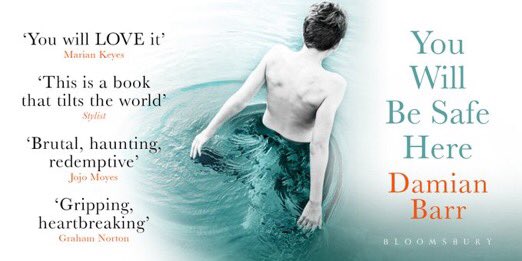 There is pain on these pages and poetry too. I left this book bruised yet somehow better for it (TAYARI JONES, WINNER OF THE WOMEN'S PRIZE OBSERVER BOOKS OF THE YEAR)
Lean, beautiful prose . It pulls you in, breaks your heart and then ultimately repairs it (JOJO MOYES OBSERVER BOOKS OF THE YEAR)
A searing debut (THE TIMES)
A stunning dissection of human barbarism . It tells a story so powerful and upsetting that it's a wonderful reminder of how fiction can illuminate the indignities visited upon those the world has mistreated and then forgotten (JOHN BOYNE IRISH TIMES)
This is a book that tilts the world, showing how the actions of the past can never be fully escaped by the present (STYLIST)
Barr's writing has a lightness of touch and warm humour which makes it easy to root for him … His life has become a triumph (OBSERVER)
Packs a hefty emotional punch … Extraordinary (BIG ISSUE) On The Shelf  

 Damian Barr is an award-winning writer and columnist. Maggie & Me, his memoir about coming of age and coming out in Thatcher's Britain, was a BBC Radio 4 'Book of the Week', Sunday Times 'Memoir of the Year' and won the Paddy Power Political Books 'Satire' Award and Stonewall Writer of the Year Award.
Damian writes columns for the Big Issue and High Life and often appears on BBC Radio 4. He is creator and host of his own Literary Salon that premieres work from established and emerging writers. You Will Be Safe Here is his debut novel.
Damian's Website: https://www.damianbarr.com
Twitter: @Damian_Barr
Lit Salon on Instagram: @damianbarrliterarysalon