BERLIN 2019.
Berlin 2014. The 25th anniversary of the fall of the Wall, and the city is gearing up for a celebration of unity and liberation. But, beneath the surface, are those for whom the divisions and allegiances of the past remain close to home.
In her hushed and leafy corner of Berlin, Nina's life is a comfortable, conventional one– until her younger sister Marie, a free-spirited writer, is attacked and left for dead.
For Nina, Marie's brutal demise – and that of her unborn child – tips her own carefully controlled life into a nightmare. Stonewalled by official incompetence and subterfuge,
Nina begins to realise that her sister's past and the secrets of the once-divided city are connected in unimaginable ways. As she seeks out justice for Marie, Nina becomes caught in a tangle of obsessions, lies and hidden truths that threatens to destroy her marriage, her livelihood and all that she holds dear.
Juliet Conlin is on of the most underrated writers going at the minute – if you haven't discovered her yet and this is your introduction to her writing then you are definitely in for a treat. She has a PhD in Psychology, and it shows – though she wears her learning lightly. This gripping, fascinating and compelling read never feels like a lecture or a series of facts in search of a story – it makes you think deeply about a wide range of topical issues whilst keeping you absolutely wrapped in its narrative and it is definitely one of  Conlin's strengths as a writer that we never feel as if her research has merely found its way into a novel.
Having enjoyed The Uncommon Life of Alfred Warner so much, I couldn't wait to get my hands on a copy of Sisters of Berlin as I love her writing ; I vividly remember the wall coming down in my first year at university so I was intrigued by both the premise and the setting of this novel.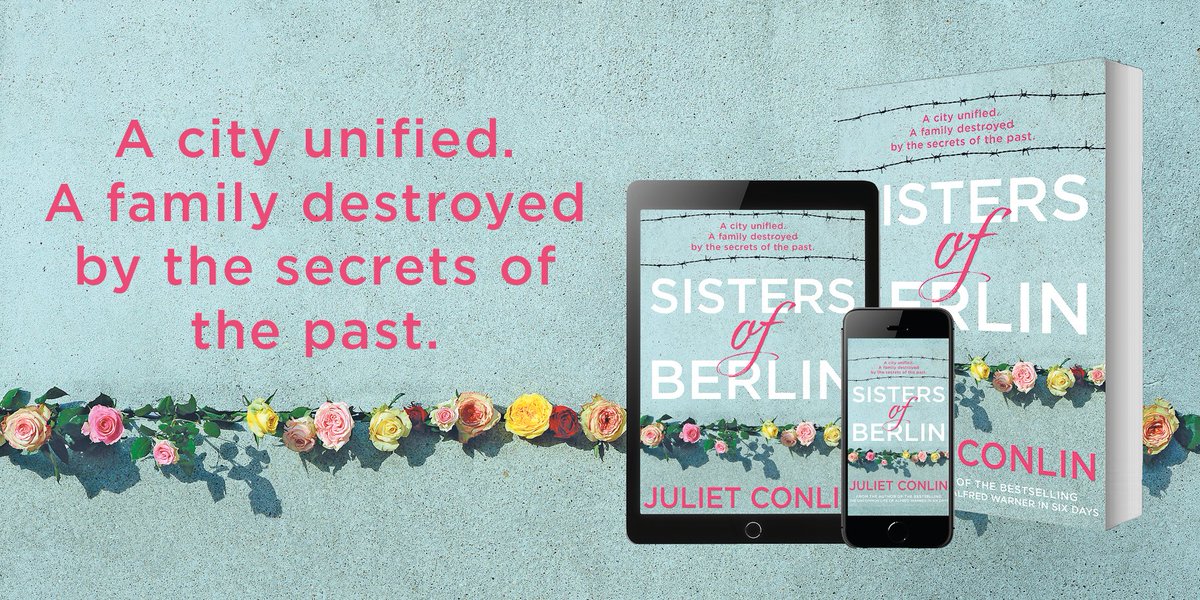 I hate spoilers, so I don't want to dwell too long on the plot of Sisters of Berlin – suffice to say that the skilful way that Conlin weaves the death of Marie on a personal level with the veils of secrecy drawn by the authorities surrounding her death is superbly done and remains convincing throughout. I know at times it can feel like the fictional world is saturated with mysterious deaths and disappearances –  but this is a pleasing diversion from the herd where the political and the personal collide to give an extremely satisfying and rich reading experience with hints, clues and diversions peppered throughout the chapters to keep you firmly on your toes.
I loved the way that this novel wove many threads together – a convincing detective story, a consideration of politial and personal divisions and their impact on society, an examination of sibling love, devotion and secrecy and the impact that the love we have for our families can have on our lives in a much wider way than we might have anticipated
I also enjoyed the references to Berlin itself  throughout the novel that definitely made me resolve to read more texts set in Europe this year and hone my travel itineraries for when we finally emerge, blinking, from this wretched lockdown.
Sisters Of Berlin is definitely one of those novels that stays with you long after closing its final page and one that I will definitely be recommending to my friends – it packs a powerful emotional punch; educates just as much as it entertains and makes you wish that you could step into the world of Nina and see her Berlin for yourself.
If you enjoy an immersive and intelligent will ask you to think about your own attitudes and examine the way that you think about your own complex interconnections and relationships then you will love this book as much as I did.
I can't wait to see what Juliet Conlin does next. I'm very grateful to be opening the blog your with a fabulous bunch of bloggers today and you should definitely follow the tour and hear what they have to say about this wonderfully satisfying read
Buy yourself a copy and Support an Independent publishing company below:
http://blackandwhitepublishing.com/shop.html
Writer On The Shelf

Juliet Conlin was born in London and grew up in England and Germany. She has an MA in Creative Writing from Lancaster University and a PhD in Psychology from the University of Durham.
She works as a writer and translator and lives with her family in Berlin. Her novels include The Fractured Man (Cargo, 2013), The Uncommon Life of Alfred Warner in Six Days (Black & White, 2017), The Lives Before Us (Black & White, 2019).
Subscribe to Juliet's newsletter, NOTES FROM BERLIN,
www.julietconlin.com/notes-from-berlin
Publisher
Black & White Publishing was founded in 1999 by Managing Director Campbell Brown and Publishing Director Alison McBride. Since then, the business has grown into one of Scotland's leading independent publishers with over 300 books in print across a variety of genres.
Committed to publishing the best books from the most talented writers in the UK and beyond, some of our bestselling authors include Daniela Sacerdoti,  James Robertson, Estelle Maskame, Nick Alexander, Richard Gordon, Alex Norton, Millie Gray, Sally Magnusson and Tony Black. We produce an extensive range of titles, including general non-fiction, biography, sport and humour, as well as selected fiction, young adult and children's books.
This year, we've started an exciting new alliance with PGUK who now provide sales representation for our titles, and GBS continue to distribute our books. Our eBooks are distributed by Faber Factory. Over recent years, our range of fiction has grown following recent eBook successes such as Daniela Sacerdoti's Glen Avich series, which has sold nearly a million copies to date.
These new alliances and our e-book successes are helping us shape and develop the list in new ways to bring more exciting new titles to both local and global markets.