Passionate, contradictory, and fiercely loyal to his friends, John Ruskin is an eccentric genius, famed across Britain for his writings on art and philosophy. Haunted by a scandalous past and determined never to love again, the 39-year-old Ruskin becomes infatuated with his enigmatic young student, Rose La Touche, an obsession with profound consequences that will change the course of his life and work.
Written in a style recalling Victorian literature and spanning a period of twenty years, the story poses questions about the nature of love, the boundaries of parenthood, and compatibility in marriage. Unto This Last is a portrait of Ruskin's tormented psyche and reveals a complex and misunderstood soul, longing for a life just out of reach.
This is an atmospheric and utterly convincing novel… tackling the subject with great empathy in prose that is both detailed and vivid. A considerable achievement.
Michael Crowley, writer and dramatist
Anyone who reads my blog occasionally knows that I have a deep love of non-fiction and adore being introduced to stories from the past that I haven't heard of before. Of all of the eras of Art History I most love High Victorian Art and the pre Raphaelites and I was intrigued to read more about Ruskin's life in this fictionalised version. I was absolutely delighted when Anne Cater wrote to me to ask if I'd like to be on the blog tour for Unto This Last by Rebecca Lipkin – and I'm happy to report that I found it every bit as fascinating as I had anticipated.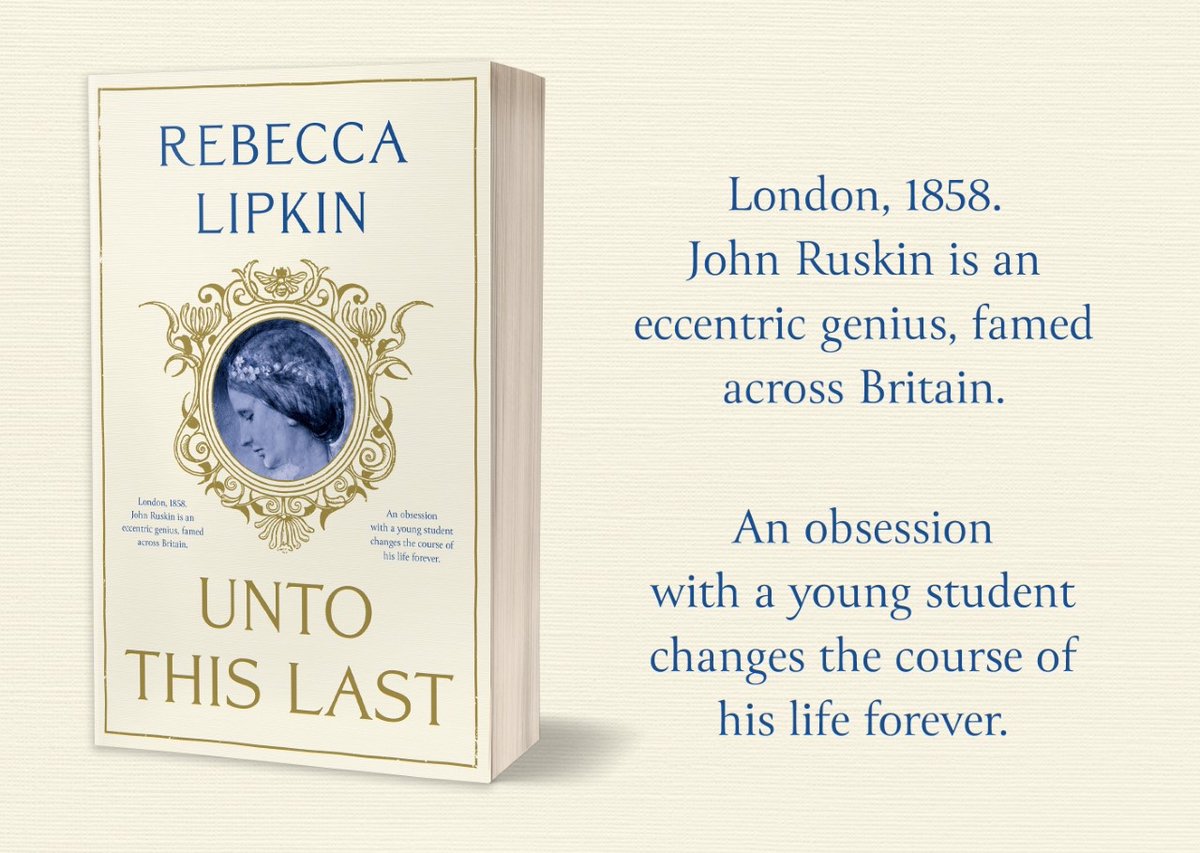 This book is a fictional account of the life and adventures of John Ruskin, artist and poet whose emerging relationship with his young student, Rose La Touche, is a scandal that changes both of their lives irrevocably. This epic story has something for everyone, art, literature, love, scandal and a real sense of its setting in both time and place. It is a weighty tome and no mistake, but I absolutely loved losing myself in it and immersing myself in the twists and turns of their 'outrageous fortune' as this tale unfolded.
Ruskin's achievements across a wide range of disciplines– from critical theory and art history to philanthropy and social campaigning are quite staggering and this book shows Lipkin's impeccable research skills as she spares no effort in trying to recreate this time for us and brings us along with her on this unforgettable journey into Ruskin's life. John Ruskin becomes a living breathing person through these pages, rather than a disgraced pillar of Victorian society or a stalwart of Pre-Raphaelite art. Because I am a huge fan of Victorian art and fell in love with it as a young teacher at the Lever Art Gallery in Liverpool, I was so excited to read about the stories of so many of its masterpieces that I've actually walked past and know that through reading this tale I could connect with their history in a very real way.
What I loved about the book was the feeling of getting to know John the man, through being able to turn the pages and 'hear' his inner thoughts and feelings as his life unfolded. As is quite common for people who 'broke the rules' in Victorian society, things never really turned out the way that John expected them to and he quickly finds that Victorian social mores are sadly more inflexible than he'd hoped they might be. This book contains sweeping historical detail in spades, but also captures real human emotion and the devastating impact of thwarted love and disappointment in a very human way.
I loved the fact that Ruskin comes across as a man who was ahead of his time in regard to his philanthropy – someone who advocated for equality and looking after your fellow man, rather than merely protecting his own interests. It is clear that he was a free thinker who wass not afraid to rock the boat in pursuit of what he felt to be right – whether that was in matters of the heart or in his attitude towards the environment and ecology.
I found the way that Rebecca Lipkin effortlessly blends her research with real insight into the characters on the page to be stunningly well achieved and even though it is certainly a very long book, I raced trough it in record time. I absolutely loved the way that this intriguing and original book transports you back into Ruskin and Rose's lives and allows you to get to know real characters from history. You do not have to be a fan of either art or poetry to get drawn into John's story and you will be amazed at how much some of his thoughts and emotions will resonate with you – even if he was living breathing and loving a century ago
I love doing my research after finishing a book I've enjoyed and if you are intrigued by John's story, you could find out more here. You will be able to see real extracts from his papers and read all about the man himself as well as get details of their relationship and the tragedy that eventually unfolded. I loved reading about his life from all angles – from his relationship with friends and family, through his Grand Tour of Europe to his passionate advocacy for the things that he believed in, Ruskin is brought vividly to life on these pages and I was desperate to find out more about him and his fascinating life as soon as I finished reading it.
If you are intrigued by my research about John and would like to read more about his epic adventures then follow the blog tour and definitely buy yourself a copy of this fascinating and beautifully researched historical read.
Writer On The Shelf
Rebecca Lipkin had a passion for Victorian art and literature from a young age. She first discovered John Ruskin through E.M. Forster's novel, 'A Room with a View', and later joined the Ruskin Society at the age of seventeen to learn more about Ruskin's work. Rebecca pursued a career in journalism, specialising in arts writing and theatre reviews, and has worked for a number of national publications.