Wanted: Company Daughters. Virtuous young ladies to become the brides of industrious settlers in a foreign land. The Company will pay the cost of the ladies' dowry and travel. Returns not permitted, orphans preferred.
Amsterdam, 1616. Jana Beil has learned that life rarely provides moments of joy. Having run away from a violent father, her days are spent searching for work in an effort to stay out of the city brothels, where desperate women trade their bodies for a mouthful of bread. But when Jana is hired as a servant for the wealthy and kind Master Reynst and his beautiful daughter Sontje, Jana's future begins to look brighter.
Then Master Reynst loses his fortune on a bad investment, and everything changes. The house is sold to creditors, leaving Jana back on the streets and Sontje without a future.
With no other choice, Jana and Sontje are forced to sign with the East India Company as Company Daughters: sailing to a colonial outpost to become the brides of male settlers they know nothing about. With fear in their hearts, the girls begin their journey – but what awaits them on the other side of the world is nothing like what they've been promised…
Maybe it was because I can't travel in a literal sense, that I'm getting so much pleasure from time travelling through the books that I'm choosing of late. I can't stop reaching for historical fiction, and this is one of the best books I've read in tis genre this Autumn. I was absolutely intrigued by the premise of this book featuring this historical insight into the idea of the East India Company and its 'daughters' I was delighted to be invited on the tour by Noelle Holton & Bookouture and couldn't wait to travel vicariously to this beautiful, remote and mysterious part of the world.
This book definitely did not disappoint, it grabbed me and pulled me right into the story even when it was a hard read at times due to the unimaginable situations and choices that women living in this era had to contend with. I was really intrigued by the premise of the book: that we get to hear about events from such a unique perspective and this really added to the story for me. Jana and Sontje's very different back stories have a massive impact on the way that they perceive events and we start to see their altering and complementary perspectives on tis period of history more clearly as the novel unfolds.
I absolutely loved the unique atmosphere of this novel and definitely found it quite addictive. It was intriguing to imagine setting sail and leaving everything that you have ever known behind you and heading for a world which is not only wholly alien to you, but a world in which your choices and next direction has been wholly surrendered to the choices of others and knowing that the rest of your life lies in the hands of people that you have never even met.
This novel presents this period of history in a fresh original way which makes the story linger at the edges of our consciousness even when we aren't reading it. Jana and Sontje feel very much like real people – rather than mechanisms to explore a historical tale – which I've often found in novels which want to represent something that happened in the past. This is a really unique novel which has to be experienced to truly realise how absorbing and special it is.
I am in awe of his atmospheric writing that makes you feel the experience of being a historical mail order bride sent off like chattels to colonise the Dutch East Indies. Our two ladies Sontje and Jana have little choice but to embark upon a dangerous sea journey to Batavia – present-day Indonesia – to begin a life as wives to men who have purchased them for their potential as breeding partners and to work the land and help build the colony.
Samantha Rajaram is a skilful and insightful writer – it's hard to talk about this novel without spoilers, so I'll just need to tell you that you must read it for yourself. You will be fascinated to uncover all that these women went through and shocked that you didn't know more about it. It's not one of these 'keep looking for the big twist' stories that people are getting a little bored of now. It is a story filled with skilful description and perceptive characterisation that add up to its sense of atmosphere and your relationship with the characters builds and builds as you experience the challenges and constraints of their circumstances and everything that they have to go through as a result of this voyage into the unknown…
The Company Daughters asks us to think about the way that our personalities evolve through, because of and despite of all our experiences and doesn't allow us to dismiss these characters as merely fictional – this novel is based on a real story, after all. The bleakness of the tale is an undeniable aspect of their lived experience and because it's so immersive I found its difficulties very rewarding and couldn't stop thinking about the rhythm of its narrative and the true stories that undoubtedly inspired this fictional tale.
This is a book that I know I'll be recommending to lots of readers as I was totally immersed in its characters, its pace and the way it really made me think. I can't wait to see what Samantha Rajaram does next. The idea that life for women in the past can be a lot darker than you might think on the surface and I think that this would make an excellent Book Group read as it would be sure to provoke lots and lots of discussion and comment about a part of the world that most people don't know very much about…
Buy yourself a copy of The Company Daughters and discover its remote and hypnotically realised story for yourself
Praise for this novel:
Blew my mind… a book I've told so many people about purely because I'm still in disbelief that it exists, that it's so magically written and most of all that it is based on true events… a hard-hitting, soul-crushing book of a woman's struggle to survive… I loved every moment of it. Breathlessly, and in a way that took up my entire brain… immersive, heart-wrenching, and I feel emotional writing this review.' Goodreads reviewer, 5 stars
'From the moment I started reading The Company Daughters, I was captivated by this historical tale. Although it does contain a love story, it's not a romance…This was a gripping read.' Goodreads reviewer
'This book is so stunningly tender and beautiful, all mixed in with some seriously tragic and heart-wrenching events… Rajaram is an extremely skilled writer, and I love her writing style… The themes of sisterhood and female love were so present in this book and I found it very moving.' Goodreads reviewer
'I was enchanted by this book! It's a delightful read that will have your emotions all over the place.' Goodreads reviewer
'I love historical fiction, and this book touched on a topic and time I knew nearly nothing about…There's love, there's loss, there's surviving, there's thriving… It was a very beautiful book.' Goodreads reviewer
'The Company Daughters is a beautifully written love story… a perfect example of the power of human will and the endurance and hope that love can give a person.' Goodreads reviewer, 5 stars
'This book has a beauty and grace to it. The author's writing just flows off the page, and although there are struggles and upsets by the time you close the book over you are filled with a warm glow.' Goodreads reviewer
Writer On The Shelf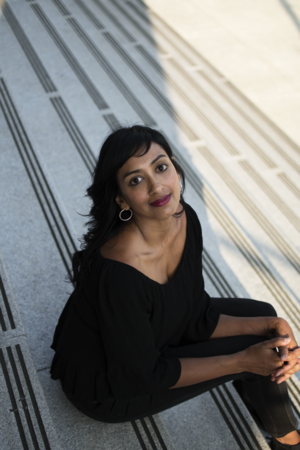 Samantha Rajaram is the author of THE COMPANY DAUGHTERS, a historical novel inspired by events during the Dutch golden age. She is represented by Carrie Pestritto at the Laura Dail Literary Agency.
Her essays and short fiction have been published in Catamaran Literary Reader and India Currents, and she was a contributor to Our Feet Walk The Sky, the first South Asian-American anthology published in the US. She was both a 2018 Pitch Wars mentee and a 2019 Pitch Wars mentor.
She spent most of her childhood in Gillette, Wyoming, where she and her family were the first Indian-Americans to live in the community. She received her B.A. in English from UCLA and her M.A. in English from the University of Pennsylvania, where she studied slave narrative and African-American literature. She also holds a law degree from U.C. Hastings College of the Law in San Francisco; while in law school, she focused on social justice and international human rights law with a focus on female sex trafficking.
She currently teaches composition at Chabot College in Hayward, California, and she lives in the California Bay Area with her three children.