"Hey, Collins!" I shouted up. "Tommy!" Tommy peered down into the
boat and did a double take. "Chickie?!" He scurried down the ladder
and grabbed me by the arms as if to see if I was real.

He looked bigger and stronger than when I'd seen him last, and he was
full of questions. "Chickie! Are you kidding me? How did you get here?
Are you nuts? What the hell are you doing here?!"

I pulled a beer out of my pack and handed it to him. "This is from the
Colonel and me and all the guys in Doc Fiddler's," I told him. "We all
talked about it, and we decided that somebody ought to come over
here and buy you guys a drink in appreciation for what you are doing.
Well, here I am!"
John 'Chickie' Donohue
A Crazy Adventure in a Crazy War is the amazing true story of a young man going to take his buddies a few cans of beer – in the heat of the Vietnam war. In 1967 – having seen students protesting against the Vietnam war, some New York City bar friends decided that someone should hop over to Vietnam to buy their various neighbourhood army buddies a beer, to show them that SOMEONE appreciates what they're doing over there. One man was up for the challenge: John "Chickie" Donohue.

A U. S. Marine Corps veteran turned merchant mariner, Chickie decided he wasn't about
to desert his buddies on the front lines when they needed him most.

Chickie set off on an adventure that changed his life forever. Armed with Irish luck and
a backpack full of alcohol, he made his way to Qui Nho'n, tracking down his disbelieving
friends one by one. But Chickie saw more of the war than he ever bargained for unexpectedly getting caught up for a night on the front line in the DMZ (Demilitarized
Zone), and for weeks in Saigon during the Tet Offensive.

In the process of undertaking this well-intentioned but ill thought-through adventure,
Chickie learnt a lot about himself and most importantly, changed his view on the
Vietnam War, having seen first-hand the craziness of the whole endeavour and
ultimately realising that the American government was lying to the American people.
Gradually, I began to see that the protesters, however disrespectfully, were at least
trying to stop this madness. They weren't acknowledging that so many young men
were doing what they truly believed was their duty—to their country, their family, their neighbourhood. They weren't acknowledging that the soldiers were patriots, that they were heroes. We, in turn, didn't see at the time that the protesters loved our country, too. What they didn't like was our leadership. They were trying to stop more boys from being killed for somebody else's legacy. After what I'd witnessed on my journey, I could definitely agree with that.
In June 2017, Task and Purpose's "The Unbelievable True Story Of The Greatest Beer Run In History" summarized Donohue's storied trip to Vietnam during the war:
Drunk ideas, while entertaining, rarely end well. But there are exceptions. Like that time in New York in the late 1960s when a conversation about anti-war protesters led one veteran to set off on the greatest beer run in history … What followed was an 8,000 mile, four-month odyssey. Donohue trekked across a war-torn country, talked his way onto transport trucks and military aircraft, all so he could meet up with local guys from his neighborhood and bring them a cold — okay, lukewarm — brew.
"A lot of my friends were serving in Vietnam, and I just wanted to go over there and buy them a beer," he candidly explained in a 2015 video short, in which Donohue met up with three of the servicemen he'd provided with beer in Vietnam: Bobby Pappas, Tom Collins, and Ricky Duggan.
… Donohue talked his way onto convoys, military mail planes, and transport helicopters. He even got caught in the Tet Offensive and was briefly stranded when his ship left port without him. So he hung around, caught up with his buddies on the front lines for a bit longer, and by March 1968, made his way back to Inwood where his beer run quickly became a local legend.
I love stories that immerse me in another time and place especially if they let me have an understanding of a fascinating story that I never knew much about before – and WHAT a story this one was!
The topic of the Vietnam War is not one that I'm very familiar with – except for its portrayal in films like Platoon & Good Morning Vietnam, so it was fascinating to reda this very unusual take on it, especially from a character like Chickie. His writing style is very conversational and it was like sitting down with an unforgettable character and hearing the shaggiest of shaggy dog stories from them! I have gone on to do a lot of research into this story after reading the book and you can find out more here if you found Chickie's story as incredible as I did.
Chickie makes you feel like you are experiencing the highs and lows of his epic journey right alongside him and his way of weaving small details into his narrative means that you learn a lot through his unorthodox approach to life. He brings the characters he encounters to life beautifully too – and we get to know his mates and why he felt so strongly about this epic adventure in beer delivery at first hand, making them spring to life and immersing us in his larger than life exploits.
You can't help liking Chickie and admiring him for his get up and go. There has been a great deal of discussion about some of the truths behind Chickie's story, but my decision was to lose myself in the telling of this tale, whether it was a tall tale or not – and just enjoy the ride. I loved the descriptions he gave of the countries he passed through and it definitely contributed to the degree of itchy feet I'm experiencing due to the ongoing lockdown.
People who love an immersive and intriguing non-fiction read will find much to fascinate them here. Mr On The Shelf is a history teacher and I've recommended it to him as I know that he'll love the character of Chickie just as much as I did. I was delighted to read that it is goin to be made into a movie and we will definitely go together and enjoy the experiences of seeing Chickie's adventures come to life on the silver screen.
Huge thanks to Anne Cater for inviting me onto another original and interesting blog tour through Random Things Tours and to Octopus publishing for choosing such fascinating books to publish – Buy yourself a copy here and enjoy Chickie's epic adventure yourself this winter; you might even get it finished before seeing the movie!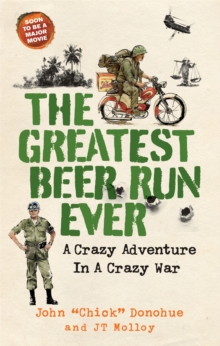 Writer On The Shelf
John "Chickie" Donohue joined the United States Marine Corps at the age of
seventeen and spent several years as a Merchant Mariner after his discharge. His
work took him to numerous foreign ports, including Saigon during the Vietnam War.
After the war, he became a Sandhog, or tunnel builder, and eventually became the
Legislative and Political Director of Sandhogs, Local 147, Laborers International Union
of North America, a post in which he served for over three decades. Donohue is a
graduate of the Harvard University John F. Kennedy School of Government where he
received his Master of Public Administration degree. He is happily married to Theresa
"Terri" O'Neil and spends his time between New York, Florida, and West Cork, Ireland.
SOON TO BE A MAJOR MOVIE

Peter Farrelly, writer and producer of Green Book, is turning THE GREATEST BEER
RUN EVER into a movie, currently slated for Autumn 2020 (TBC). In 2018 Green Book
won the Golden Globe for Best Screenplay and the Oscar for Best Picture, Best Original
Screenplay, and Best Supporting Actor. Farrelly has also directed and produced Dumb
and Dumber, Shallow Hal, Me, Myself and Irene, There's Something About Mary, and the
2007 remake of The Heartbreak Kid.