The arrival of baby Violet was meant to be the happiest day of my life. But as soon as I held her in my arms I knew something wasn't right.
I had always known that the women in my family aren't meant to be mothers.
My husband Fox says I'm imagining it. He tells me I'm nothing like my own mother, and that Violet is the sweetest child.
But she's different with me. Something feels very wrong.

Is it her? Or is it me? Is she the monster? Or am I?
___
The Push is an unsettling, breathtaking and powerful read about obsession and our deepest fears that will stay with you long after you turn the final page.
I am so excited to welcome you today to my stop on the blog tour on this Icily beautiful Saturday for a book that you'll be hearing about throughout 2021 – words can't do justice to this novel and I'm going to find it so hard to review it without giving away any spoilers as I want every single one of you to have the same reading experience that I've just had – I've literally been glued to the pages this week during our latest lockdown and found myself thinking about it whenever it wasnt with me…
Thank you to Olivia Thomas for giving me the opportunity to read and review this amazing book that I am going to be suggesting as one of my Online Book Club reads as I'm sure that all my bookies are going to love it too. It's one of my favourite things about blogging that I've serendipitously encountered so many fantastic books and authors to write about and share them with other book lovers too.
These characters in this book absolutely spring to life and I defy you not to be drawn into Blythe's story and experience the way that her past has carved out her experience of motherhood and its impact on her ability to live her own experience rather than see her first experiences as a mother refracted through the prism of her own experiences and her mother and grandmother's before her. Larkin writes 'man hands on misery to man/ it deepens like a coastal shelf/ get out as quickly as you can/ and don't have any kids yourself' and it's very easy to replace this with 'woman' as regards this journey back through their lives and experiences to see how all roads led to Blythe's first steps in motherhood and how the shadows of her family's prior experiences mean that what most people feel are the happiest months in their lives are for her a dark and spiralling sense of history beginning to repeat itself.
The Push is not just a great piece of fiction though – it is a thought provoking and intelligent piece of writing that poses some huge questions about motherhood, love and fear that make it a perfect book club choice once the lockdown is over. I absolutely loved the way that motherhood is prsented as a series of russian dolls within this story with all of their experiences being encapsulated and reflected in the way that they were 'mothered' themselves – this provided me with lots of food for thought and a fair few hours of contemplation about the way that motherhood is presented in poetry and literature and why we often turn away from the hard, dark and difficult aspects of this relationship in our collective consciousness
I really did get caught up in this book. They do say that you shouldn't judge a book by its cover, but The Push more than matched up to its gorgeous cover. One of my favourite things was the way that we get to compare and contrast their paths as well as their relationships in the present day and I think that the structure really worked in allowing us to see some of the ways that Blythe's past have affected her and then look through the other end of the telescope and begin to wonder about the future that lies ahead for Violet her daughter as a result of the ways that she will be parented by Blythe. Its a real strength of this novel that despite the contrasts between the characters, the way that their stories interconnect makes it feel seamless and never disjointed or fragmentary. Of course there are going to be comparisons with We need to Talk about Kevin, but this book allows us to see the parent/ child relationship through the perspective of Blythe's past which increases our sense of connection with her – but there exists the same sense of the nature/nurture dichotomy in this book as we have to ask ourselves if Blythe is so caught up in her own past that she's unable to see that Violet is as much a product of her parenting as she is the latest incarnation of the family's long line of 'unlovable' children
The Push is a stunningly vivid read that had me totally captivated. It's a chilling and powerful evocation of one family's experiences of motherhood for sure, yet so many of its reflections on identity and motherhood are absolutely universal and will resonate with so many readers who have wondered if it's their fault it they are a bad parent and if they are being judged and found wanting. I am not going to talk about the ending here as no matter how prepared you think you might be for it, you still won't be able to believe what you've just read…
I loved this book and find myself thinking about its characters even now, days after finishing it. If you like reads that make you gasp in recognition one minute then shudder the next, then this will be the perfect January read. It's definitely going to be one of the most talked-about novels of the year so make sure that you make yourself part of the conversation and order yourself a copy now! It is incredibly hard to think that this is a debut novel and it makes me very excited to see where Audrain takes us next…
The Push is available to buy now – here's the link
A gripping debut that explores and manipulates the fears and insecurities of mothers everywhere . . . Well thought out, vividly realised and gripping ― Guardian
An inventive twist on the psychological thriller formula . . . Audrain sustains the suspense expertly through assured handling of her unravelling protagonist's voice ― Sunday Times
Ashley dares us to find the relatable in the worst we can imagine . . . the knife-edge between relatability and horror keeps the reader hooked ― Grazia
The Push was a poetic, propulsive read that set my nerves jangling in both horror and recognition. I read it one sitting and it stayed with me for days afterwards. Not to be missed — Lisa Jewell
I was gripped . . . One of 2021's most anticipated books . . . Dazzling and gloriously complete — Daisy Buchanan
I loved it – such a dark and compelling exploration of motherhood. Absolutely haunting: a brilliant, thought-provoking page-turner — Caroline Lea
I was completely engrossed in The Push from the very first page. So tense, so all-encompassing! It's a jet-black story of motherhood, inheritance and expectations, and I loved it — Abigail Dean, author of Girl A
I was totally hooked. Compelling, addictive, chilling. Smashing read — Elizabeth Macneal
Suspenseful with extreme We Need To Talk About Kevin vibes, this is the Book Club Book that'll have everyone talking next year … ― Grazia
A provocative, compulsive novel about modern motherhood ― Vogue
Check out what these other talented bloggers have to say about it on the Blog Tour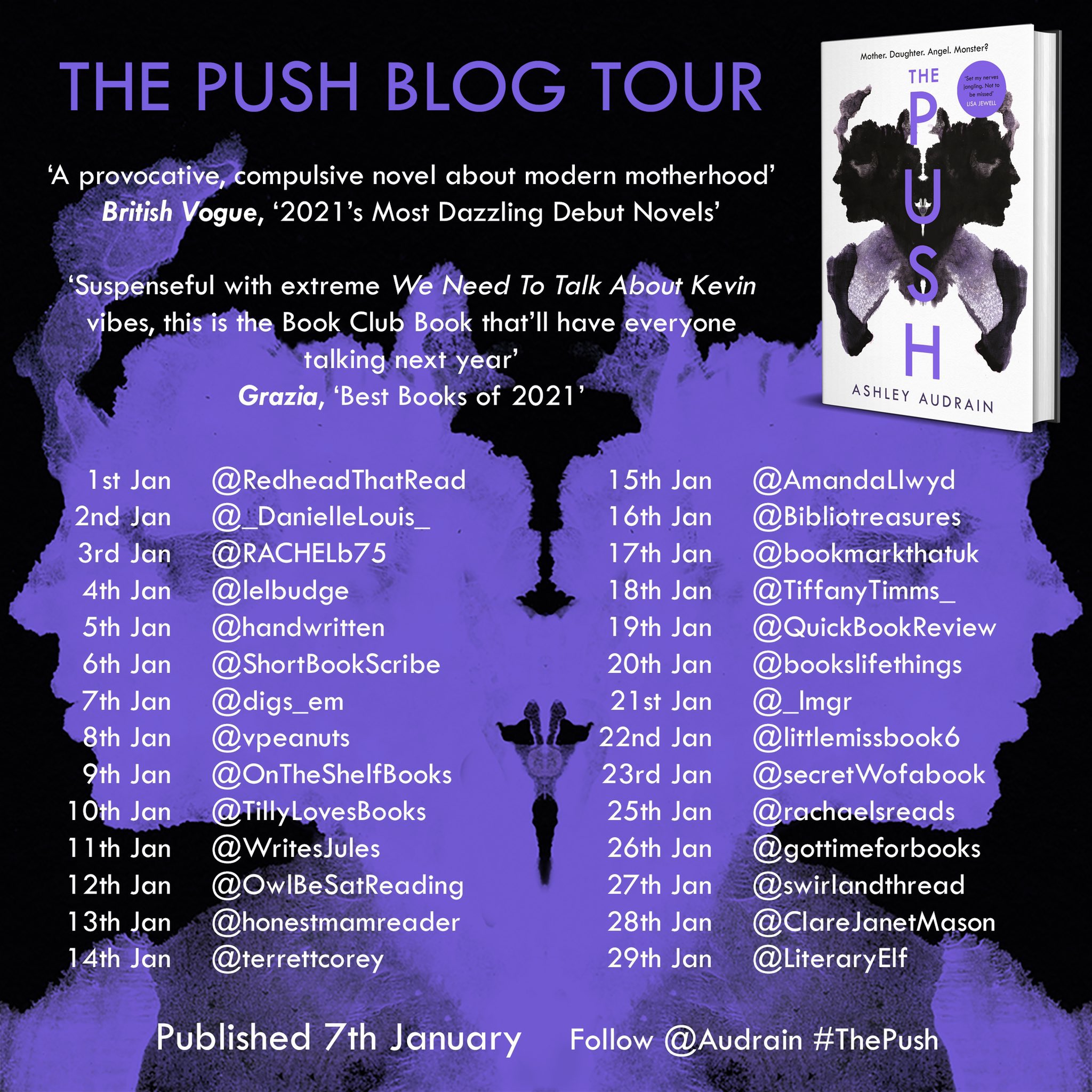 Writer On The Shelf
Ashley Audrain wrote The Push after leaving her job as publicity director at Penguin Books Canada to raise her two young children.
Prior to Penguin, she lived and worked in Los Angeles, and at a global public relations agency in Toronto, where she now lives.
Twitter @MichaelJBooks @audrain