A shamed pop star
A devastating fire
Six witnesses
Six stories
Which one is true?
When pop megastar Zach Crystal dies in a fire at his remote mansion, his mysterious demise rips open the bitter divide between those who adored his music and his endless charity work, and those who viewed him as a despicable predator, who manipulated and abused young and vulnerable girls.
Online journalist, Scott King, whose Six Stories podcasts have become an internet sensation, investigates the accusations of sexual abuse and murder that were levelled at Crystal before he died. But as Scott begins to ask questions and rake over old graves, some startling inconsistencies emerge: Was the fire at Crystal's remote home really an accident? Are reports of a haunting really true? Why was he never officially charged?
Dark, chillingly topical and deeply thought-provoking, Deity is both an explosive thriller and a startling look at how heroes can fall from grace and why we turn a blind eye to even the most heinous of crimes…
Everyone that I know is very aware of when there is a new book by Matt Wesolowski due out – I am literally counting down the days because of how much I absolutely love the Six Stories series and I'm delighted to be able to report that #Deity was every bit as wonderful as I'd imagined and absolutely lived up to my level of anticipation. Matt Weslowski has a unique and chillingly hypnotic voice and once you've gazed into the abyss alongside him, you'll be a slave to his writing forever.
I love the way that Matt's books give us the writen experience of a podcast so that we get a richer and more multifacteted experience of the story as we hear from all of the characters in turn. I'm a real true-crime addict and this definitely comes up to the standard of some of the very best that Ive ever listened to. Zach Crystal is a fascinating and enigmatic character that you really feel comes alive as you uncover more and more details about his life and secrets. I'm firmly committed to my 'No Spoilers' rule, I can't wait to have a good chat with someone else who's read Deity so that we can talk over it together and talk about what a fantastic creation it is, comparing notes on the perspectives of Zach that we are exposed to and sounding out our own perceptions from the way that these voices align and contrast across the course of the 'podcast'
It's even the kind of book that is a physical pleasure to read – the stunningly beautiful and iconic design mean that Deity entices you in at the same time as warning you off– it's not just the story that made me love it so much but the book as an actual physical object. Just look how beautiful it is and how much you are compelled to open it att the same time as you are reluctant to embark upon such a menacingly beautiful book:
The fact that this is now the fifth 'Episode' of Six Stories is making me sad, as I very much don't want this incredibly dark and compelling series to end. I could listen to episodes of this 'podcast' forever and feel like I have become so addicted to the voice of this novel that I 'hear' it playing in my head as I'm reading and think about it whenever I'm away from the book and long after I've closed the final page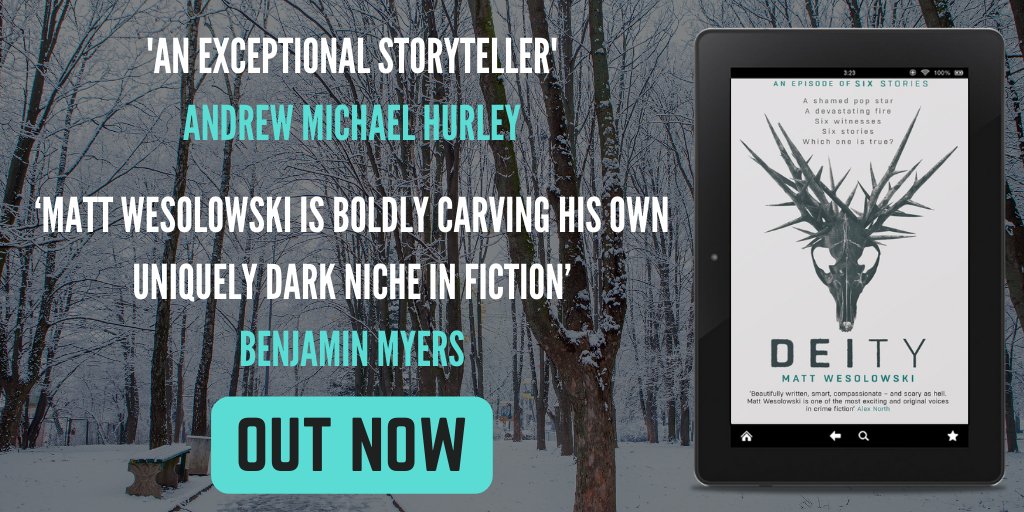 Scott King is a fantastic character – even though on a conscious level I know that he is a device to keep the story going and to stitch all of the interviewees' perspectives together I absolutely love the way that he manages to structure hs show so that he can coax the truth out of his interviewees. I am a huge fan of podcasts in general and particularly true crime and murder podcasts. Six Stories brings these 'crimes' to life in such a way that you almost believe that these crimes have really happened – and it's not the first time in the Six Stories series that I've spent time googling the case when I'm finished the book, so certain am I that these events must have definitey happened…
I also liked the way that like the very best True Crime podcasts – Weslowski allows space for our own feelings and responses. Our responses to Zach Crystal are not reduced to a simple case of black and white There is enough room for us to ask ourselves questions about who we believe and why that makes Deity such a complex, satisfying and thought provoking read. I found myself genuinely being convinced to see things from a constantly shifting perspective as the novel bore me towards the conclusion and this was a rollercoaster ride that I definitely didn't want to get off…
This book has a little bit of everything – mystery, social commentary, a 'true crime' feel, a fresh and innovative structure. As you can probably tell, I love Matt Wesolowski and am constantly urging my fellow crime lovers to start reading him. Deity is a book that you'll want to pass on to other people so that they'll have had the same experience you did, reading it for the first time. There's only one thing to do now – you'll definitely have to buy yourself a copy so that you can find out how brilliant it is for yourself
I'd like to thank the lovely Anne Cater for inviting me to take part in the blog tour, it is such a privilege to spread the book love for an Orenda book and after spending tme with them on the Virtual book launch for the wonderful Danny Garvey, it reminded me again why reading any book published by  Karen from Orenda and promoted by Anne Cater is bound to be an absolute winner. This is an unreserved 10/10 from me and i'm excited to see what unfolds in the Sixth episode in this amazingly original and wonderfully dark series.
Writer on the Shelf
Matt Wesolowski is from Newcastle-Upon-Tyne in the UK. He is an English tutor for young people in care. Matt started his writing career in horror, and his short horror fiction has been published in numerous UK- and US-based anthologies such as Midnight Movie Creature Feature, Selfies from the End of the World, Cold Iron and many more. His novella, The Black Land, a horror set on the Northumberland coast, was published in 2013. Matt was a winner of the Pitch Perfect competition at Bloody Scotland Crime Writing Festival in 2015.
His debut thriller, Six Stories, was an Amazon bestseller in the USA, Canada, the UK and Australia, and a WHSmith Fresh Talent pick, and film rights were sold to a major Hollywood studio.
You can follow Matt on Twitter here
Why don't you check out some of the other brilliant blogs taking part in the tour?