The Secrets of the Lake is a gripping wartime novel, by the author of The Silk Weaver, Liz Trenow.
'Masterful storytelling, immersive locations, and characters that inhabit your heart from the first page' – Gill Paul, author of The Secret Wife.
The war may be over, but for Molly life is still in turmoil. Uprooted from London after the death of her mother, Molly, her father and younger brother Jimmy are starting again in a quiet village in the countryside of Colchester. As summer sets in, the heat is almost as oppressive as the village gossip.
Molly dreams of becoming a journalist, finding a voice in the world, but most of the time must act as Jimmy's carer. At just ten years old he is Molly's shadow, following her around the village as she falls under the spell of local boy Kit. Kit is clever, funny and a natural-born rebel. Rowing on the waters of the lake with him becomes Molly's escape from domestic duty. But there is something Kit is not telling Molly.
As the village gossip starts building up with whispers against Molly's father over missing church funds, everything Molly thought she knew is turned upside down. And on one stormy night, when she sneaks out of the house to try to put things right, Jimmy vanishes. Never to be seen again.
Decades later, Molly is an elderly woman in sheltered housing, still haunted by the disappearance of her brother. When two police officers arrive to say that the remains of a body have been found at the bottom of the lake, it seems like Molly will at long last have her answer . .
I absolutely love a book where the past and the present collide I think it stems from my love of Fhistorical novels when I was younger– and this evocative and atmospheric read drew me in from the very first paragraph and held me captivated by its setting and characters until its very final page.
Mysterious disappearances, a long hot summer and a relationship mired in local gossip – all wrapped up in a wartime setting that's beautifully realised – I mean – what's not to love. These were some of the many reasons that I was so drawn to The Secrets of the Lake and why I'm so grateful to #RandomThingsTours Anne Cater for inviting me to participate in this blog tour – as this book was definitely right up my street!
I love immersing myself in a book over a weekend and not looking up apart from to pour another cup of tea and this book answered the brief perfectly. If you haven't already read The Silk Weaver, you should definitely put it on your TBR and if you have, you'll be reassured to know that this is equally as compelling.
I feel like you can totally surrender to this reading experience and travel to Molly's village and experience this summer and its consequences right alongside her I really felt like I could imagine living in this wartime village setting and found it very difficult to detach myself from this immersive reading experience that allowed me to plunge into Molly, Jimmy and Kit's world and experience these events as they unravelled. It was so atmospheric that you could absolutely imagine it all in your mind's eye and every time I stopped reading it, I kept imagining myself lured back tin time and trying to navigate the truth for myself.
Is anyone else like me and love to go online and immerse themselves in the world of the book that they're loving, to try and really place themselves in the characters' world? I love doing it and I found myself myself remembering summers in the highlands, messing about on boats on the loch and carefree summer nights on the water. The setting of this book is perfectly realised and it evokes a different time, where anyone who was 'out of the ordinry' like Jimmy was thought about very differently and where mutterings and gossip can grow and spread in order to cover up the truth and obscure layers of guilt and collusion when events such as this take place
It was lovely to lose myself in the mystery surrounding this disappearance and keep turning the possibilities over in my head about what exactly was the truth about Kit's secrets, Jimmy's vanishing and whether we were getting a sense of the whole truth at times.  It's funny that I get into reading zones and I'm now on a real historical fiction month and have been drawn to exploring the Edwardian and post-war eras and thinking about how much has changed for women since these times. I am trying not to give any spoilers at all as I want you to explore these events in the same way as Molly does – waiting a long time to uncover the truth about what happened to her brother all those years ago…
I really loved the way that Liz Trenow draws the reader in and keeps them connected with the feelings that Molly experiences as she attempts to understand what exactly happened that summer and turning over the way that the present intersects with these secrets of her past. The way that these elements of the narrative interconnect and collide with one another and mingle in with local legends was one of my favourite things about this book and it certainly does a fine job of not allowing you to put it down as it gives you a solid case of 'one more chapter'
This was the perfect weekend read for me – and if you're thinking about your summer holidays and want something to absolutely lose yourself in during a lakeside staycation and forget about what's going on in the world –  then this would be a perfect book for you , it's so immersive! 
If you love a historical read with a plot that will draw you in and keep you gripped then you'll really love The Secrets of the Lake and  should treat yourself to a copy – I mean, just LOOK at that gorgeous cover!
Thank you so much to Anne Cater & Random Things Tours for aways recommending such great reads. I love being prompted to read such a diverse and eclectic range of books and being able to share my views with other book lovers is an absolute pleasure.
Buy yourself a copy here and follow the tour to see what all of these great bloggers thought too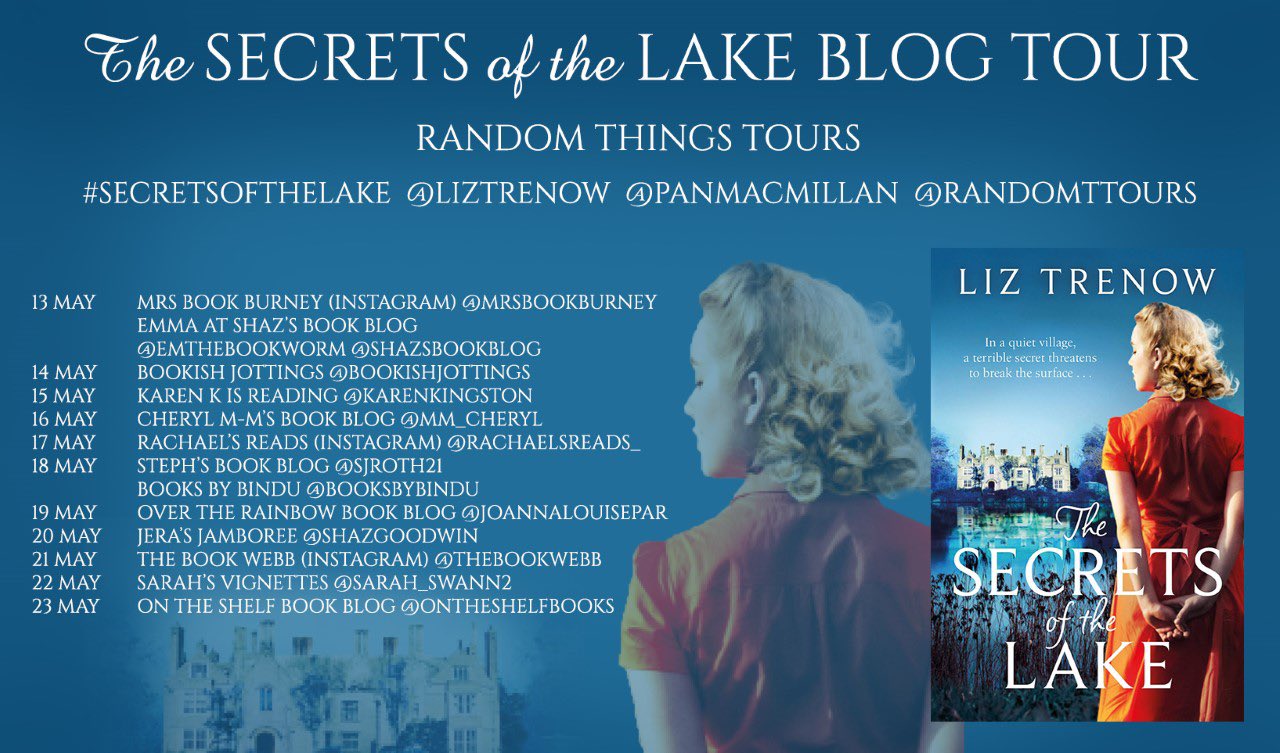 I loved it. I loved how it made me feel and I didn't want it to the end. It is beautifully layered, and I found the story moving, magical and original. A book with a mystery at its heart, solved very cleverly — Dinah Jefferies
Masterful storytelling, immersive locations, and characters that inhabit your heart from the first page: this is a novel I know will stay with me for a long time — Gill Paul
Atmospheric and compelling, it's set during a post-war summer in a small village. I loved the touches of myth & fairytale & the wonderful characters of Jimmy & Molly — Tracy Rees
A wonderful story of love, family and the things we do to protect both. I loved the post-war setting of a small village rife with secrets and whispers, and Molly, Jimmy & Kit's story stayed with me long after the last page was turned. A brilliant read for anyone who enjoys books by Pam Jenoff and Rachel Hore — Nikola Scott
Wonderfully atmospheric, and with an intriguing mystery running through its pages, The Secrets of the Lake is a haunting and compelling tale of family, folklore, and the lingering ripples of tragedy in a quiet English village. Liz Trenow writes such authentic characters you feel as if you know them personally. I enjoyed every beautifully-written page — Hazel Gaynor
This atmospheric book is, on the surface, gently beguiling and evocative, but beneath float sinister undertones. Jimmy was a delight and my sympathies were with Molly from the beginning. The fusion of local legend into the plot, and the story Molly wrote for Jimmy were both clever and charming. I loved it, right up to the poignant end — Louise Fein
Liz is an utterly brilliant story-teller and, with her beautiful prose and page-turning plot, has given us another winner. I shall be highly recommending! — Jenny Ashcroft
Writer On The Shelf
LIZ TRENOW is a former journalist who spent fifteen years on regional and national newspapers, and on BBC radio and television news, before turning her hand to fiction. The Secrets of the Lake is her eighth novel. The Forgotten Seamstress reached the top twenty in the New York Times best seller list and The Last Telegram was nominated for a national award. Her books are published all over the world and translated into many languages.
She lives in Essex with her artist husband, and they have two grown up daughters and three grandchildren. Find out more at http://www.liztrenow.com, or join her on Twitter or Instagram @LizTrenow or Facebook at http://www.facebook.com/liztrenow