The most unlikely friendship. The most unexpected consequences.
When Anna's husband cheats on her, she's sure she'll never be happy again. But then she meets 94-year-old Grace. Despite an age gap of more than fifty years, the pair set out together on a life-changing journey halfway across the country in search of some answers.
Sometimes the only way to move on is to revisit the past. But will Anna and Grace be prepared for what they find?
A story about love, female friendship, heartbreak and learning to forgive.
Dear Grace was an absolutely heartwarming read. It's a warm and uplifting story that will genuinely draw you into its world and make you feel part of Anna and Grace's world as they embark upon an unforgettable friendship journey that neither of them could ever have predicted.
Grace was a fantastic character that you can totally believe in. When she loses 'her Roy' after so many happy years together since she was jilted at the altar, her grief is an easy sentiment to connect with – I'm sure lots of readers will connect with her heartbreak and sense of being lost and a stranger in her own life. Grace sees few things to look forward to in life and thinks of all of her best years as being behind her at the start of this tale
Grace's blossoming friendship with her carer Anna is one of the best things about Dear Grace. You really feel their relationship bloom – drawn together by a sense of loss and both feeling that they might be alone for the duration, they find common ground and a sense of purpose in this developing friendship. Their age barrier makes no difference and despite the 50 years or so between them, they are soon thick as thieves. Once handsome Tom is thrown into the mix – who's the grandson of Grace's brother Ernest – things start to change in ways that neither of them might ever have expected
Claire Swatman has written this book from the heart, and it's a great feelgood read to end the summer on. It reminds us all that friendship doesn't come with age defining labels on it and the people that matter to us can appear at all stages of our lives. Readers will find much to connect with in the portrayal of Grace and Anna's trials and tribulations in the name of love and you'd have to have a heart of stone not to be moved at several points in this story.
Seeing their friendship deepen with daytrips and shared confidences was an absolute joy and I'll be gifting this to both my mum and sister as I know that it's the kind of book they both absolutely love reading. We could all make a wee bit of room in our lives for Anna and Grace and this is a friendship novel that I think will strike a chord with women across the country as they think about their friends who've stood by them through thick and thin- and how it's never too late for second chances at happiness, whether that's through romance or through choosing to live your life again after feeling it was over…
Dear Grace is a wonderful read, the friendship between these two women is a joy to read, despite them being from different generations you'll be totally rooting for them to find their happiness again and see that life is for living. I loved hearing about Grace's memories and found myself wishing I could go on a wee daytrip with her myself
I'd like to take this opportunity to thank Anne Cater for inviting me to participate in the Blog Tour – I'm totally certain that it's going to be an amazing success. Buy your own copy here from Hive and find out why this friendship is so very special for yourself.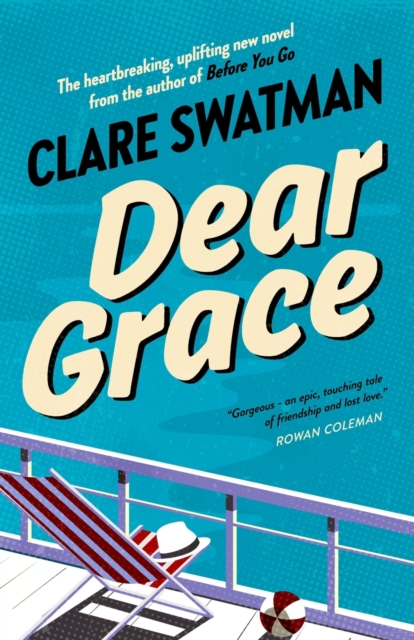 Writer On The Shelf
Clare Swatman is an author and journalist. She has had two previous novels published, with her debut, Before You Go, selling in 22 territories around the world. She has also spent 20 years writing for women's magazines in the UK.
Her latest novel, Dear Grace, is inspired by her love of Lowestoft, the town where she spent many happy holidays with her late grandparents.
Clare lives in Hertfordshire in the UK with her husband and two boys. Even the cat is male, which means she's destined to be outnumbered forever.
Facebook Clare Swatman Author
Instagram @clareswatmanauthor,
Twitter @clareswatman