A remote yet beautiful village. A tiny kitchen lunch club. The perfect place to start again.

Anna moves to Crovie, a tiny fishing village on the Moray Firth, for a fresh start. But when she arrives, she realises her new home is really no more than a shed, and the village itself sits beneath a cliff right on the edge of the sea, in constant danger of storms and landslides. Has she made a terrible mistake?
Yet as she begins to learn about the Scottish coast and its people, something she thought she'd lost reawakens in her. She rediscovers her love of cooking, and turns her kitchen into a pop-up lunch club. But not all the locals are delighted about her arrival, and some are keen to see her plans fail.

Will Anna really be able to put down roots in this remote and wild village? Or will her fragile new beginning start to crumble with the cliffs . . . ?

Beautiful, moving and utterly absorbing, The House Beneath the Cliffs is a novel of friendship and food, storms and secrets, and the beauty of second chances
'A gorgeously remote and romantic great escape, brimming with foodie passion, friendship and heart' Laura Kemp, author of A Year of Surprising Acts of Kindness
The House Beneath the Cliffs opens with the upheaval as Anna heads to the reote village of Crovie to take refuge from the turbulence of her private life. But just as her previous life has eroded, so too is the house which she's moved to starting to crumble away and is at risk of being damaged still further by its exposure to the srorms and winds of the north east coast  But as Anna discovers sometimes the past refuses to be neatly laid to rest. Anna starts to rediscover the things that made her heart lift and opens a fantastic lunch club with her amazing cooking skills .  Her club leaves a nasty taste in some of the locals' mouth and the next steps are never easy as she tries to survive and rive, despite the obstacles that appear in her path. This story of transformation amd positivity despite everything was very more-ish and several nights kept me up much later than I'd intended with a real sense of 'just one more chapter…'
The drive for Anna to succeed with the skilful characterisation combined to draw me into a story where I was really rooting for her and the stunningly evocative setting – where you could swear that you can hear the sea beating off the Crovie seacliffs all combined to keep me turning the pages. I really liked the way that it whetted my appetite as everythubg that was on the menu at the cafe sounded right up my street and made me wish that I could roll up to Crovie myself and enjoy the delicious array of treats on offer.
If you like a story that will remind you of why community and postivity are so important  you'll love this book and I know that my mum's definitely going to be pinching it from me for her holidays. I'd like to thank Anne Cater from Random Things Tours for inviting me to take part in the Blog Tour, I'm sure you'll agree that it's a fwonderful read that will be hard to tear yourself way from once you get started.
Buy yourself a copy here and discover Anna's lunch club, Robbie, Crovie & Fisherman's Luck for yourself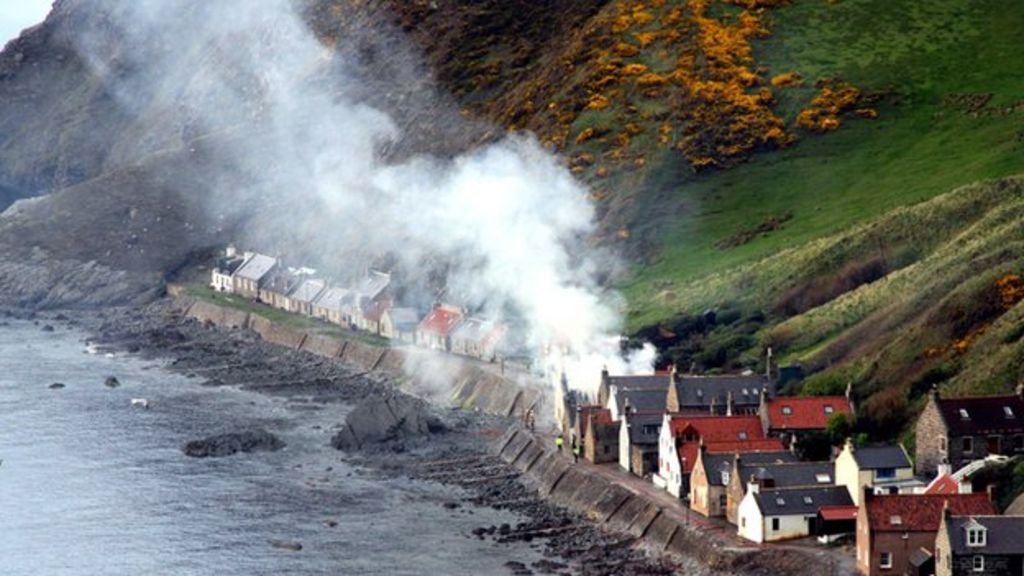 Writer On The Shelf
Sharon Gosling lives with her husband in a very remote village in northern Cumbia, where they moved to run a second-hand bookshop, Withnail Books in Penrith. She began her career in entertainment journalism, writing for magazines in the science fiction and fantasy genre, before moving on to write tie-in books for TV shows such as Stargate and the 're-imagined' Battlestar Galactica. She has also written, produced and directed audio dramas based in the same genre. When she's not writing, she creates beautiful linocut artwork and is the author of multiple children's books. The House Beneath the Cliffs is her first adult novel.
Twitter @sharongosling