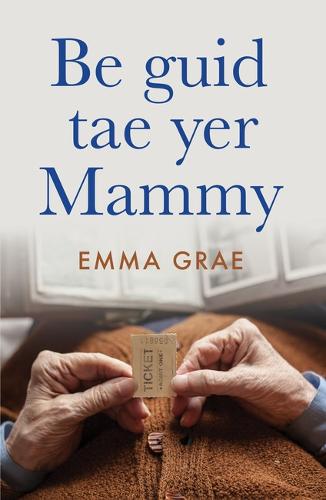 I added Emma Grae's Be Guid tae yer Mammy to the top of my TBR as soon as I received it. I love supporting Scottish writing and adore any books set here in Scotland and I was desperate to see if Jeannie's story would resonate as much as I hoped it would. I can safely say that it was even better than I hoped that it would be and I've been encouraging everyone in my Wine Library Book club to get themselves a copy and enjoy it for themselves!
Be Guid tae Yer Mammy is a gritty and realistic story that so many readers will feel a strong sense of connection with. It vividly brings to life the story of Jeannie who is battling to bring up her family in spite of all the challenges that life has throw at her in the fictional setting of Glasgow's Thistlegate. Cathy, Sandra, and Stella-Marie might be adults now, but they certainly haven't matured in the way they treat each other. Sibling Tensions are visible here in a way that mirrors both King Lear & Cinderella – as the youngest daughter certainly gets short shrift from her older sisters. Tensions rose to the extent that Stella-Marie decides to cut herself and her family loose from the negativity and toxic relationships and decides that her wee family will make their own way in the world, far from cutting comments and a serious lack of empathy that would seem to prove that in this family's case, blood certainly isn't thicker than water…
This is a story about pursuing your dreams and even though Stella-Marie's daughter Kate is from a wholly different generation to her grandmother, Jeannie and has entirely different dreams and ambitions, there is more that connects them than separates them. Kate's determination to study at University and create a new space for herself in the world has parallels with Jeannie's ambitions to push boundaries on the silver screen. The family's journey through time shows the difference in expectations for young women from ordinary families in what they could realistically aim for – Jeannie has to compromise for marriage and bringing up her family, whereas Kate is much more able to set off in her own direction and achieve her ambitions in her own right now that society has changed its expectations and restrictions.
There was much I could connect with in Be Guid tae Yer Mammy and there were a fair few characters that spoke to me as I myself look backwards and forwards at opportunities for young women through the lens of my own family. I had the good fortune to study English literature at the University of St Andrews, whereas my grandmother was in service to a Doctor's family in the Highlands by the time she was 14. There are lots of moments of both hilarity and pathos in this evocative portrayal of west of Scotland family life, warts and all and I really enjoyed immersing myself in the ups and downs of this family with everything they had to contend with and felt like I'd spent time with them as people by the end of it, rather than just characters in a book.
Emma has created a wonderful cast of characters that's so easy to connect with. Her scots language use brings their voices to life for me and makes me feel like I'm overhearing real folk talking to one another from the town I grew up in! I think it's great to see so many writers feeling like they are able to write about the characters and settings that they grew up in and it definitely will be a book that 'speaks' to a diverse array of the population. Thank you so much to Anne Cater for inviting me onto the blog tour and introducing me to a fantastic new voice. I've followed Emma on Twitter and really look forwad to seeing what she does next…
Buy yersel' a wee copy here
MEDIA REVIEWS'
A smashing story with a strong Scots voice' Dr Michael Dempster
\
'This is a brave novel… with a strong cultural identity. The main character – a thrawn auld besom wha's guid tae hersel raither than her lassies an granddochters but whase sleekit sense o humour an couthie turn o phrase gars ye like her despite yerse' Billy Kay, author of Scots: The Mither Tongue

'Every so often a book comes along that pulls you in so completely you no longer see the pages when you are reading. This is one of those books. One of the characters has OCD, and as someone with OCD myself I found their experiences to be painfully familiar and brilliantly depicted. It's refreshing (and important) to see characters with OCD depicted, where the OCD forms an integral part of their character but is not the driving thrust of the plot. I for one would like to see more of this in fiction! It's great to feel represented like this. This book is both narratively and stylistically exciting. It opened my eyes to how beautiful Scots is and has made me want to read more literature by authors writing in Scots. But mostly this author! I can't wait to see what Emma Grae writes next' Lily Bailey, author of Because We Are Bad
Writer On The Shelf
Emma Grae is a Scottish author and journalist from Glasgow. She has been
writing in Scots since she was a student at the University of Strathclyde, tipsily
coauthoring poems with fellow writer Lorna Wallace before moving on to write
fiction in the language.
She has published fiction and poetry in the UK and Ireland since 2014 in journals including The Honest Ulsterman, From Glasgow to Saturn and The Open Mouse. As a journalist, she writes under her birth surname, Guinness, and has bylines in a number of publications including Cosmopolitan, the Huffington Post and the Metro. Be Guid tae yer Mammy is her first novel.