A FAST-PACED, TWISTY THRILLER WITH ECHOES OF DAPHNE DU MAURIER
Jen Shaw has climbed all her life: daring ascents of sheer rock faces, crumbling buildings, cranes – the riskier the better. Both her work and personal life revolved around climbing, and the adrenaline high it gave her. Until she went too far and hurt the people she cares about. So she's given it all up now. Honestly, she has. And she's checked herself into a rehab centre to prove it.
Yet, when Jen awakens to find herself drugged and dangling off the local lighthouse during a wild storm less than twenty-four hours after a 'family emergency' takes her home to Cornwall, she needs all her skill to battle her way to safety.
Has Jen fallen back into her old risky ways, or is there a more sinister explanation hidden in her hometown? Only when she has navigated her fragmented memories and faced her troubled past will she be able to piece together what happened – and trust herself to fix it.
You won't be able to put down this tense and twisty Cornish thriller where we meet Jen Shaw – an experienced free climber who is in rehabilitation at the start of the novel.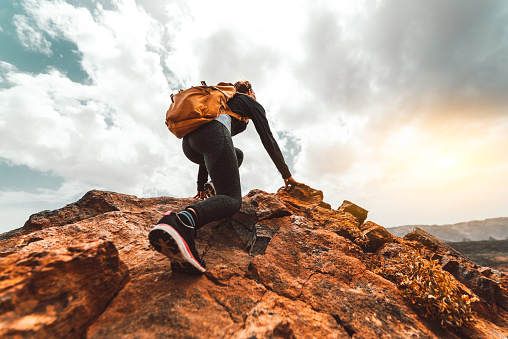 Jen can't wait to get out of this enforced respite from all that she loves, and is delighted to get a phone call from her brother Kit, asking her to come home. No sooner has she put the phone down than she's in the car driving to her home village Instead of returning to her house, she stays at the local hotel and decides to try one of her distraction techniques by heading for a bracing walk along the cliffs.
Jen suddenly wakes up to darkness. She's being buffeted around and feels like she's only attached to the cliff by a very fragile rope. Every blast pummels her hard, painfully bouncing her against the surface Once she gains full consciousness, Jen realises that she's hanging from the platform of the lighthouse.
A skilled climber, normally Jen could extricate herself from this perilous situation – but mountains are climbable as they have laces to grip – the structure of the lighthouse platform is completely smooth. and there is absolutely no purchase anywhere
Jen's only chance to survive is the rapidly fraying rope which she needs to use before it's too late – to get herself back onto the platform and to safety. Through experience, Jen knows that she only has one attempt, one wrong move could snap the rope and send her plummeting to her death– Jen knows that has no choice, it's now or never and the fight for survival kicks in.
This is a thoroughly enjoyable and involving thriller. Made all the more interesting as Jen can trust no one, in the investigation of her own attempted murder. Nick Crawford is not from the village and although he purports to be a carpenter, Jen has her own suspicions that his business is a cover. After all, she has been dealing with drug dealers her whole life and this is not the first time she's had to navigate these shady machinations.
I hugely enjoyed Jen's exploration of who left her for dead at the lighthouse and this was added to by what we find out about her past; discovering the talent for climbing she inherited from her father and the adrenaline rush she experiences whilst free climbing. If you enjoy a nail-biting start to a novel that pulls you right in, then this is definitely the read for you!
Cornwall comes vividly to life through the pages of this book and you'll enjoy the evocative portrait of its wild beauty in Jen's tale. Settle yourself down with a cup of tea and a cosy blanket and enjoy immersing yourself in this pageturner that will keep you entertained and immersed in Jen's investigation of his attempt on her life – and everything else that unfolds afterwards.
Buy yourself a copy here and enjoy Jen's nailbiting journey to the truth…
Writer On The Shelf
On The Edge is JANE JESMOND's debut novel and the first in a series featuring dynamic, daredevil protagonist Jen Shaw. Although she was born in Newcastle Upon Tyne, raised in Liverpool and considers herself northern through and through, Jane's family comes from Cornwall. Her lifelong love of the Cornish landscape and culture inspired the setting of On The Edge. Jane has spent the last thirty years living and working in France. She began writing steadily six or seven years ago and writes every morning in between staring out at the sea and making cups of tea. She also enjoys reading, walking and amateur dramatics and, unlike her daredevil protagonist, is terrified of heights!
PRAISE FOR ON THE EDGE
'Gritty, gripping, knotty, intense – this is going to be HUGE' – Fiona Erskine, author of The Chemical Detective and The Chemical Reaction
'Evocative, compelling and pulse-pounding, with cliff-edge suspense, riveting action and a plot as tricksy as a dare-devil free-climb' – Philippa East, author of CWA Dagger-shortlisted Little White Lies
'Thoroughly original – hooks you in from the start and keeps you guessing' – Frances Quinn, bestselling author of The Smallest Man
'In Jane Jesmond, the thriller world has gained a compelling and seriously talented voice. On the Edge is a truly surprising, original, and twisted story that will not only take your breath away but which also does exactly what it announces loud and proud: keep you on the edge of your seat. I couldn't — and didn't want to — put it down' – Hannah Mary McKinnon, internationally bestselling author of Sister Dear and You Will Remember Me
'It literally had me on the edge from the word go. Tense, taut and thrilling' – Lisa Hall, bestselling author of Between You and Me and The Party
'A proper nerve-shredder of a tale. Literary Cornwall has rarely been so magnificently menacing. Hold on tight. You won't be able to let go until the very last page!' – Helen Fields, internationally bestselling author of the DI Callanach series
'Complex characters and a setting so vivid I could almost smell the sea air – an astonishing debut' – Marion Todd, author of the DI Clare Mackay series
'A beautifully atmospheric story that grips you from the start! Jesmond cleverly weaves a tale of intrigue and suspense – a talented new crime fiction writer. One to watch!' – Louise Mumford, bestselling author of Sleepless