As a young woman boxes up her ex-boyfriend's belongings and prepares to see him one last time, she wonders where it all went wrong, and whether it was ever right to begin with. Burdened with a broken heart, she asks herself the age-old question . . . is love really worth it?
Out of Love is a bittersweet romance told in reverse. Beginning at the end of a relationship, each chapter takes us further back in time, weaving together an already unravelled tapestry, from tragic break-up to magical first kiss. In this dazzling debut Hazel Hayes performs a post-mortem on love, tenderly but unapologetically exploring every angle, from the heights of joy to the depths of grief, and all the madness and mundanity in between.
This is a modern story with the heart of a classic: truthful, tragic and ultimately full of hope.
'I fell in love with this book. The writing was good enough to make me forget I had a phone, put it that way' Aisling Bea
Sometimes a book appears at just the right time in your life – and this was one of those times when I really needed to find a book to lose myself in. I have recommended it to so many people as 'the perfect book for you' , talked about it people at my Zoom Book Group and will definitely be buying it as gifts for quite a few of my friends too. I was SO excited to be invited on the tour for this book and can't wait to read about what my fellow bloggers thought too…
I don't think you have had to experience a break up like this to bond with this book, but by god – if you have there will be moments in this novel that you'll read and read again saying 'HOW DID SHE KNOWWW?' and I think that there will definitely be so many people all over the UK who will be wondering whether Hazel Hayes was sitting behind them in a bar eavesdropping on their conversations as so much of this book feels so utterly REAL that at times you forget that this is an actual novel
I'd like to thank Anne Cater for inviting me on the tour and recommend that you follow it and see what all the other fab bloggers had to say about this unforgettable book. It's so good to back in the blogging world after my time of planning our return to school after the pandemic and this was such a great read to remind me of why I love bookblogging so much – when I get to read fantastic novels like this and tell other people how much they'll love it too!
Books about dating and love and friendships and breakups can feel like they are ten a penny – but this one really is different. It's dark and light in exactly the right ratio to be truly satisfying and there will be moments where you'll literally be devastated – but by the end the holistic effect is both cathartic and gratifying and I'm so jealous of everyone who hasn't read it yet…
As you will have surmised by now, I literally could not put this book down, I was so caught up in this poignant breakup journey and I'm sure you will be too. It really felt like we'd been through this together. Hazel Hayes' combination of devastating brutality and moments of absolute normality mean that everyone can identify with some part of this backwards-lived story– it's a representation of all the things that we all struggle with in modern life and you'll be reminded of your own journeys from bliss to breakup in the reading of it
I loved the idea behind this book: that in the middle of loss and devastation it's important to remember sometimes that our future might not always be written the way that we think it is and that we can see relationships differently if we view them from the other end of the kaleidoskope. Seeing the relationship from end to beginning was a reminder that we can forget the positives while living through a breakupnand a vivid reminder that good times will come again – if we only have the patience to wait…
This is the kind of book you'll be buying for your friends and begging them to read as you will want to spend hours thinking of all the ways you've lived through moments like these or met someone who's been through exactly the same set of emotions even if the root causes were slightly different…
I hope that you find some time to check out some of the other fantastic bloggers on the tour – I am really looking forward to hearing what they thought and I'm hoping that they reveal their own breakup moments in their reviews. Mine was breaking up with an ex boyfriend and leaving a uni folder at his flat – then having to go back after my grand exit and squirmingly retrieve my folder of notes on Byron whilst totally avoiding the hoots and derision of his flatmates…
Hazel Hayes is definitely a writer to watch for me – and if you have a look at these stunning reviews from a whole host of amazing bloggers, you can see that I'm not alone in my opinion!
Writer on the Shelf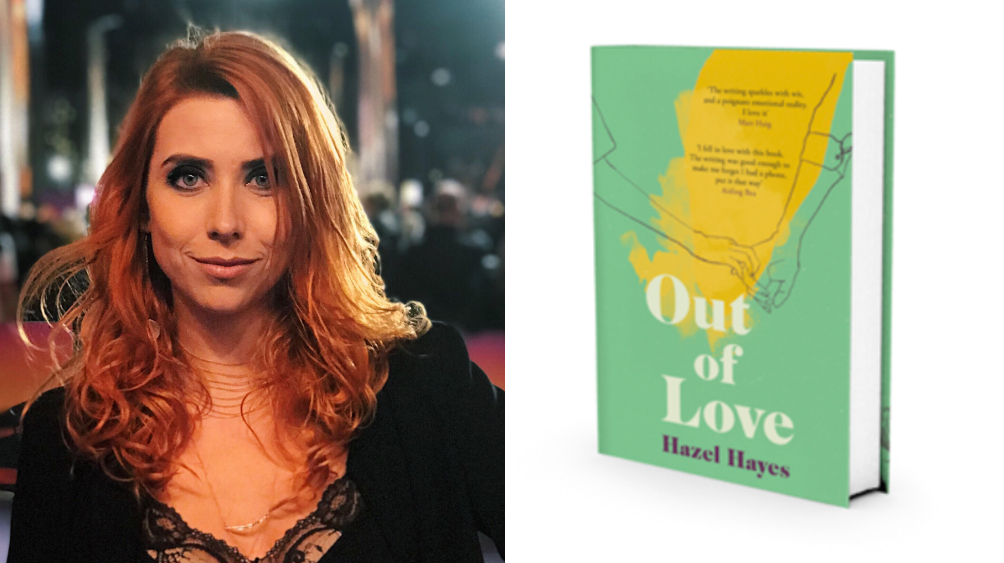 Hazel Hayes is an Irish-born, London-based writer and director who has, until now, been writing primarily for the screen.
Having graduated from Dublin City University with a degree in journalism, she went on to study creative writing at The Irish Writers' Centre, before finally finding her feet on YouTube and honing her craft as a screenwriter through numerous short films and sketches.
Her eight-part thriller, PrankMe, won Series of the Year at SITC, as well as the award for Excellence in Storytelling at Buffer Festival in Toronto.
http://www.youtube.com/user/ChewingSand @TheHazelHayes